As the world slides into ever greater geopolitical uncertainty, the western world will need to look for moral leadership from unlikely sources.
Last week, Estonia provided an unlikely blast of hope as the country's lawmakers picked up the cause of human rights by passing innovative legislation that bans entry into the country for human rights abusers.
In a unprecedented vote, 90-0 unanimously in favour of the Magnitsky Amendment, Estonia became the first nation in the world to adopt this global human rights tool
The move, which is sure to face further protests from Moscow, also dispels lingering doubts surrounding the new Center Party led coalition and it's affiliations with United Russia.
The innovative global pro-human rights amendment allows the Estonian government to ban entry to anyone who it determines, has been involved in the abuse of human rights or has enabled the abuse of rights anywhere in the world.
In a unprecedented vote, 90-0 unanimously in favour of the Magnitsky Amendment, Estonia became the first nation in the world to adopt this global human rights tool that creates real consequences for repressive government agents.
The amendment was introduced by Estonian parliamentarian Eerik-Niiles Kross who said "authoritarian regimes have taken advantage of western nations to advance their own interests. We don't want those individuals whose actions are in direct conflict with our values to come to Estonia, even if those actions aren't directly connected with Estonia. I think that this legislation adds serious credibility to Estonia's strong rhetoric about protecting human rights."
The United States adopted Magnitsky legislation in 2012, which was initially focused on punishing Russian human rights abusers who were involved in the 2008 murder of Sergei Magnitsky in Moscow's Matrosskaya Tishina prison. The US legislation and other similar legislation is named in honor of the Russian lawyer.
In 2007, Magnitsky discovered that $230 million had been stolen by a criminal network of Russian tax officials, police, state agents and crime gangs. Corrupt Russian officials used companies stolen during a raid of Hermitage Capital in Moscow to apply for a record breaking tax refund from the Russian government.  When Magnitsky reported the fraud to Russian authorities, he was detained and imprisoned for a year without trial.
Russian officials tried to by all means available -including torture and physical abuse-  to force Magnitsky to reject his evidence and claims against the officials who committed the fraud. On November 16, 2009, Sergei Magnitsky died in prison from beating, torture and medical neglect.
Since then, human rights activists around the world have advocated for legislation that places visa bans and asset freezes on government officials who engage in and profit from the abuse of rights.
Estonia's decision to adopt a Magnitsky Amendment, is both symbolically significant and practically important. Given it's proximity to Russia as a gateway to Europe, the new legislation will undoubtedly reverberate among the Kremlin's growing gang of human rights violators. It tells the Putin regime that Estonia isn't afraid to stand up for its values and provides a role model for Estonia's neighbours and allies.
Countries like Finland, which have governments that are frequently predisposed to acquiescing to Moscow's claims on regional hegemony, can take courage from Estonia's example and establish strong positions of their own on Russian human rights violations.
The bravery of Estonian lawmakers to unanimously adopt the Magnitsky Amendment has been recognized internationally as another way that the country is "punching above its weight."
Bill Browder, who has led the campaign for justice for Sergei Magnitsky, told me that "Estonia has established a serious human rights benchmark for other European and allied NATO states to follow." He added that "no other European state has taken such a strong position and Estonians can be proud to be leading Europe in creating a real deterrence for human abusers around the world."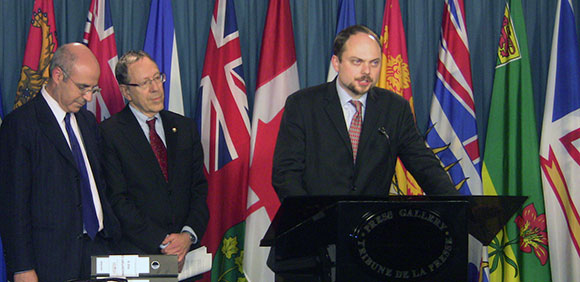 "Canada and our other Western allies should take note of Estonia's bravery and leadership," said legendary Canadian human rights advocate, former lawyer for Andrei Sakharov and former Canadian Justice Minister, Irwin Cotler. Estonia he said,  "should be congratulated for demonstrating its commitment to the defence of global human rights."
The next step for Estonia is implementation of the new law. This can be done quickly by initially adopting the names on the existing US Magnitsky List.
The legislation has the potential for having an immediate effect.
Estonian officials should investigate the case of Ildar Dadin, the Russian pro-democracy activists who has been jailed and repeatedly tortured in a Kremlin Gulag in Russian occupied Karelia.
Dadin was sentenced to three years in prison in December 2015, for his participation in several pro-democracy and human rights rallies in Moscow. In a letter he recently had smuggled to his wife, Dadin describes being handcuffed and hung from the prison ceiling for prolonged periods. He writes to his wife about being stripped naked and threatened with rape by prison guards and about being repeatedly beaten.
To help save Dadin from the same fate as Sergei Magnitsky, Estonia should identify Dadin's prosecutors and jailers and place them on the country's Magnitsky List.
By adopting the Magnitsky Amendment, Estonia has put itself in a position to help protect human rights and pro-democracy activists in repressive regimes both near and afar. Estonians can be proud of this remarkable and internationally significant moral and practical achievement as the world around it plunges towards unpredictability.
This article appeared originally in Estonia's daily, Postimees