"What is denied by the most aggressive way in public discussion, is always true; what is totally remained silence about, is always important. Disagreement is not tolerated and "ongoing debates" are ended right when they've begun – often by support of the media."
– Jarmo Mäkelä, journalist
One issue that fits in the scope described by Mäkelä is the question about the intelligence operations of Russia, and its satellite states, as agents of influence on Finnish political life. During the Cold War, the Soviet Union created a unique network of influence inside Finnish society – including in all significant political parties, organizations, offices and media outlets. The network was never exposed and debated as in the most former socialist countries.
Former ambassador, Alpo Rusi, recently asked on Twitter, about whether Russian intelligence services interfered in Finnish discussions about NATO  membership in the early 2000's. It's a good question and can be asked regarding many other important issues and should be part of the overall question about the relative cost of not carrying out lustration in Finland.
Osallistuiko Venäjän tiedustelu suomalaisten operatiivien avulla Nato-keskustelun torpedointiin 2000-luvun alussa? Uusia tietoja luvassa.

— Alpo Rusi (@RusiAlpo) July 16, 2017
One of the most significant Soviet diplomats who served in Helsinki was Juri Derjabin (Komissarov), who evaluated before the 2012 presidential election, that Russia's potential influence on Finnish politics had decreased. "We have to be realistic, because the time when Finland elected a president that we wanted it to elect, has already gone", said Derjabin.
However, Russian interference into the elections of the largest and most important Western states, shows its willingness to use extremely harsh methods. The deployment of Russian so-called, HUMINT (Human Intelligence) resources, is significant in Finland.  Eastern Bloc intelligence enjoyed near de facto immunity in Finland for decades, and were able to build networks the entire time (at least one of the heads of the Finnish Security Police, Arvo Pentti, has been named as an recruited agent of the KGB according to Vasili Mitrokhin's archives).
These networks are also inseparable from domestic Finnish politics and its power games. It would be naive to think these connections would not be inherited by the younger generation of Finnish politicians. Even the current head of the Finnish Security Police, Antti Pelttari, has stated that the culture of Eastern intelligence connections never fully disappeared.
So, what are the most indicative issues to look at before the presidential election in 2018?
Going on and on…
It has to be noted that especially when the networks are as wide as they are in Finland, political interference is rarely motivated by just helping one candidate against another. Kremlin "active measures" focus on maximizing influence on all possible election outcomes.
The Current president of the republic, Sauli Niinistö, does not have a significant background in Cold War era politics, because he was elected to the parliament late in 1987. Before this Niinistö did not hold influential political posts. The current president has acted moderately regarding policies towards Russia, and met Vladimir Putin more than once which drew criticism. Yet under Niinistö's presidency, Finland has integrated more deeply into western structures, including military ones. Despite this, Finnish membership in NATO has not been on his agenda.
In 2012, Niinistö expressed his support for opening up the so-called "Tiitinen List", to prevent the same kind of Kremlin influence in the future. "It enjoyed, to some exctent, even silent acceptance," said Niinistö.  "The issue should be clarified so the potential for this kind of phenomena would not exist in the future. For this clarification, I think it would be important to put the list on the table again", he said.
Tiitinen's list includes names of some Finns connected to Eastern Bloc intelligence services. The list was received by the Finnish Security Police and its former head, Seppo Tiitinen, who suggested to then-president Mauno Koivisto, to make the document secret. Koivisto agreed. Matti Vanhanen, who is running against Niinistö as a candidate of the Center Party, prohibited other members of his cabinet to answer requests concerning East German intelligence activity in 2007 .
When the author of this article asked some questions regarding the issue in a blog post, former secretary and current Vanhanen advisor, Risto Volanen, blamed the author for attempt of "cyber deportation" (kyberkyyditys). The word is hard to translate, but "kyyditys" is usually associated with the actions of the anti-communist Lapua Movement, which used to illegally capture and drive communists and other left-wing politicians to Finland's eastern border, and were also subjected to violence.
As an example of such "cyber deportation", Volanen cited a section of the article in which it is mentioned that another advisor in Vanhanen's campaign, former prime minister, Esko Aho, works for Sberbank and had personal KGB-contacts already deacades ago.
In the 1970's and 80's, all three gentlemen – Volanen, Aho and Vanhanen – chaired the youth organization of the Centre Party. The presidential candidate himself was also active in Suomen Rauhanpuolustajat (literally the Defenders of Peace), which was an anti-USA and anti-NATO organization practically dominated by the Taistoist Movement (the Soviet-minded opposition of Finnish Communist Party).
Any Siberian candidates?
The Social Democrats have not yet nominated their presidential candidate, nor have the populist Finns Party. The parliamentary group of the latter party split up when Jussi Halla-aho – a staunchly anti-immigration politician – was elected as party chairman. Halla-aho's academic background is in slavic languages and he has worked in Kyiv. Halla-aho supports membership in NATO, but has announced that he wants to work more proactively for a Finnish exit from the European Union than to join NATO.
Considering his background and critical attitude towards Kremlin, Halla-aho cannot be considered pro-Kremlin. Yet the first vice-chairman of the Finns Party, Laura Huhtasaari, has gained criticism for her admiration of Marine Le Pen and her public wishes for US President Donald Trump to lift the sanctions imposed against Russia. However, at the moment, there is no such political movement in Finland like the French Front National.
"The Soviet Union penetrated into the political systems of all western countries, but in Finland these measures were probably exceptionally wild and wide. From the point of view of historical research, and otherwise, it would of course be important to clarify what happened behind the scenes during the years Cold War. But because the same persons, or those they protect and their heirs stayed in power both in politics and academic life in Finland, it seems there is not much hope that an investigation will start anytime soon", Halla-aho has stated regarding lustration efforts.
Halla-aho has announced that he will publish The Finns Party election platform on August 4th. Pro-Kremlin MP, Tom Packalen, has expressed his potential willingness to run as a candidate of The Finns Party. He has background if the Parliament's Committee of Foreign Affairs and according to Finnish blogger Rysky Riiheläinen, he has "repeated Russian narratives very actively and loyally, no matter if it's about the causes or developments about the war in Eastern Ukraine, economic sanctions, the damage influenced by the EU or the shooting down of the Malayasian passenger airplane".
Honorary chairman of the Center Party, Paavo Väyrynen, has announced that he will begin collecting 20 000 signatures to be able to run as an independent candidate in the presidential election. His brand-new Citizen's party (Kansalaispuolue) is not allowed to name their own candidate as they don't have elected MP's yet. Also Ilja Janitskin, who runs MV-lehti, a well-known fake news site, and who is hiding from Finnish authorities, has more or less seriously considered running as an independent candidate.
Väyrynen has built a significant career in Finnish politics, and his career has lasted decades, including during the Cold War. Not surprisingly, Väyrynen was also deeply connected with Eastern bloc intelligence services but was never able to achieve clear support from the Soviets. Väyrynen has appointed Jarko Ekman as a party adviser. On his Facebook page, Ekman claims to be the press secretary for the Donetsk People's Press Center, which is part of the pro-Kremlin separatist terror groups operating in Eastern Ukraine.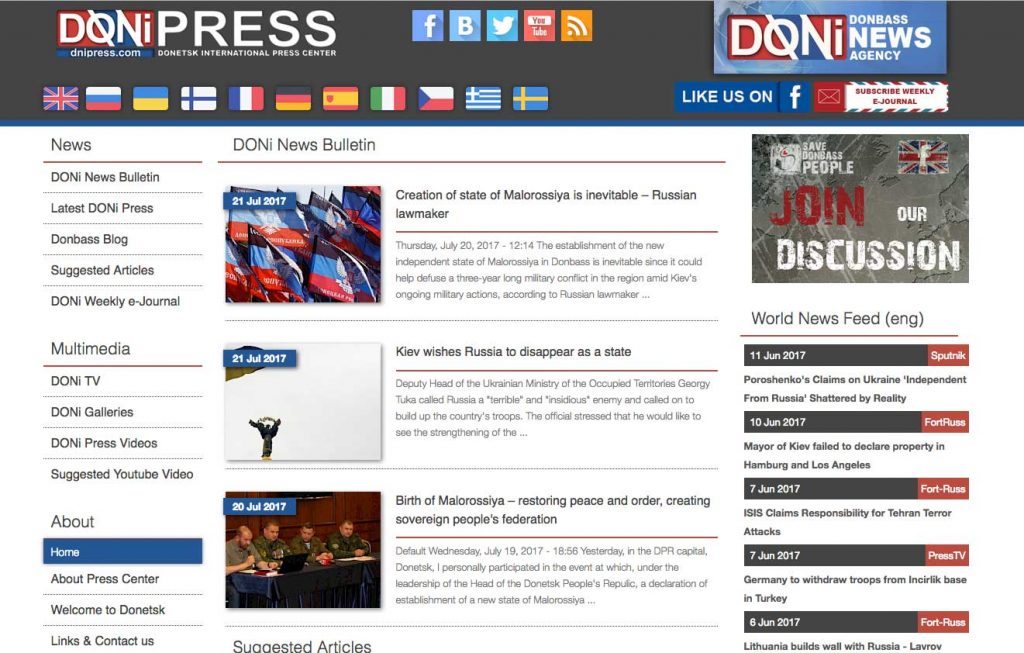 It's unlikely that the candidate for the Left Alliance, Merja Kyllönen, or Pekka Haavisto from the Green Party would open any debate about Finnish membership in NATO – yet neither of them are from the most conservative factions within their party in terms of foreign and security policy. Even the traditionally western-minded Swedish People's Party, elected MEP Nils Torvalds – a former Soviet-minded communist – as their candidate.
It seems clear that pressure regarding Finland's integration with the west is lopsided, yet Petrus Pennanen, doctor in nuclear physics, is reaching independent candidacy with openly pro-NATO agenda. Still, no one with ensured candidacy is a clear supporter of NATO membership Finland. It is highly unlikely that western-minded Niinistö would openly promote further steps to move closer to NATO during the election debate.
What to keep an eye on?
It can be evaluated that the minimum goal for the Kremlin is to keep Finland out of NATO while the ideal goal includes operations to supress the very fundamental political integrity of the Finnish state and government. It is also likely that Moscow is trying to use Finland to promote its own goals within the European Union.
Not only fake news, but also more sophisticated disinformation and influence operations may indicate something. In Finland, various leaks from within inner political circles, have emerged during election campaigns, which seek to influence foreign policy or apply diplomatic pressure.
Probably the clearest strategy of the Russian intelligence is, and will be, to limit the scope of solutions for the future president. Also, Jussi Halla-aho's views on NATO may be targeted. This could lead to an election debate in which even the most moderate western-minded opinions may be framed as "extreme". Possible operations of influence inside the campaign organizations should be noted.
Yet it is likely that the most important influence operations will be targeted towards domestic policies and parliament. The political elite tied into the Kremlin's networks of influence, like those during the Cold War, may also be the best tool to limit the president's possibilities to act.