The second part of a two part series looking at the history of US-Baltic diplomatic relations over two centuries.
The first part is available here.
The Turbulent 1930s
During the 1930s there were significant movements in international affairs, therefore unsurprisingly many turnovers in US diplomatic missions all over the world — the Baltics included. Robert Peet Skinner (of Ohio) had replaced Coleman in 1931 after a long posting as Minister in Greece. Skinner was a extremely respected member of the foreign service, having served as Consul General in London from 1914 to 1924, including World War I.
However, like Coleman's next posting, Skinner's posting was a short one due to the change in administration, and he departed from the Baltics just a year after arriving.
Skinner, albeit there for a short time, witnessed the difficulties the countries faced from the worst effects of the Great Depression. After returning home to the US, Skinner was sent by Cordell Hull's State Department as Ambassador to Turkey. Not much is known about his life after his term ended in 1936, but he passed in 1960 and was buried in Massillon City Cemetery in Ohio.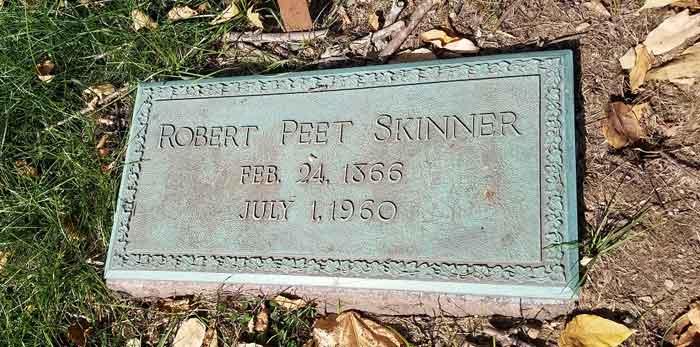 It took me a bit of effort to find his grave as it is a small, flat stone amongst his family members. But luck was on my side as I managed on a bright October day and found the marker in the historic cemetery.
The Roosevelt Administration had in 1933 sent John Van Antwerp MacMurray to be Minister. This was quite a coup for the Baltics, as MacMurray — who was the State Department's resident expert in China — was a former Assistant Secretary of State (and Minister to China).
MacMurray spent an eventful three years in the Baltics, seeing both the Ulmanis and Päts takeovers. However, even during his busy posting in Riga, he managed to remain the State Department's go-to guy for Asian concerns. While in Latvia, he drafted a classified-but-dismissed detailed memo warning of being drawn into a war with Japan that, even with victory, would only benefit the USSR. Sadly that memo, which was only declassified in the 1990s, proved to be extremely "prescient" as foreign policy legend George Kennan noted. MacMurray followed the footsteps of his predecessor and proceeded to Turkey for his next post as Ambassador. He stayed as an advisor at Foggy Bottom until his retirement. He passed in 1960, and despite being such a significant figure I have had no luck locating his final resting place.
MacMurray was replaced in 1936 by another giant figure in the history of the US State Department, Arthur Bliss Lane. After serving several years as Minister in Nicaragua, Lane arrived in Riga in 1936 during the economic recovery. Lane's tenure was extremely short, leaving in the autumn of 1937 for his posting as Minister in Yugoslavia — one he held until the Embassy was closed in 1941 with Belgrade's occupation by Nazi Germany. After a two-year posting in Colombia as Ambassador, Lane took his most significant posting in 1944 as the Ambassador to Poland — first as to the government-in-exile in London, then to the post-war government in Warsaw. Lane resigned his posting in 1947 in protest at the communist takeover of Poland and the inaction by the West; he later wrote the book "Poland Betrayed" which heavily criticised the US and UK for abandoning free Poland. He remained a freedom fighter for the rest of his life. Unfortunately, I have yet to locate his final resting place also, despite him being such an important figure for the Polish community.
The Road to Global War
After the departure of Arthur Lane, representation to the Baltics was divided. John Cooper Wiley arrived to take over the Riga Embassy, and was also accredited to Estonia; while Owen Norem took over the mission in Kaunas.
The son of a US Congressman, John Cooper Wiley was born when his father was US Consul in Bordeaux — setting him up for his future career. Wiley had a long career, including being part of the team under Bullitt that ran the first Moscow Embassy. There he would clash with Bullitt, who in turn distrusted Wiley's Polish-born wife. In fact this was the likely genesis of the executive order designed to dissuade foreign service officials to marry non-US citizens. And likely Bullitt helped to spike Wiley's career at the time, as Bullitt went to Paris and Wiley went to be Consul in Antwerp before being sent to run the troubled mission in Vienna.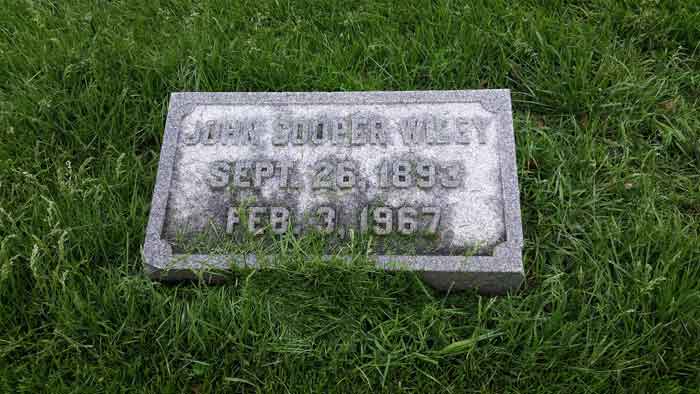 Wiley arrived in Latvia in 1938, after having the terrible experience of closing the US mission in Vienna. He had been serving as charge d'affairs since 1937, but the Anschluss by Nazi Germany forced the mission's closure in April 1938 — a month after the annexation; ironically the downgraded consulate would be taken over by Harry Carlson, as mentioned above. Sadly this experience would not be a one-off for Wiley. More ironically, Wiley helped to get Sigmund Freud out of Vienna — at the request of his frenemy and ex-boss Bullitt; Bullitt returned that favour by helping Wiley get the Baltics posting.
President Roosevelt made the recess appointment that summer for Wiley to become minister to Estonia and Latvia, and he arrived that autumn to take over the embassy in Riga; the embassy in Tallinn has been under charge d'affaires, Walter Leonard, since 1937. Sadly for Wiley, he had to watch another malevolent state subjecting itself on its smaller neighbours, witnessing the travesty in the summer of 1940 with the occupation of the Baltics by the Soviet Union. He had departed from Riga on the 25th of July — a month after the occupation and about a week after the rigged elections and subsequent bogus request for annexation; both legations in Riga and Tallinn were left for the charges d'affaires to close.
Wiley had a long career after these trying postings, serving as ambassador to Colombia, Portugal, Persia and Panama until his retirement in 1953. Although he retired in DC and lived in Georgetown, when he died in 1967 he was buried in his family plot in a prominent area in the historic Crown Hill Cemetery in Indianapolis, very near the final resting place of Vice President Thomas Hendricks.
Owen Joseph Christoffer Norem arrived in Kaunas in 1937 as the temperature heated up very quickly in Lithuania's temporary capital. He would soon have to deal with the series of ultimata that were issued to the Smetona government from three different directions. Norem was forced to leave Kaunas at the end of July 1940 upon Lithuania's occupation. After returning home, he published the book "Timeless Lithuania". From my research, Norem passed in 1981 and was cremated with his ashes scattered.
The legation in Kaunas stayed open for a few more months as it was sadly wound-down in post-annexed Lithuania. Bernard Anthony Gufler, part of a well-known Topeka family, was left with the unenviable task, not departing until September 1940. Gufler would later play a major role in the Cold War as the chief of the US mission in East Berlin and Ambassador to Finland. His family are all interred in Topeka, but I could not find his final resting place.
As mentioned, while Wiley was Minister in Riga the legation in Tallinn was headed by charge d'affaires Walter Anderson Leonard. He had stayed on after the departure of Wiley from the region and had the terrible task of not just filing protests against what was happening like his colleague Gufler, but the sad task of closing the mission on Kentmanni. He was not withdrawn from Tallinn until September 1940.
Leonard passed in 1955 and was buried in the small town of Essex, Iowa, a small farming town a bit south-east of Omaha, Nebraska. Finding this cemetery was quite tough. The mobile reception in this part of Iowa is spotty at best, especially for data. Thank goodness I do enough research beforehand so when Google Maps goes down due to no signal, I could keep going.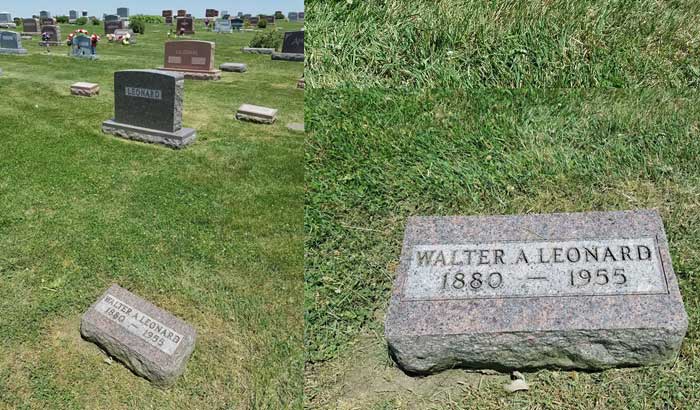 But reaching the town cemetery took quite a bit of work, as there were no paved roads there. The choices were both bad — a hard gravel road that's more like a rocky road, or a rudimentary dirt road that looked more like a mud path. The latter even had the ominous "unmaintained road" sign on it. I chose it and my poor little rental car took a heck of a beating until I reached the oasis that is the town cemetery complex on its outskirts. Surrounded by farmland, the cemetery was a reflection of the folks that made this community — the names all very Nordic and Germanic.
Earl LeNoir Packer had the same tough job in Riga, though I have not been able to locate his final resting place (likely in Utah). He was one of the very, very few from this era to have lived to see the restorations of independence, passing in 1993. Others who lived long enough to see the restorations of independence include the legendary George Kennan, who received his state awards only in the 1990s, and John Thors, who worked with Childrens Relief in the Baltics, who died at the grand old age of 105 in 1995 in Northport, Michigan.
Virginia Hall and the Baltic Connection (CLICK TO READ MORE)

Another of the employees of the US mission in Tallinn in the 1930s later became an intelligence legend. Much like Gade, whose work helped to inspire what is today the Central Intelligence Agency, Virginia Hall's pioneering and heroic work made her a legend in intelligence circles.

Born in Baltimore, Hall tried for most of her life to break through the glass ceiling that kept women from the foreign service; according to the US State Department, there were only 6 female commissioned foreign service officers at the time (out of 1500). That did not stop her, as she chose to serve as diplomatic and consular clerks in foreign locales to gain experience and to further prepare her for the foreign service exam. In the early 1930's, she worked in the US Embassy in Warsaw and the Consulate in Izmir, Turkey. Unfortunately an accident during that posting left her physically handicapped, with her leg amputated from the leg, which further hampered her career goals.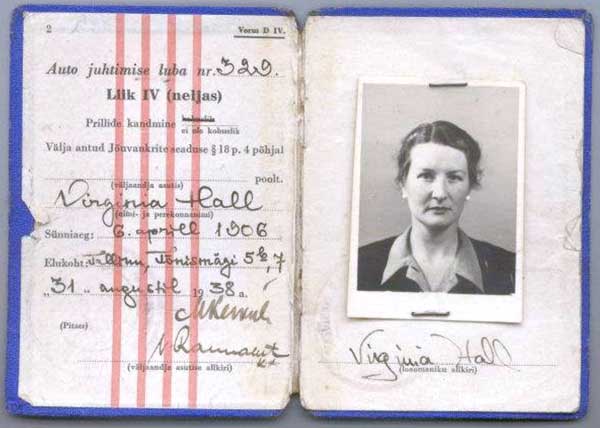 For some reason Hall had been targetting the US mission in Estonia as a place to work, likely from the high calibre of individuals posted there. But instead she was sent to the Consulate in Venice. Her handicap continued to be a stumbling block in her attempt to join the foreign service, but she finally managed to reach Tallinn in 1938. There she worked under Charge d'affaires Leonard for just under a year. She worked in Tallinn long enough to be issued an Estonian drivers license (number 329!), which is today housed in the CIA Museum. However, Foggy Bottom would not relent on giving her a chance in the foreign service, which led to her resignation. She headed to Paris in May 1939 to search for a new path — first as an ambulance driver in occupied France, then recruited to be a spy by the Brits that took her behind enemy lines once more.

It was her 15 months in Lyon as a British spy that started her legend, organising and launching sabotage missions that frustrated Vichy French and Nazi German activities in southern France. Her activities grew so damaging that Klaus Barbie, the "Butcher of Lyon" offered a bounty on the saboteur. Greeted as a hero after escaping France, British intelligence did not want to risk sending her into enemy territories again, so the adventurous young lady resigned — and was promptly recruited by the William "Wild Bill" Donovan-led Office of Strategic Services (OSS).

The OSS sent Hall behind enemy lines, and she led missions in France, Austria and Germany. While she was denied a chance to join the foreign service ostensibly as a woman and being handicapped, she was now leading units of men in sabotage and guerilla warfare, training resistance fighters and co-ordinating counter-attacks — all with one wooden leg. She served in this capacity until the end of the war.

Hall, already awarded an honorary MBE by the British Crown, was awarded a Distinguished Service Cross — given by Donovan in secret, so her cover would not be blown. She had a long and distinguished career at the CIA until she retired, and she passed in 1982 in a Rockville hospital.
In Reflection
Although the United States was slow in recognising Estonia, Latvia and Lithuania during the Interwar period, it was clear the three Baltic countries had a lot of American friends. Many risked their lives for these three countries, some made the ultimate sacrifice. It's unfortunate that so many of these heroic figures are lost to history, even amongst Baltic Americans. And although upon the restorations of independence figures like George Kennan received state awards, many who did not live to see restoration, were not so honoured by the three countries. I would hope upon the 100th anniversary of the independence of the three countries that these omissions would be rectified.

And if any readers have information that would help me locate the final resting places of the many individuals I mentioned whose graves I could not locate, please contact me.

Most importantly, it is important to know that despite what is depicted in most histories, history is made by individuals — known and unknown. The roles played by individuals lost in general Baltic histories, from Loy Henderson to Dr Edward Ryan to Congressman Walter Chandler, as well as those Americans who risked their lives and gave their lives for the Baltics at the very birth of the three countries 100 years ago, should never be forgotten. And, as an American similarly devoted to the Baltics, I am honoured to have personally made these journeys to pay respect to these individuals.