Russian President, Vladimir Putin has torn away any remaining secrecy about his old plans to reconfigure zones of geopolitical influence in such a way that it would enable him to restore the Russian empire as the successor of Emperor of Russia Peter I (whose portrait hangs in a pride of place in his study), and with it, to increase his regime's global influence. The Kremlin has worked towards this aim essentially since the collapse of the Soviet Union, but the present global situation seems favour Moscow and could enable Putin to undertake a very risky adventure. The Baltic States, together with their allies, should keep their eyes open for potentially dangerous turbulence in their relations with Russia in the coming months
At first glance, the need for alarm may be unnecessary: Putin has used aggressive language against the West before and has characterized the collapse of the Soviet Union as the greatest geopolitical catastrophe of the 20th century, denigrating Russia's neighbours in the process. In addition, Russia's relations with Ukraine have been tumultuous for more than six years, and Putin and his predecessors have still, never acknowledged Moscow's illegal occupation of the Baltic States. What today is so different that requires us to be more alert now than in the recent past?
 On July 1st, the citizens of Russia will approve constitutional amendments, which will on one hand, ensure that Putin will serve as president until his death; while on the other hand, it will remove all obstacles to extending Russia's borders and the reach of its influence.
In order to understand the looming possible consequences, we should view Putin's domestic manoeuvring in the context of the present global situation. We should begin our analysis with the fact that Russia is in the process of amending its Constitution and that this will have a direct impact on all aspects of its future actions. On July 1st, the citizens of Russia will approve constitutional amendments, which will on one hand, ensure that Putin will serve as president until his death; while on the other hand, it will remove all obstacles to extending Russia's borders and the reach of its influence.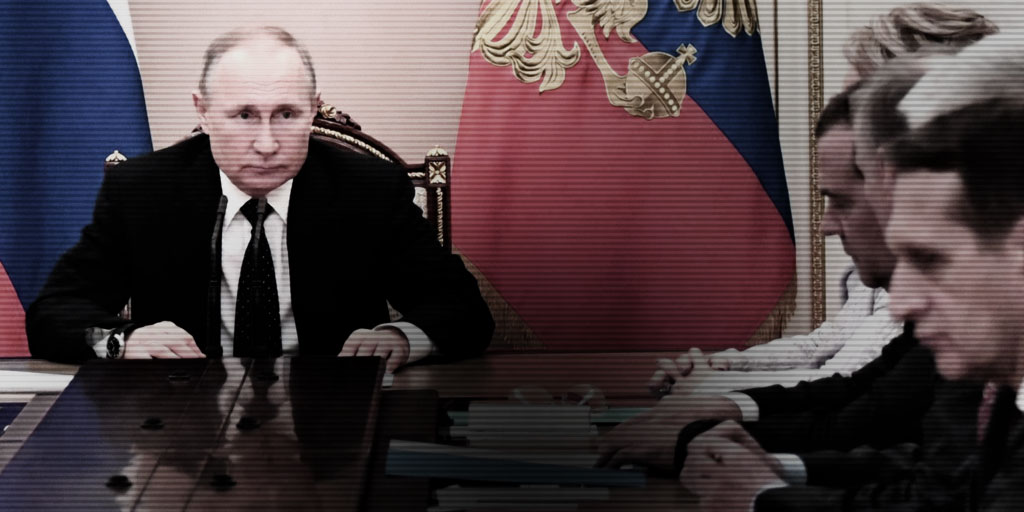 Russia will leave itself the discretion to implement the norms of international law, only in such a case as when they do not interfere with the Kremlin's own goals and objectives. Articles 67 and 68 of the amended Constitution are laws that have been created for empire building. First, the provision that the Russian Federation is the successor (continuity state) of the Union of Soviet Socialist Republics has been introduced. After that, it is emphasised that the Russian Federation, "united by a thousand years of history, safeguards the memory of forefathers who passed on to us their ideals and faith in God as well as continuity of the development of the Russian state, and recognises the historically developed unity of the state". The Russian nation is given the status of a state-forming ethnic group through the use of Russian language. Also, the notion of a multi-ethnic nation will be introduced. Before that, the term "multinational people" was used. A recent amendment that simplifies granting of Russian citizenship within the space of the former Soviet Union and makes it possible to hold dual citizenship, also fits with these notions.
If we look at these amendments closely, it is clear why Putin permitted himself to introduce new territorial claims on Russia's neighbours in a crudely aggressive tone during in a recent interview to Russian state TV channel Rossiya.
"When the Soviet Union was formed, the right to leave it was enacted, but as the procedure for doing so was not provided for, a question arises: what if one or another republic joined the Soviet Union and packed into its luggage a large parcel of Russian lands – territories that are traditionally and historically Russian- and then later decided to leave the Union? Let them leave then, taking what they came with, but not drag the presents, given to them from the Russian people, along with them," said Putin with unconcealed rage in the interview given on June 12.
Putin's Press Secretary, Dmitri Peskov, rushed in to smooth out the situation and announced that Russia had no territorial claims on its neighbours. However, Peskov's dismissal is unconvincing. Putin believes exactly what he said, and Moldova, Ukraine and Georgia, and even Belarus, have been subjected to Moscow's territorial claims for years. Kazakhstan should be especially worried about Putin's words about "presents from the Russian people".
Another verbal attack, which directly concerns those in the Baltic States, also fits into Putin's worldview. In a recent article about Soviet WWII history, written by Vladimir Putin and  published in "The National Interest" – which is controlled by Putin sympathizer Dmitri Simes – Putin takes serious aim at the Baltic States. He writes: "In autumn 1939, the Soviet Union, pursuing its strategic military and defensive goals, started the process of the incorporation of Latvia, Lithuania and Estonia. Their accession to the USSR was implemented on a contractual basis, with the consent of the elected authorities. This was in line with international and state law of that time. Besides, in October 1939, the city of Vilna and the surrounding area, which had previously been part of Poland, were returned to Lithuania. The Baltic republics within the USSR preserved their government bodies, language, and had representation in the higher state structures of the Soviet Union."
Putin's article, which defends the Stalinist approach to history and the Soviet empire itself, informs us not so much about Putin's interest in history, but of his political immediate and future geopolitical objectives. Therefore, it is important to understand that Putin wrote the article primarily to justify his expansionist foreign policy and as a warning to Russia's neighbours.
A central element of Putin's plan is the creation of a federal Union State with Belarus and Ukraine that would be led by Russia. This is the minimum size of this new state, which could be enlarged, in particular at the expense of Kazakhstan. A union with Belarus has been an ongoing objective for Moscow since the Yeltsin era. But this summer, with presidential elections being held in Belarus on August 9, President Lukashenka may be vulnerable for the first time, and thus easy prey for the Kremlin.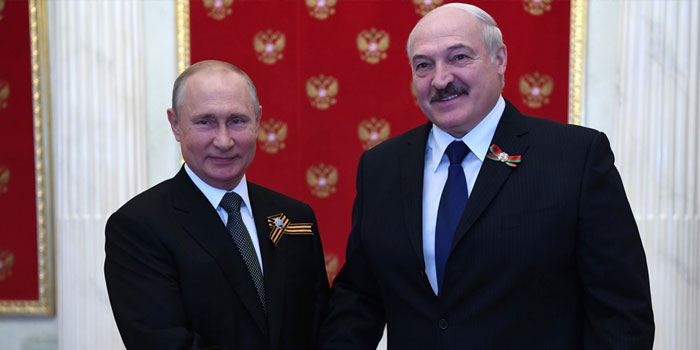 For Belarusian activists who have been inspired by the popular blogger Sergei Tikhanovsky, his arrest as a potential presidential candidate and the activities of his wife Svetlana have inspired a political awakening in Belarus. Mentions of a "slipper revolution" have already been mentioned in social media. Lukashenka may be in trouble, and in hope of preserving his position, he may be ready to agree to Russia's terms. This would mean uniting with Russia into a federal state.
With Ukraine, things are more complicated, but Russia's influence agents in Kiev are working hard to drag the country back into Russia's sphere of influence. Declaring Russian as the only official language in the occupied territories of East Ukraine, demonstrates that Moscow's final aim is to achieve the linguistic superiority to justify a "state-forming ethnic group" from Uzhgorod to Vladivostok. The Kremlin sincerely believes that Ukraine is an artificial and alien creation and that Ukrainians are actually a part of the greater Russian nation.
The question of how Putin would realisation his other great aim of creating a new security order by manipulating and reconfiguring the established arrangement, is more serious. Both in his article about history and the speech he recently gave at the Victory Day parade in Red Square, Putin underlined the need for a new overall order of security and defence in a rapidly changing world. In translation, this means international acknowledgment of Russia's redrawn borders and the dismantling of the existing security architecture founded by the United States and its NATO allies, which would mean granting Putin veto powers on issues concerning European security.
Putin may believe that recent events; the disruption of the Coronavirus pandemic, Brexit, Angela Merkel's upcoming resignation, President Trump's soft attitude towards NATO Alliance commitments, illegal immigration and the growing influence of China, have left Europe longing for a new strategic dialogue with Russia. French President Macron has already said that Europe's security was not possible without engaging Russia. The Kremlin may have also misunderstood the spreading movement towards of a missile-free European continent. But none of this should allow Moscow to conclude a "new Yalta" deal. NATO remains an impediment to Putin's ambitions.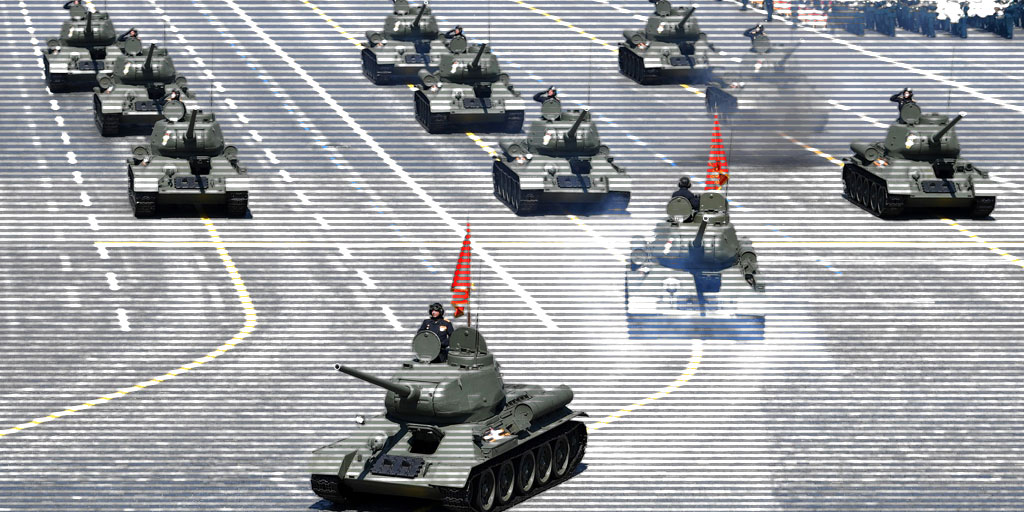 Moscow has toiled for decades to demolish the Western defence alliance. However, the Kremlin's aspirations for renewed empire has also renewed the spirit of NATO, established 70 years ago,  and through that, a greater shared understanding of the importance and the meaning of Article 5 to its members. The lasting unity of the Western alliance is proven by the fact that for six years, sanctions against Russia have been maintained for its aggression towards Ukraine.
At the same time, it is no secret that recently, frictions within the alliance have dangerously intensified. Tensions between France and Turkey over the conflict in Libya have become accute, which promted Macron to diagnose NATO as being "brain dead". Trump's decision to scrap several arms control agreements and by inflamed tensions with Germany have not contributed to greater trans-Atlantic trust.
The most important question now, is what shape future domestic US politics take in the eve of presidential elections. If Putin perceives any ebb in the readiness to immediately invoke Article 5 in the leadership of the leading country of NATO, this could inspire him to prepare plans for an attack. A delay or in the worst case, a refusal by any NATO member to defend a fellow alliance member in the case of an attack, would fulfil Putin's main strategic aim.
The two most suitable targets to test NATO's resolve and Article 5 would be the Baltic States and Svalbard, which belongs to Norway. This would of course, be an extremely risky move for Russia, and it would be undertaken only if at least three preconditions are visible at the same time: a stalemate in the domestic political situation in the USA, a deflection of internaitonal focus towards a periphery threat of conflict that may influence global security (like situation on the Korean Peninsula or border dispute between India and China), and a clear justification – manufactured, provoked or owtherwsie –  for launching a hybrid or conventional attack.
it is important to understand that Putin wrote the article primarily to justify his expansionist foreign policy and as a warning to Russia's neighbours.
Several analysts who are familiar with the workings of the inner circles inside the Kremlin are of the opinion that the second half of 2020, may be the most critical period. Russian journalist Arkady Babchenko, who as a veteran of the Chechen War, is well aware of the Russian leadership's activities and has fled to Ukraine because of persecution, recently wrote about Putin's actions: "Forebodings of war have come closer for me, and in such a big leap."
This is a very harsh statement. The sowing of uncertainty among us and our allies could be the initial aim of Putin's threats. Yet fear will not help us.  Sober analysis of the evolving situation is required, as is greater cooperation with our allies to enhance deterrence. Estonia and the other Baltic States have an immeasurable advantage in comparison to Ukraine: we are members of NATO, and it will not be easy for Russia to cross that red line. Therefore, it is important that our current diplomatic efforts are focused on ensuring the unity of the Alliance, reinforcing our capacity for of early detection and warning, and the deterrence that prevents threats. While doing that, we should not forget that despite the extreme complexity and possibility of new potential strains, it is of great strategic importance for us to find diplomatic ways for resolving tensions with Russia.
Marko Mihkelson is an Estonian Member of Parliament. This piece is a translation of a column that appeared originally in Postimees.