On Wednesday, Canada's Minister of Foreign Affairs, Rob Nicholson, announced that if re-elected, the Conservative government will amend Canada's existing sanctions regime to include the ability to target human rights abusers throughout the world with visa bans and asset freezes.
Nicholson said that Canada will be "adding gross violations of human rights to the list of eligible grounds for sanctions."
The ground-breaking legislation would make Canada a global leader in human rights protection.
The cold-blooded assassination of Boris Nemtsov and the imprisonment, torture and death of Sergei Magntisky . . . have outraged Canadians, and rightly so. – Canadian Minister of Foreign Affairs, Rob Nicholson
Internationally referred to as Magnitsky legislation, the United States adopted the Magnitsky Act in 2012, and has used it to sanction Russian human rights abusers. In addition to Russian human rights abusers, the Canadian version, referred to by many as Magnitsky-Nemtsov legislation, is global in scope.
The Canadian government has already sanctioned some 270 entities involved in the Russian sponsored insurgency in Eastern Ukraine. The Magnitsky-Nemtov amendment will ensure that Russian domestic human rights abusers face the same Canadian consequences.
In 2012, Russian pro-democracy opposition leaders Boris Nemtsov and Vladimir Kara-Murza visited Ottawa and asked for the Canadian government to adopt Magnitsky legislation. Individual sanctions, they argued, would present Russian authorities with real and serious consequences for their actions. With their assets and travel privileges threatened, Kremlin officials might think twice about participating in kangaroo trials, incarcerations, fraud and murder.
Boris Nemtsov on Power and Politics with Evan Solomon February 2012
Tragically, Nemtsov was murdered near the Kremlin in Moscow earlier this year, in what is widely regarded as a political assassination. The incident happened just as Nemtsov was preparing to publish an expose of Russia's involvement in the war in Ukraine
Russian police incarcerated Sergei Magnitsky, -for whom the global legislative movement is named after- when he discovered that Kremlin tax authorities were defrauding the Russian government of over $250 million through a complex tax refund scheme. Magnitsky died in prison in 2009 after he succumbed to wounds inflicted by ongoing torture and lack of medical attention.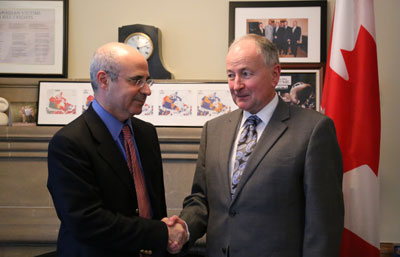 "The cold-blooded assassination of Boris Nemtsov and the imprisonment, torture and death of Sergei Magntisky are among the highest profile examples," said Canada's Minister of Foreign Affairs, "but other cases of unlawful arrests, beatings, and extrajudicial killings of members of opposition, religious and other minority groups in Russia have also outraged Canadians, and rightly so."
It's well known that serial human rights abusers like those in Russia, Iran, North Korea, Syria and elsewhere, do not keep their capital in their native countries. They don't send their children to domestic schools nor do they vacation at home. They hide their money in foreign assets.
Many hold real estate assets abroad. Such was the case of disgraced former Russian Senator, Vitaly Malkin, who was banned from entering Canada due to international criminal connections, yet owned a number of buildings in Toronto including a large piece of commercial real estate.
On Tuesday, Minister of National Defence, Jason Kenney also announced that a re-elected Conservative government would create a Financial Task Force charged with tracking the flow of money out of Russia to ensure that sanctions are properly targeted and enforced.
Earlier this year, Liberal MP, Irwin Cotler introduced a parliamentary resolution calling for the House of Commons to support the passage of Magnitsky legislation – which was unanimously adopted. A similar resolution was introduced and passed by Canada's Senate by Conservative Senator Raynell Andreychuk. Cotler had previously introduced two private members bills on the subject.
Minister of National Defence, Jason Kenney announced on Tuesday that the Conservative government would establish a $10 million Digital Freedom Fund to combat Kremlin propaganda in Eastern Europe and in the west.