One of the most powerful accounts ever given of life in Stalin's Gulag has finally been published in English.
"Suddenly, a Criminal" by Melanija Vanaga (1905-1997) is her harrowing but beautifully-written account of sixteen years spent in Siberian labor camps and is her best-known work.
"Those among us who survived," said Melanija, "did so because we were unbelievably full of the determination and will to live, and faith in our ultimate liberation, as well as because all the disasters arose unexpectedly."
F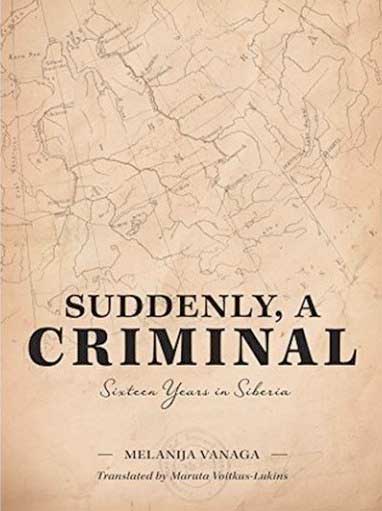 rom her own and some of her fellow victims' notes and diaries written while the experiences were raw, she portrays an authentic panorama of what Soviet-style ethnic cleansing looked like on the ground during her involuntary Siberian exile (1941-1956) after being snatched from her homeland.
First on an animal collecting station near Tyukhtet when her son Alnis is only nine, and later in the village itself, she and other women endure homelessness, borderline starvation, extreme cold, humiliation, insult, ill treatment and brutality, and all the while without any knowledge about their husbands' fates, the men having been separated from the women and children at the first train station where their ordeal began.
Melanija Vanaga recorded uncounted biographies of those who otherwise would have been lost to history. She filled one hundred and ten large albums in her calligraphic handwriting, supplemented by photographs, and hand drawn maps and pictures.
In Latvia, "Suddenly, a Criminal: Sixteen Years in Siberia" became an instant modern classic when it was finally published.
In September 2014 it was published also in Russian. Inspired by this book, a film (Latvian-Finnish-German co-production) "Chronicles of Melanie" will be premiered in the fall of 2015.
The translation is by Maruta Voitkus-Lukins, Melanija's junior by 34 years, who received her grounding in Latvian culture at a Displaced Persons' camp in Germany, sponsored by the United Nations Relief and Rehabilitation Association. Her family subsequently emigrated to Canada.
As well as making her mark in literature, Melanija Vanaga continues to provide inspiration to historians and folklorists to this day. An innovative online museum, EsiPats! was launched last year (including English-language content) and a museum dedicated to her life and works can be found in Amatas district in central Latvia.
The book is available via online retailer Amazon.
This piece originally appeared on lsm.lv and was reproduced with the kind permission of the editors and author.