Since 2011, Tallinn's municipal government, which is governed by the Estonian Center Party (ECP), has been paying about €550,000 a year to First Baltic Channel (PBK)—the region's most popular Russian-language channel—to create TV programs for Estonia's Russian-speaking audience. That audience is the ECP's most important constituency. According to a recent study, the PBK spreads anti-EU and anti-Western propaganda. Yet the ECP, which has formal ties with Russia's ruling United Russia party, does not see the arrangement as a conflict of interest.
On 11 December, the Estonian daily newspaper Postimees published an article on the cooperation between Tallinn's government and privately owned PBK, which is based in Riga. The PBK rebroadcasts programs of Russian state-owned Channel 1. The news was not that the cooperation exists, but rather the context of this cooperation. As the article showed, an analysis by the Ukraine Crisis Media Center of the content of Russia's three leading national TV channels found that they aired mostly negative news on European countries. These three channels, concludes the study, devote tremendous resources to disseminate negative narratives in order to "convince the Russian population not to accept European liberal values, prepare that population ready for potential conflict with the West, and to feel motivated to take over a weak and divided Europe." The article suggested that Tallinn's city government should end its cooperation with a TV channel that is openly hostile towards Estonia and Europe.
This article was followed by one on 17 December which showed that, according to a 2015 content analysis by Oleg Samorodni, the content provided by PBK contains several key pro-Kremlin narratives: that NATO is provocative; that sanctions against Russia harm Estonia; that Estonia is Russophobic; and that the ECP is the only party which Russian-speaking Estonians can trust.
These two articles aroused public discussion in Estonia on whether or not buying airtime from a main Kremlin propaganda channel in the Baltic region is justified, yet the ECP defended its arrangement with three main narratives.
First, according to party leader and Prime Minister Jyri Ratas, the city government's cooperation with PBK is justified because of the channel's popularity among Estonian Russians. If Tallinn's government wants to get its message through, he said, it should use a channel widely viewed by an important target group. Whether or not the channel also provides Kremlin propaganda is irrelevant, he said.<
studies show that viewers

construct

their worldviews based not on one program but on the messages provided by many programs on the same channel
Second, according to Tallinn Mayor Taavi Aas—also an ECP member—the three TV programs his city pays for do not contain Kremlin propaganda. Aas urged Estonia's national government to follow the Tallinn City Council's example and use PBK to inform Estonian Russian-speakers.
Third, according to Tallinn's deputy mayor, Vadim Belobrovtsev, since PBK is not a Russian TV channel but privately owned channel based in Riga, it is ridiculous to say that the city officially supports or spreads Russian propaganda.
Yet all these narratives are misleading. First, it is true that PBK is not a Russian TV channel, but privately owned by Baltic Media Alliance, which is registered in the UK and based in Riga. According to the content analysis mentioned earlier, about 70 percent of PBK's content comes from Russian Channel 1. So even though the channel itself is not the Kremlin's, its content is.
Moreover, studies show that viewers construct their worldviews based not on one program but on the messages provided by many programs on the same channel. This means that audiences may not always distinguish between the messages of programs created by order of Tallinn's city government and those created by Russia's state-owned Russian Channel 1.
Second, even if Tallinn city officials claim the programs it buys from PBK don't contain Kremlin propaganda, by buying the programs it legitimizes the whole channel in the eyes of its audience. In 2011, in fact, 27 percent of Estonian Russians believed that PBK is the public broadcasting channel of the Baltic states.
Third, as the analysis shows, 73 to 92 percent of the content of the three programs Tallinn buys from PBK contain ECP political propaganda. Instead of informing Estonian Russian-speakers, the ECP uses PBK as one of the main instruments of its election campaigns.
What could be a solution? To provide Russian-speaking Estonians quality information on Estonia and international affairs, Estonian Public Broadcasting in 2015 created a Russian-language TV channel, ETV+. Yet it's not very popular, and this is because of three obstacles. First, since its budget is not as big as those of competing Russian government-funded TV channels, creating the content that Estonian Russian-speakers are used to—for example, high-quality entertainment programs—is not practical. Second, media-consuming habits have changed globally. Younger viewers prefer multi-platform digital media and on-demand audiovisual services. And third, the fact that PBK often criticizes ETV+ reduces rather than increases the trust Russian-speaking Estonians have in ETV+.
Some of these obstacles can be overcome—for example, offering more multi-platform digital media to a younger generation; others are more formidable. But by supporting a TV channel that discredits ETV+, the Tallinn City Government does not make the situation any easier.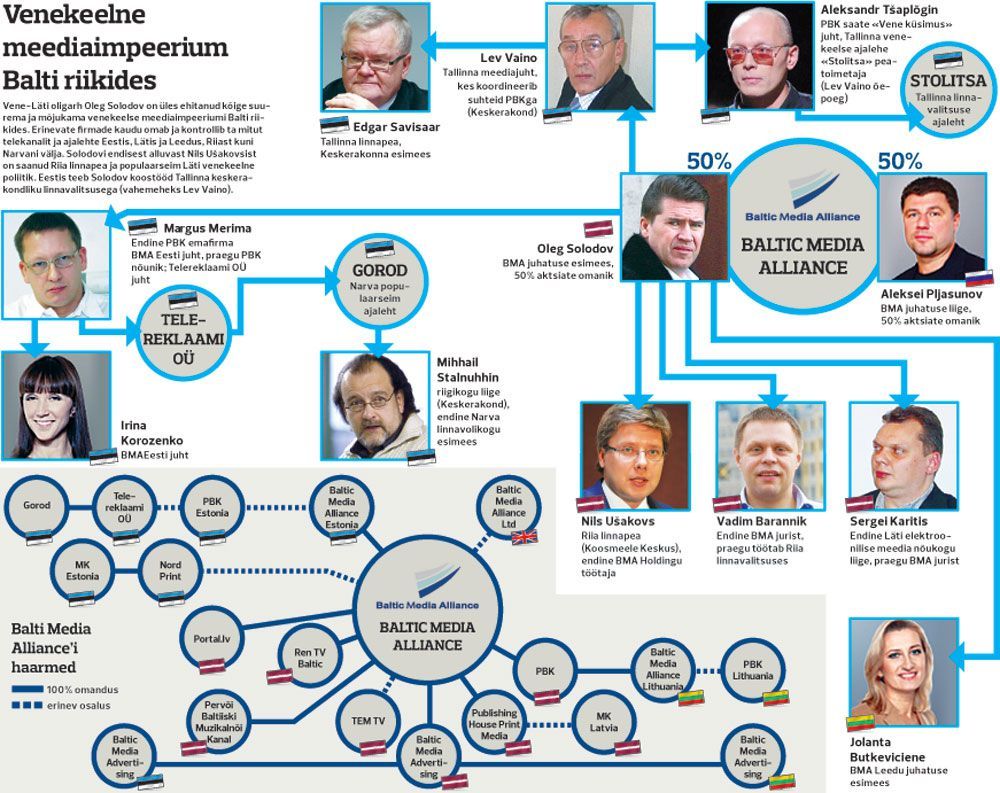 Reproduced with the kind permission of the author and CEPA. Original
HERE