Western leaders snub Putin's extravagant Victory Day celebration to attend Polish commemoration as Kremlin aggression casts dark shadow over 70th Anniversary
Western leaders are expressing their disapproval of the Kremlin's annexation of Crimea and ongoing aggression in eastern and southern Ukraine by boycotting the annual Victory Day parade in Moscow. A growing number of European leaders have announced that they will instead attend an alternate celebration organized by the President of Poland in the Baltic Sea city of Gdansk on May 7-8.
Several European leaders have confirmed their attendance at the Polish commemoration including Estonian President, Toomas Hendrik Ilves. There is strong speculation that French President, Francois Hollande, will attend along with other Western European heads of state and the Polish President's office has told Polish Television that a member of the British Royal Family will also be attending.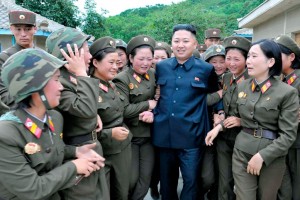 North Korean dictator, Kim Jong-un was speculated to attend Putin's May 9 parade but North Korea announced on Monday that he would not travel to Moscow. Those leaders confirmed to attend the Victory Day events include the totalitarian leaders of several Central Asian states, including Uzbekistan's dictator, Islam Karimov and Kazakhstan's Nursultan Nazarbayev who last week was re-elected by nearly everyone in his country – 97.5% -to another term in office.
The Kremlin's Victory Day parade commemorates the defeat of Nazism by Soviet forces in 1945. While Central and Eastern European nations acknowledge that they were liberated from Nazi occupation by the Red Army, Soviet forces never left the countries they liberated and became a repressive foreign occupying force. Most Eastern and Central European nations consider the fall of communism, in the early 1990's, to be the real end of their wartime experience.
The Polish Victory Day commemoration on the Westerplatte peninsula is historically symbolic, as it was on the peninsula where the first shots of the Second World War were fired by German naval units on September 1, 1939.
The German attack in Westerplatte followed the signing of a formal non-aggression agreement between Hitler and Stalin on August 23, 1939. The Hitler-Stalin alliance included a secret protocol that carved up Europe between the two totalitarian regimes, including Poland, Finland, and The Baltic States. Two weeks after the German attack, Soviet forces attacked Poland's eastern frontier – making The Soviet Union one of the states who started the Second World War.
The snub by western leaders comes at a time when Putin's regime has ramped up domestic efforts to sanitize Soviet history and rehabilitate Stalin's image from being one of the most repressive and murderous dictators in history to being the "father" of modern Russia. A worrying recent survey by independent Russian polling organization, Levada Center, revealed that 45% of Russians believe that Stalin's Great Terror, The Gulag and mass repressions were justifiable.