Award winning Finnish author of "Purge" and "When The Doves Disappeared," Sofi Oksanen visits Toronto on March 27 to give a keynote address at the Toronto Conference on Repressions and Human Rights: Commemorating the 1949 Baltic Deportations on March 27. The event will also feature a panel discussion of international experts and historians including former Swedish MP and VP of the Parliamentary Assembly of The Council of Europe, Göran Lindblad; University of Toronto, Estonian Studies Chair, Jüri Kivimäe; Director of the Joint Baltic American Committee, Karl Altau and others.

[stextbox id="black" caption="Sofi Oksanen Biography" collapsed="true" mode="js" shadow="false"]

With her first novel, Stalinin lehmät, ("Stalin's Cows", 2003), Finnish-Estonian writer Sofi Oksanen (born 1977, Jyväskylä, Finland) was catapulted into the elite of young Finnish literary authors. Her original and political début, at once revolting and sublimely poetical, created a heated public debate and rendered her a nomination for The Runeberg Award, one of Finland's most prestigious literary prizes. Oksanen followed up the success with the publication of a second novel, Baby Jane, in 2005.

A former dramaturgy student at Helsinki's Theater Academy before she turned to writing full-time, Oksanen's first original play "Puhdistus" was staged at the Finnish National Theater in 2007 to rave reviews. The characters she had created would not leave their author alone however, and out of the play grew Oksanen's third literary novel Puhdistus ("Purge", 2008). Puhdistus became a runaway success, and Sofi Oksanen's major breakthrough: a No. 1 bestseller in Finland with sales exceeding 260 000 copies, Puhdistus has won its author numerous literary prizes, including Finland's premier literary award, The Finlandia Award, and biggest literary award in Nordic countries, Nordic Council Literature Prize 2010. Oksanen is the youngest author ever to win either one of these prestigious prizes.

Puhdistus has also won the 2010 FNAC prize in France. It was selected from 300 works published in France. This is the first time the award has gone to a foreign author.

Puhdistus is translated into 38 languages.

Prizes & Awards
Shortlisted for the The Runeberg Prize 2004
The Mika Waltari Award 2008
The SSKR/The Great Finnish Book Club Prize 2008
Christina of the Year (from the University of Helsinki) 2008
The Varjo-Runeberg Award 2008
The Kalevi Jäntti Prize 2008
The Varjo-Finlandia Award 2008
The person of the year, Postimees-newspaper 2009
The FNAC prize (Le Prix du roman Fnac) 2010
Prix Femina Ètranger 2010
Europe Book Prize 2010
The Order of the Cross Terra Mariana IV Class 2010
Pro Finlandia, the Order of the Lion of Finland 2012
[/stextbox]

The Toronto Conference on Repression and Human Rights commemorates the March 1949 Baltic Deportations.  The event comes at a time when Kremlin propagandist are actively working to resurrect the status of the Soviet Union.

Over a three day period in March 1949, 90,000 Estonians, Latvians and Lithuanians were forced from their homes and deported to the grim squalor of the Soviet GULAG slave labour camps. The grimly named Operation Priboi ("Coastal Surf"), was intended to further ethnically Sovietize the three Baltic States, nine years after the initial occupation of the Baltic States by the Soviet Union.

Over four nights between March 25-28, Soviet terror spread through all three nations as entire families, from infants to the elderly, were stolen from their farms and homes in the dead of night. Herded into primitive cattle cars, they spent days and weeks traveling to the most remote far eastern and northern regions of the Russia. Many died along the way due to unsanitary conditions and starvation. Even more died in the slave camps – where they were overworked, underfed and left to die of disease and exposure to extreme conditions.

The Soviet March 1949 deportation has since been deemed a Crime Against Humanity by the European Court of Human Rights. Over 100 Soviet bureaucrats, members of the Red Army and the secret police were award state honours by the Moscow authorities for their barbarism. Not a single person has been held accountable for the deportations, the thousands who died as a result of them nor any other damages.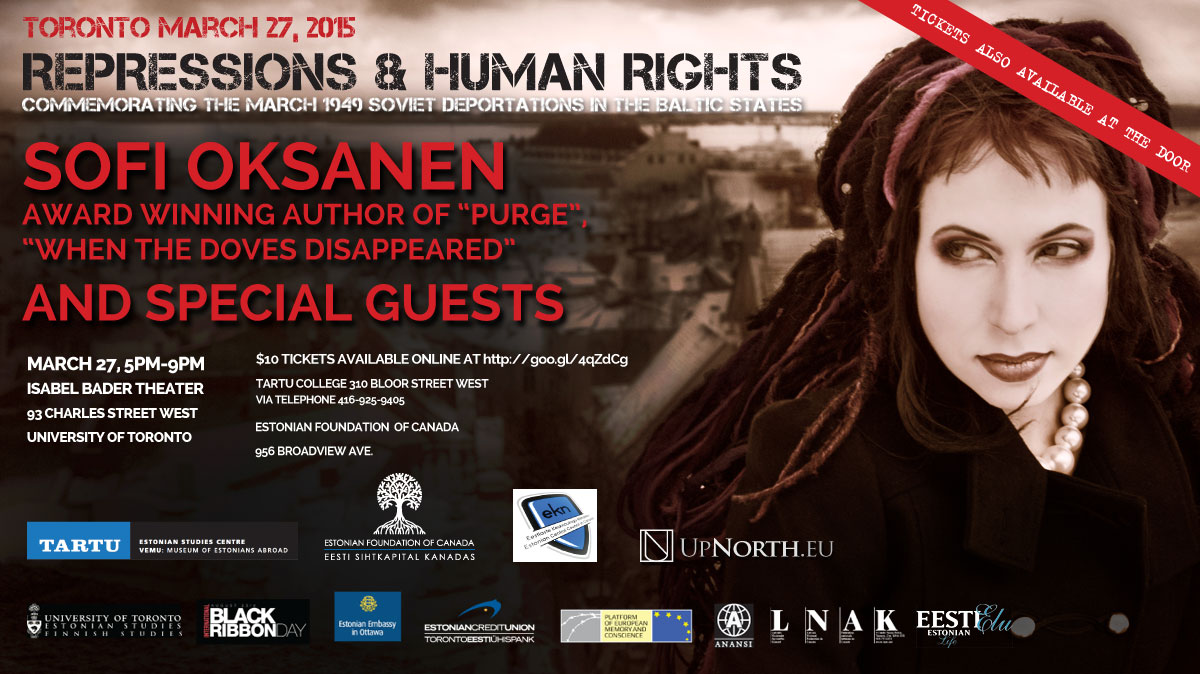 Over the past decade, Vladimir Putin has allocated resources and tens of millions of dollars towards rehabilitating Soviet history. This includes the denial of the Soviet occupation of the Baltic States and any other wrong doing by Soviet forces. Putin's campaign has been so effective in Russia and among Russian minorities in the Baltic States, that a majority now believe that Stalin was a strong and benevolent leader who, along with Putin, was the father of the Russian people. So extreme is the campaign, that a recently published state textbook features a politicized alphabet that features images of Lenin, Stalin and Putin in order to establish political subservience in Russian kindergarten aged children.
"Putin's disturbing campaign to whitewash Soviet crimes both in the Baltic states and Russia have been steadily accelerating over the past few years," says conference founder and co- organizer Marcus Kolga, "that's why it's as important as ever for the public, historians and writers like Sofi Oksanen to come together and discuss and commemorate this history: to make sure that this history is never marginalized and forgotten."
A panel discussion will discuss the historical facts surrounding the March deportations as well as their impact on current geopolitical affairs, including the attempts to stop a monument in Ottawa from being erected to memorialize the victims of communism.
"The conference features a panel leading experts from around the world who work directly with this history," says Piret Noorhani, co-organizer and Director of conference lead partner, VEMU, The Museum of Estonians Abroad, "and we're extremely luck to have Sofi Oksanen join us, whose incredible work on this subject has been awarded some the world's highest literary honours."
Tickets are available at:
Online: http://goo.gl/4qZdCg
Tartu College, 310 Bloor St W, Toronto, and by phone at 416 925 9405
The Estonian Foundation, 956 Broadview Ave, Toronto
ISABEL BADER THEATER