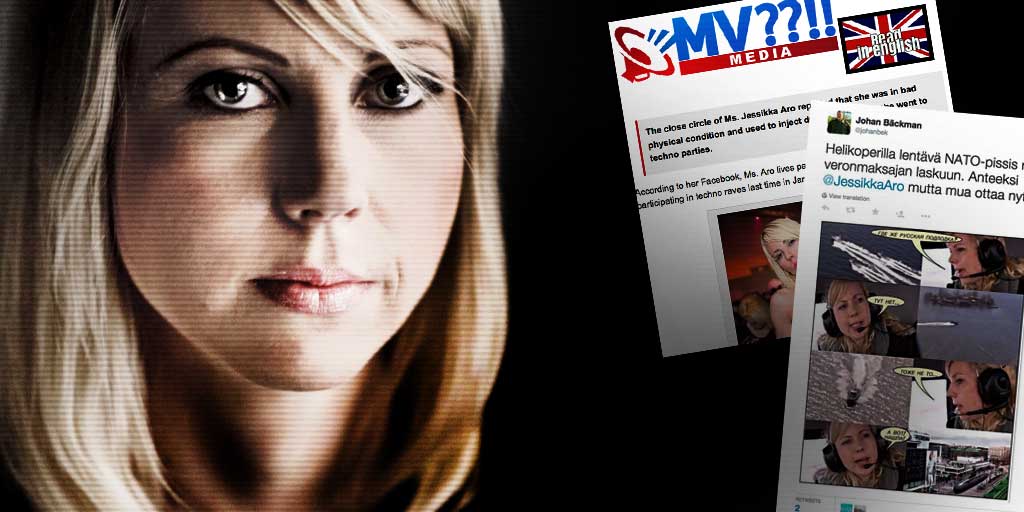 A critically important court case about the limitations on free speech in Finland is unfolding in a Helsinki court this week.
Jessikka Aro, a well known Finnish journalist with the country's national broadcaster, has been the target of Finnish and Russian pro-Kremlin trolls after exposing the Kremlin's social media troll factory in St. Petersburg in 2014.
Finland's most prominent pro-Kremlin online media platforms, MV Lehti, is well known for its vicious attacks against critics of Vladimir Putin. In 2015, the paper undertook an aggressive trolling campaign against Ms. Aro. Her movements and activities were tracked by pro-Kremlin MV Lehti associates and posted online and hateful memes and stories posted in efforts to destroy the accomplished journalist's career.
Well known Finnish pro-Putin extremist, Johan Bäckman, was among the first to attack Ms. Aro. Bäckman has actively worked to deny the occupation of the Baltic States and is the self appointed Finnish and EU ambassador to Russian occupied areas of Donbas and set up the so-called "embassy of Novorossiya" in Finland. According to his website he is an adjunct professor at the University of Helsinki.
The propaganda campaign against Aro, waged by Bäckman and MV Lehti targeted her "private life, family affairs and non-existent political background have been under scrutiny. Secret profiles tried and still try to tie me to phony, time consuming and tiring Twitter conversations."
The trial against MV Lehti and its founder, Ilya Janitsky, includes Bäckman and two other individuals.
Finnish prosecutor, Juha-Mikko Hämäläinen told reporters that MV Lehti's  "long and systematic activity has been practiced for a long time, which has effectively destroyed a human life".
Finland has long been on the front lines of Russia's modern information war. In 2007, Johan Bäckman began organizing pro-Soviet demonstrations in Finland, Estonia and elsewhere. He later wrote and published a highly controversial book ""The Bronze Soldier: The Backdrop and Content of the Estonian Monument Debates" about the incident in which he openly denied the occupation of the Baltic States, calling it a "myth." A group of leading Estonian and Finnish cultural figures, including Sofi Oksanen, Imbi Paju, Iivi Anna Masso, Elhonen Saks and others wrote an open letter to the University of Helsinki comparing Bäckman's denial of the Soviet occupation to those who deny the Holocaust.
The anti-Baltic and Western propaganda tactics that were developed, in part by Bäckman in Finland, are now being exported as far away as Canada, where pro-Kremlin writers are using similar language and tactics to attack western support for Baltic sovereignty.
Sources: Kalevi.fi, YLE Kioski