Latvia's libraries – citadels of light
My book tour commences on November 3 with a kick-off at the stunning National Library called "the Castle of Light," designed by famous Latvian American architect Gunnar Birkerts (1925-2017). I express my gratitude to the US Embassy for the tour, and to the United States for supporting the Baltics and for its steadfast policy of non-recognition of the Soviet incorporation of these countries. My tour is taking me to all four regions of Latvia: Kurzeme, Vidzeme, Zemgale, and Latgale. My constant companion on these trips is Nils Students, a fellow American who graduated from the same Latvian elementary school as me in New Jersey. Nils has lived in Latvia since the early 1990s, owns several businesses and properties, is married to a Latvian MP, has two sons, is in the Latvian National Guard, works for the US Embassy, and is totally committed to Latvia and its security. He is a diehard patriot willing to defend the country with all it takes. I feel safe with him nearby. With Russia occupying Crimea and gutting the Donbass region in Ukraine, my dread of Latvia's eastern neighbor has only intensified.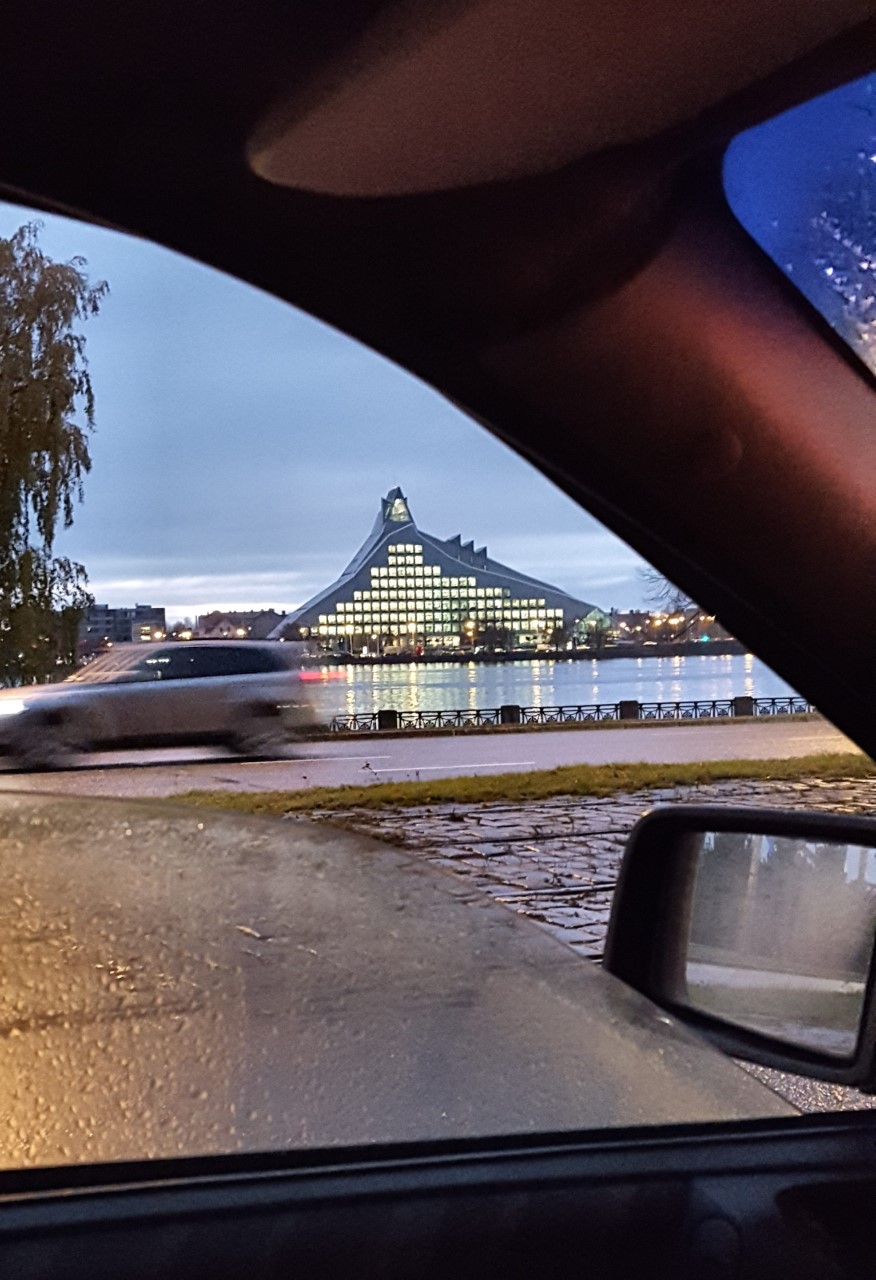 Kurzeme
For me, this book tour is a chance to touch Latvia once again with my eyes: its dark, troubled skies; brown, tilled fields; blanched meadows; and serene forests, Latvia's "green gold." It is the landscape of Latvia – its earth and sky – that I long for when I'm away. No place feels more like home for me, yet I do not know how or whether I'll ever get back. In addition, I am showing my Estonian partner Karl the Latvia I know. Our first destination Kurzeme, Latvia's westernmost region, provokes thoughts of war, because almost everyone fleeing before the Red Army in 1944 fled across Kurzeme to the port in Liepāja. Our first event is in Kuldīga, a postcard-pretty town that dates back to the 13th century and overlooks Latvia's famous Ventas rumba (Venta Rapids), Europe's widest waterfall and a famous salmon run. According to the library staff, the town's population has rapidly declined and hovers around 9,000 inhabitants. The lovely town seems practically deserted, though there is so much to see and appreciate. With the blessing of Jews, the library has been installed in the town's former synagogue.15 Kuldīga's Jewish life, destroyed by the brutal Nazi occupation, is honored in the sanctuary with photographs.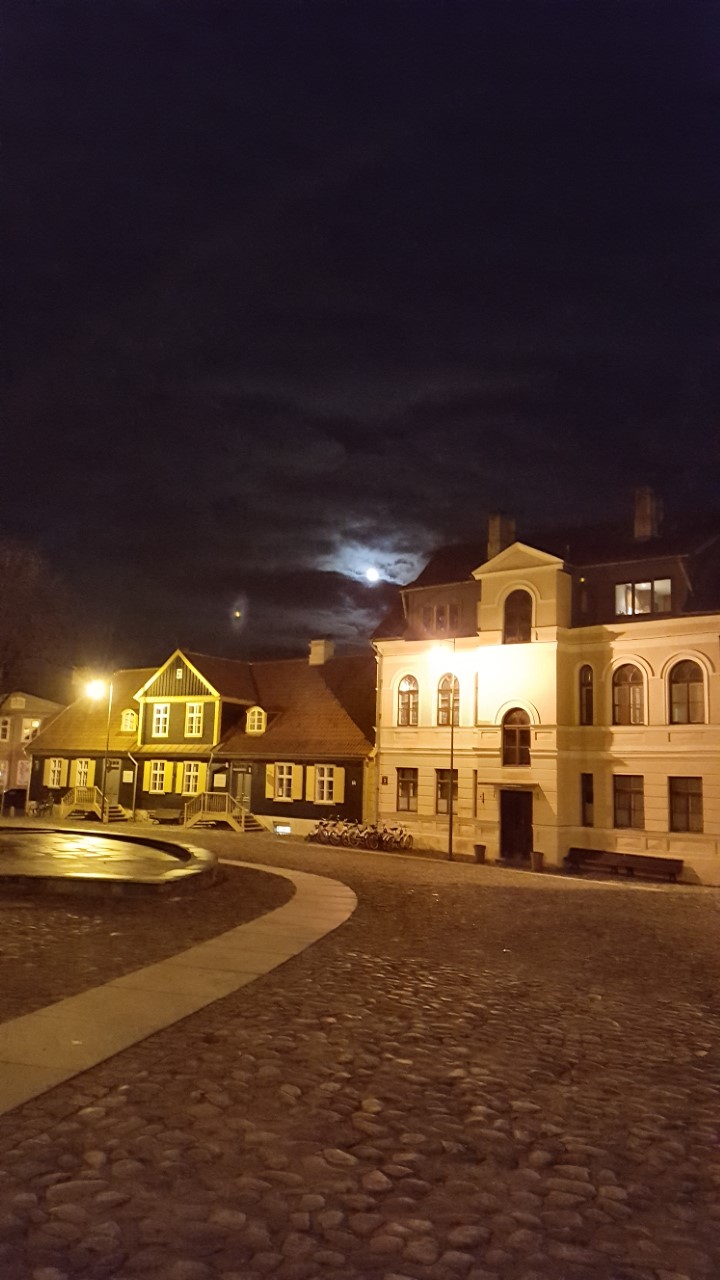 The European Union provided funds for the immaculate restoration and adaptation of the synagogue. According to Nils, Kuldīga is flush with cash in the summertime, when tourists from Portugal and Spain descend on the town to escape the heat of global warming in southern Europe. Our stay is memorable: a reasonable turnout of young and old in two separate events; questions; conversations; a fantastic dinner on the square prepared by a very young and friendly Latvian chef; and a delightful room in a charming inn overlooking Alekšupīte, the stream that bisects the town. A late night walk enables Karl and me to eavesdrop on a trio of drunks; a Latvian, Roma, and Russian. The Latvian berates the Russian for not learning Latvian, telling him in slurred tongue to take an example from the clever Roma who is well integrated. Above us the towering spire of Holy Trinity Church (1640) reminds us of Polish influence in the region,16 as the lovely, indifferent Moon peeks out from behind clouds. "O Fortuna velut luna statu variabilis, simper crescis aut descresis…"17 ("Oh fortune, like the moon you are changeable, ever waxing and waning…").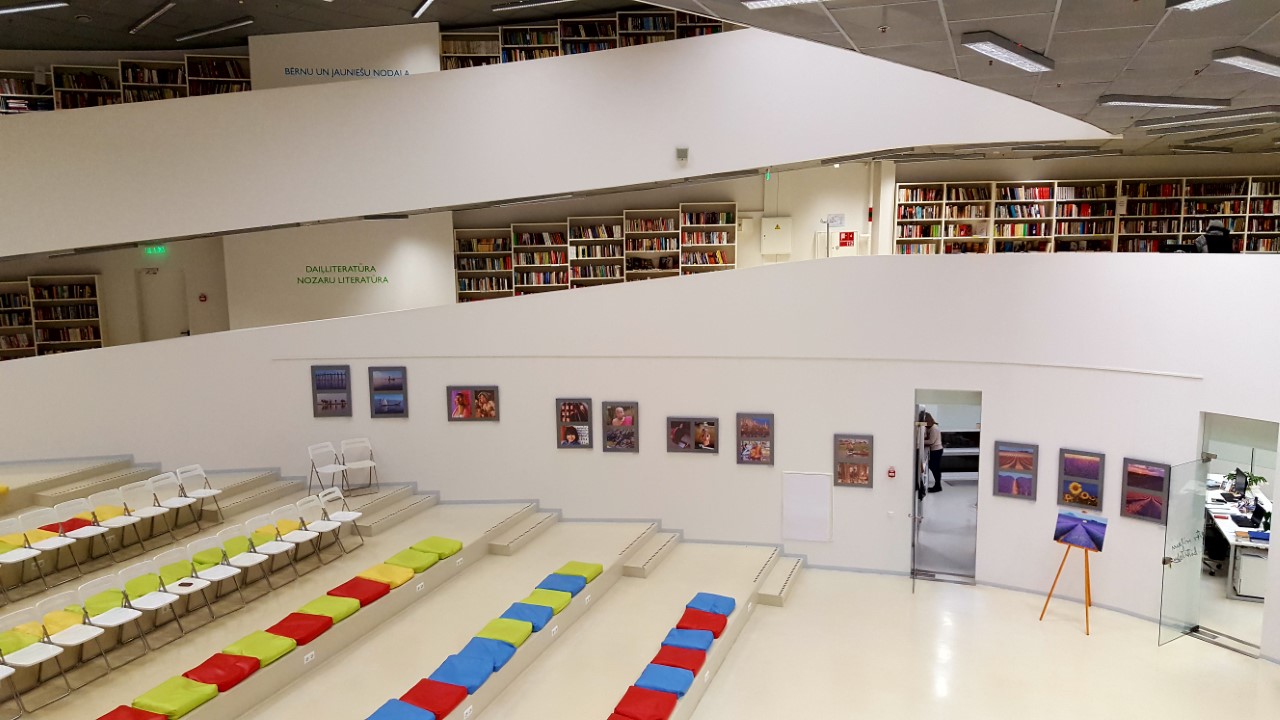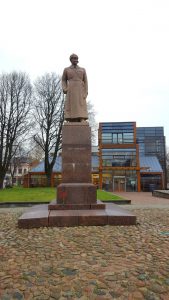 The strategic importance of Latvia's port cities Ventspils and Liepāja on the Baltic Sea cannot be underestimated. Today Ventspils is a fiefdom governed by a little man accused of vast corruption and influence-peddling, its fortune established in the Soviet era, when the USSR exported crude oil, potassium salt, and chemicals from it. But it is clean and well maintained, its two libraries are absolute gems, and so I keep my mouth shut. The Central Library of Ventspils and its digital center are a modern masterpiece of light, metal, and wood, designed by Latvian architect Juris Poga,Žanna Turova, Ilva Asmusa, and Jānis Ulbiks. The library's neighbor, Ventspils House, a getaway for writers and translators, looks like a great place for someone like me. Must investigate! – I make a mental note. After meeting with a big crowd of young and older people, including Soviet-era rebel and "independent archeologist" Uldis Ābiķis,18 to share my story and book, Karl, Nils, and I head toward the famous port that lines the pockets of Latvian and Russian oligarchs with astounding amounts of money. The street sloping down toward the water is devoid of traffic, and Ventspils seems sleepy in spite of its reputation as a conduit for Russia's commodities. For us it's a delicious lunch of potatoes with fresh flounder at a waterside restaurant, and then we head to the city's other – Pārventa – Library, which reminds me of the Guggenheim Museum. White, light, and immaculate inside, like a perfect seashell, the library is a work of art designed by a Latvian architectural firm called India: Pēteris Bajārs, Ivars Kalvāns, Rūdolfs Jansons, Ieva Baumane, Dina Suhanova, and Ilze Ļuļe. Our crowd here is tiny but friendly. I will never forget putting my arms around Mirdza Stella Putniņa, over 90, blind, and walking around without help. She tells us she is related to the famous brothers Irbītis, Kārlis (1904-1997) and Ādolfs (1910-1983), designers and inventors. (Kārlis designed airplanes and motorcycles, and Ādolfs designed radios. One brother ended up in Canada after the war, the other in Latvia.)19 In translation her name means "Shining Star Little Bird," and she is the epitome of Latvian strength and gaišums ("light"). Hugging Mirdza, I feel the little bird – our skylark's* – strong heart beating.
After a drive south along the coast, where I gaze out at the dark silhouette of pine forests that separate us from the Baltic Sea, we reach "the city where the wind is born,"20 Liepāja. It's a special place – a place of departure for most Latvians during World War II, including my grandparents and parents. We get settled at a boutique hotel owned by a Danish rock and roll entrepreneur named Johnny Fontaine and go out for a walk, amazed at how quiet and deserted it is. A lot of famous Latvian musicians hail from Liepāja, so it must be something in theair, or the presence of the sea. For the captive Latvian nation in the Soviet era, looking west across the Baltic towards the "Free World" must have been painful. Along most of the coast, the sea was inaccessible. The next day Nils and I head out to Grobiņa to locate the site of ancient Scandinavian settlements and burial grounds. Prior to my trip I had been reading about them in a book21 and trying to imagine how and why people from Gotland and the Swedish mainland ended up here. The Baltic Sea is full of mystery, sunken ships, treasure, and toxins.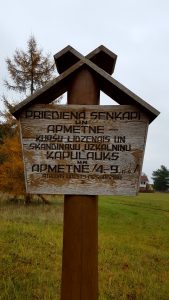 Nils has promised to show me Karosta ("War Port"), an area of Liepāja constructed for Russian Tsar Alexander III at the turn of the 20th century. The Soviets incorporated it as part of their naval base, and it exudes a strange fascination for many – a mixture of faded Tsarist glory and Soviet era bleakness (the remains of two Russian empires). We drive by the beautiful but crumbling old barracks, some still occupied, step into the hippodrome, and admire icons in the shadowy interior of St. Nicholas Orthodox Naval Cathedral, which towers over ugly Soviet era housing. Lurching down a narrow road in the dunes, we end up near abandoned tsarist era bunkers above the beach, some of which are toppling towards the sea: ugly remains of  Russia's imperialism in Latvia. Our Liepāja book event is well attended, and I sense the love its people have for their wind-swept city that has been slammed hard over and over again, to the point of losing more and more people. With an American Fulbright recipient and a Latvian Australian and her American husband from West Virginia, who speaks decent Latvian, in the meeting room we are four Americans who have felt compelled to come to this land to seek out our past. (…) The clouds float away across the city / White hair smoke in the wind / A shadow flickers and fades from your face / Trees halt their race by the sea / Market vendors chatting / I'm come home tired / Sand at the threshold / Of the windy city, Liepāja, the only one…22 As they watched their city burn, people on board the German ships departing from Liepāja in 1944 sang the Latvian anthem.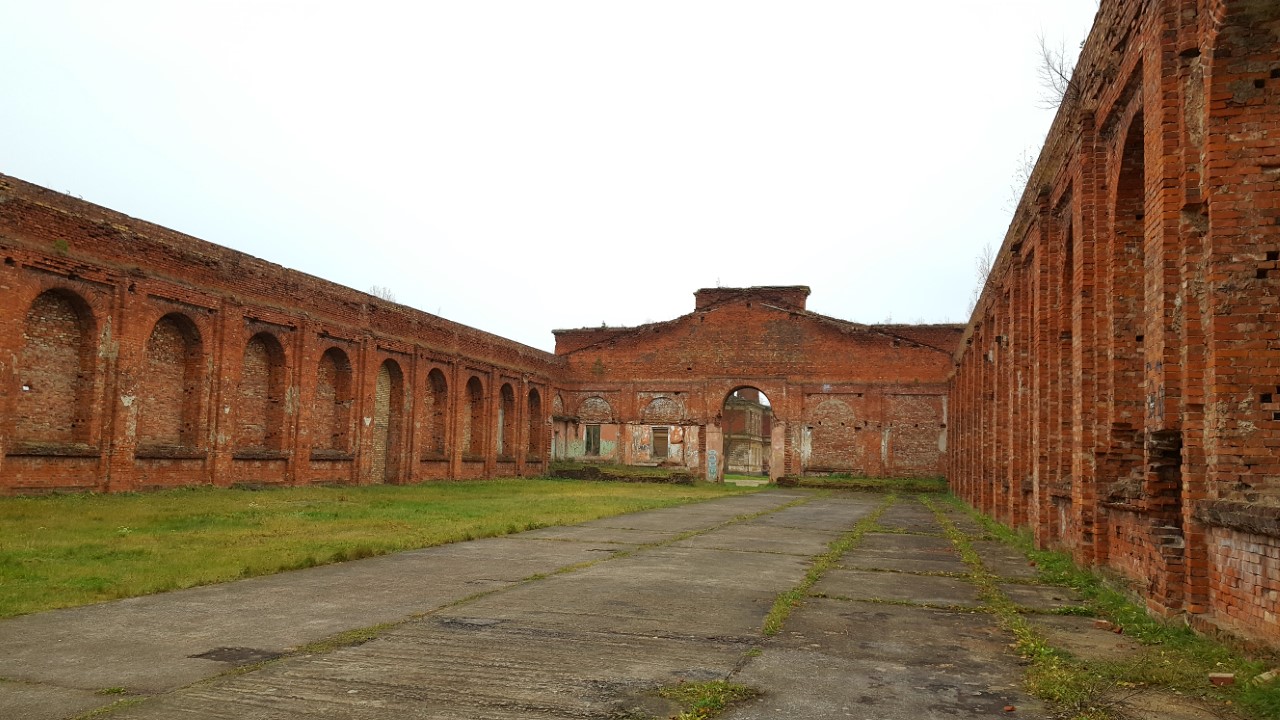 The interior: Vidzeme, Zemgale, Latgale
Latvia is a decent-sized country with an area of almost 25,000 mi². After a fun-filled evening in Rīga with a bunch of rowdy, politically savvy European Latvian Youth Association veterans, many of whom have retired to Rīga, and spending a few days with my loved ones, we take off northward through Vidzeme, cradle of my paternal ancestors. The sun seems farther away here than in Kurzeme. When I was 20, my first sojourn into Latvia was through Vidzeme on the Soviet era Chaika ("Seagull") train from Tallinn. I still feel deeply connected to this part of Latvia, knowing that the bones of my ancestors are buried there along with those of the old Livonians, and that just maybe some of my DNA is Livonian. Miles and miles of countryside dotted with lonely farms and stitched with gleaming birch groves and dark coniferous forests fly by. Heavy road machinery on the muddy road leading to the cemetery in Vidriži prevents me from seeing my paternal grandparents' resting place. After being separated for almost half a century, they lie together as one.23 We stop at the Lielezers Bakery to pick up some goodies for the road, mainly bacon-filled pīrāgi, and watch the bakers kneading dough. Is there anything more wonderful than baking bread? Valmiera seems to be doing alright; at least that's the impression I get seeing some women pushing baby strollers. Latvia needs to decentralize the state to promote growth in the regions. Valmiera Joint Library (partnering with the Vidzeme University of Applied Sciences), spruced up by architect Laimonis Šmits, is perched above the Gauja River and glowing at dusk. Our evening there is spent in the company of mostly gregarious women reminiscing about the past. I guess I'm there to remind them of what Latvia was like in their youth.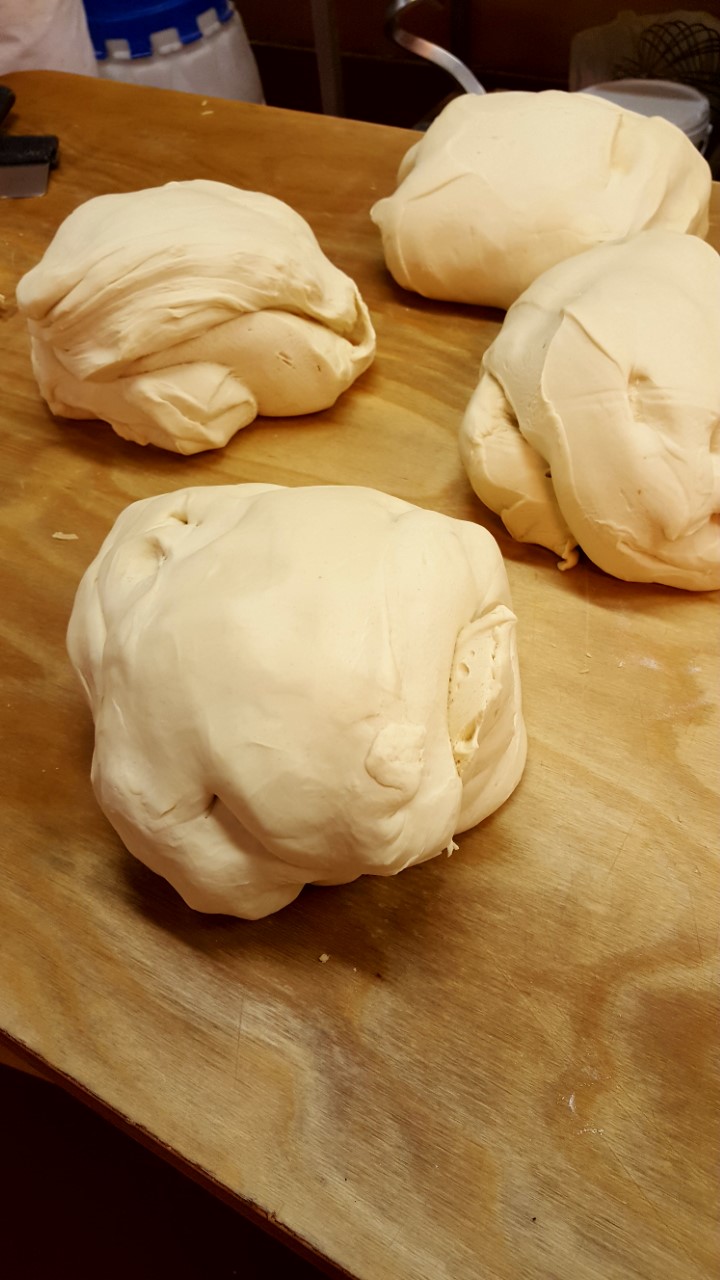 The next day in Limbaži (a name apparently derived from Livonian) I'm almost "home" (my great-grandfather's farm is about 25 minutes south of this pretty town).  As the sun goes down, we gather to discuss my book and other pressing subjects, such as the inevitable question of Latvia's depopulation. The modern libraries we are visiting belie the bitter reality that many Latvians are abandoning their beautiful fatherland. In 1999, when I left Latvia, the population was almost 2.4 million people. Today it has slipped to around 1.9 million. After my presentation, I linger with Finnish writer Jukka Rislakki's book Vilki, velni un vīri ("Wolves, Devils, and Men") about much beloved Latvian artist Alberts Kronenbergs (1887-1957), known for his quaint depictions of friendly devils, shepherds, and bucolic country life. Rislakki: "When I moved to Latvia, I started learning Latvian, including from books illustrated by Alberts Kronenbergs. His drawings attracted me right away. They are pleasant to the Finnish eye, and they made me feel at home. I recognized (this feeling) right away, and one can say that these drawings are very Latvian. Intuitively I felt that Kronenbergs is as Latvian as bacon pīrāgi, Jāņi cheese, (Kārlis) Skalbe's poetry, (Rūdolfs) Blaumanis' plays, the song and dance festival, and the dainas (Latvian folk poetry)".24 What happens to a people's legacy when they abandon their homeland?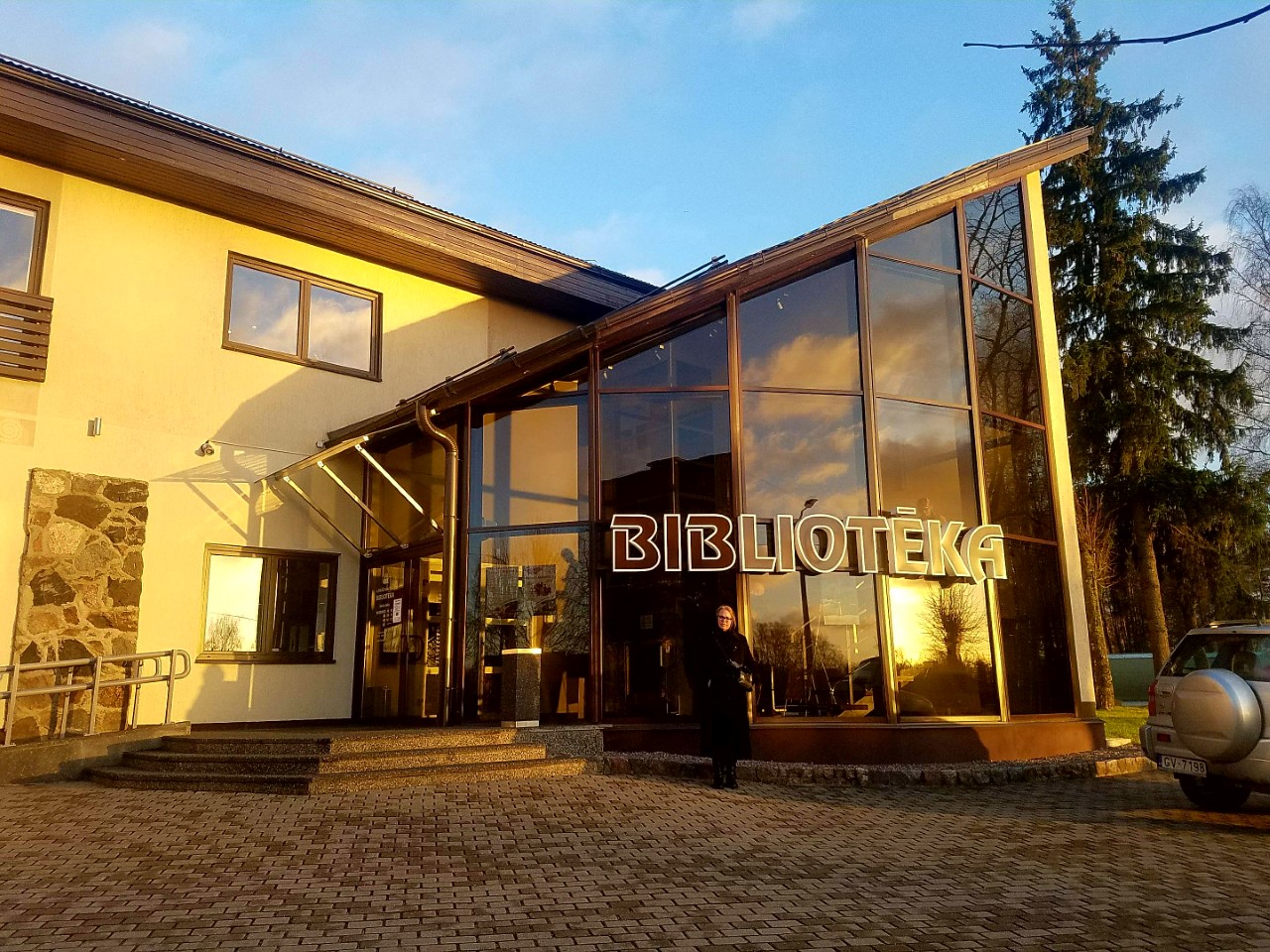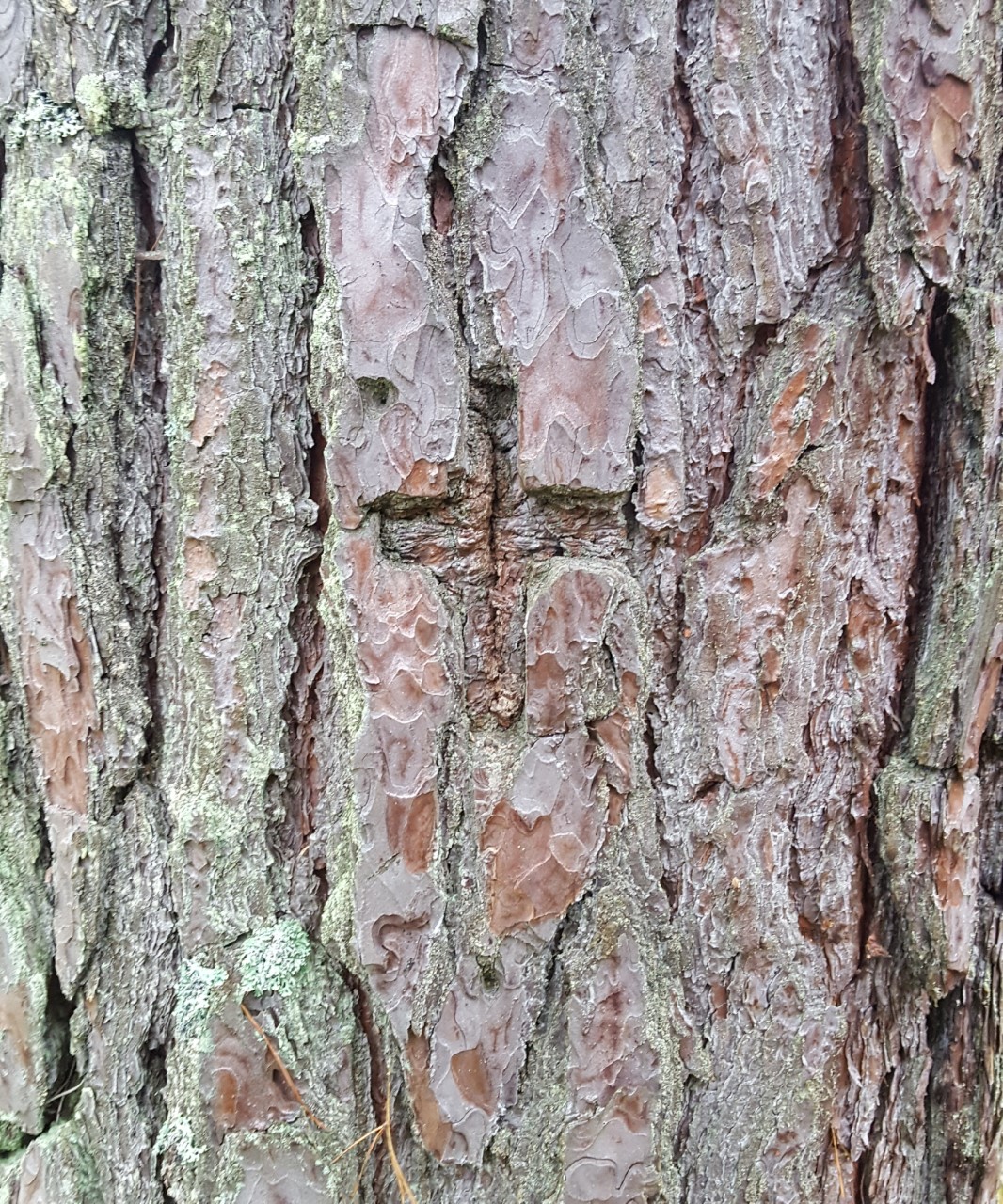 Jelgava (or Mitau as it was once known), the capital of the Duchy of Courland and Semigallia (Zemgale in Latvian), which lasted from the 1560s to the late 18th century, was practically destroyed in World War II. Miraculously, the dukes' residence, the magnificent baroque Jelgava Palace designed by Bartolomeo Rastrelli (1700-1771), remained unscathed. It emerges from the morning mist like  an apparition. I've seen photographs of Jelgava before the war and read that it was an important center of culture in the heart of Latvia's "bread basket," Zemgale. Little remains of its former glory. In many ways, Jelgava's fate mirrored Latvia's on a smaller scale. After my presentation to a big, friendly crowd at the center for integration, someone suggests that I visit the Ģintermuiža Psychiatric Hospital to try to obtain information about the fate of my great uncle Alfrēds Bičolis: on January 8, 1942, 443 inmates (263 women and 180 men) were shot and buried in a mass grave in the nearby woods by Nazi collaborators. Do you believe in fairies? We are put in touch by telephone with a woman named Anastāsija, former head nurse, who offers to take us to the place of the massacre. There in a beautiful, quiet pine forest we walk across the green moss blanketing the mass grave to read the memorial plaques. I can't find my great uncle's name, though I'm quite sure his remains are here. Could Pēteris Bičelis be him? My great grandfather's name was Pēteris Bičolis. A mix-up of identities? The similarity is striking. We find crosses carved into pine trees marking the spot. The Soviets had a knack for concealing Nazi atrocities, too, and purging such events from memory added insult to injury. And just how many mass grave sites are there in Latvia? Apparently there was a time when a motocross track was installed over the mass grave. Communism has no respect for the dead.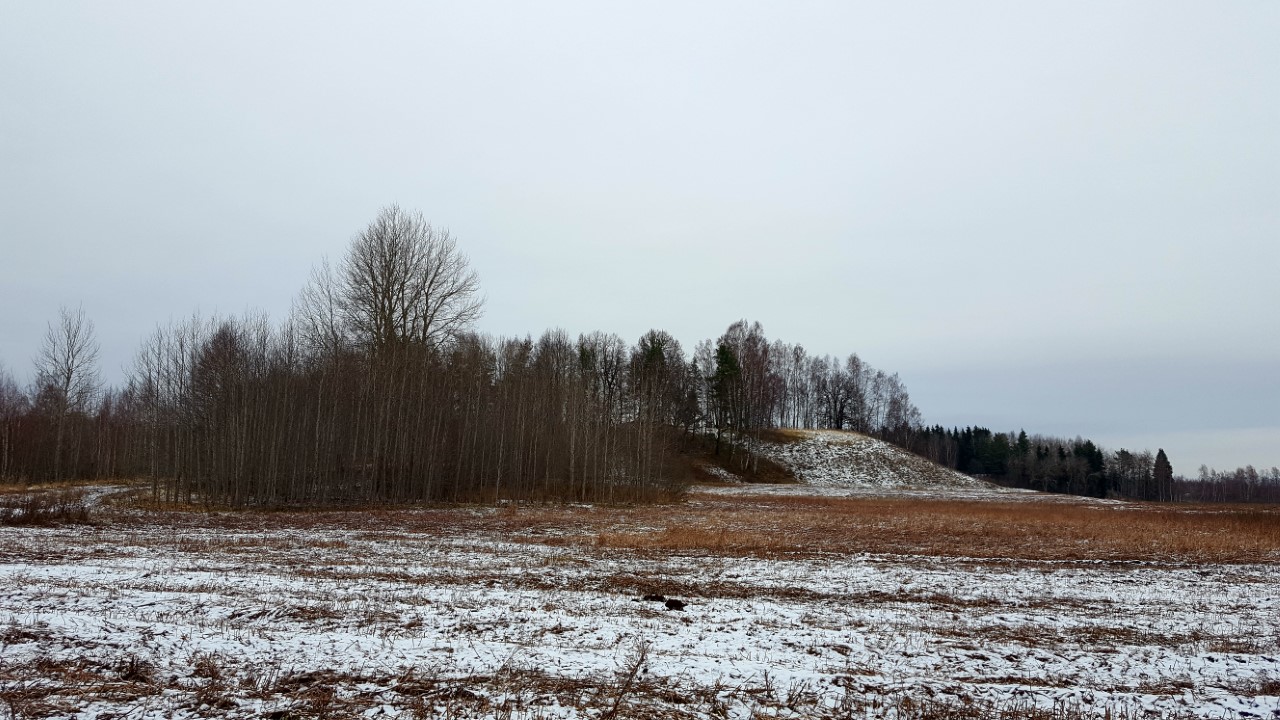 The last leg of our tour takes us to Latgale in the east, yet another beautiful part of Latvia known as "the land of blue lakes." We tramp across snow-smattered fields to take photographs of Spriņģu Castle Hill. These ancient fortifications possess a mystical draw for me. Latgale, known for its Latgalian dialect, is losing entire villages to emigration. A 2012 story on TVNET.lv, "Latgale's Borderland Reality in the 21st Century – Empty Sādžas (villages)," sums up the reasons why Latgale, Latvia's poorest region, has been hemorrhaging people: unemployment (most Latgalians have gone to Rīga, the United Kingdom, or Germany); the government has no long-term strategy for improving the situation in the region, and its representatives don't even bother to visit; and the liquidation of train (=life) lines, such as Rīga-Pitalava, and manufacturing (such as the drain-pipe factory built in Kuprava in 1971). In 2012 the local government was giving away apartments for free in Kuprava, with no takers.25 This story ran five years ago, so I imagine the situation is even bleaker. The library in Rēzekne is very quiet; a group of about 20 people have arrived to meet me, and afterwards Nils shows us the monument to the anniversary of Latgale's First Congress (1917-2017). One hundred years ago Latgalians voted to split from Russia's Vitebsk Province and unite with Vidzeme and Kurzeme to be one nation. Today they wonder if the rest of Latvia gives a damn about them.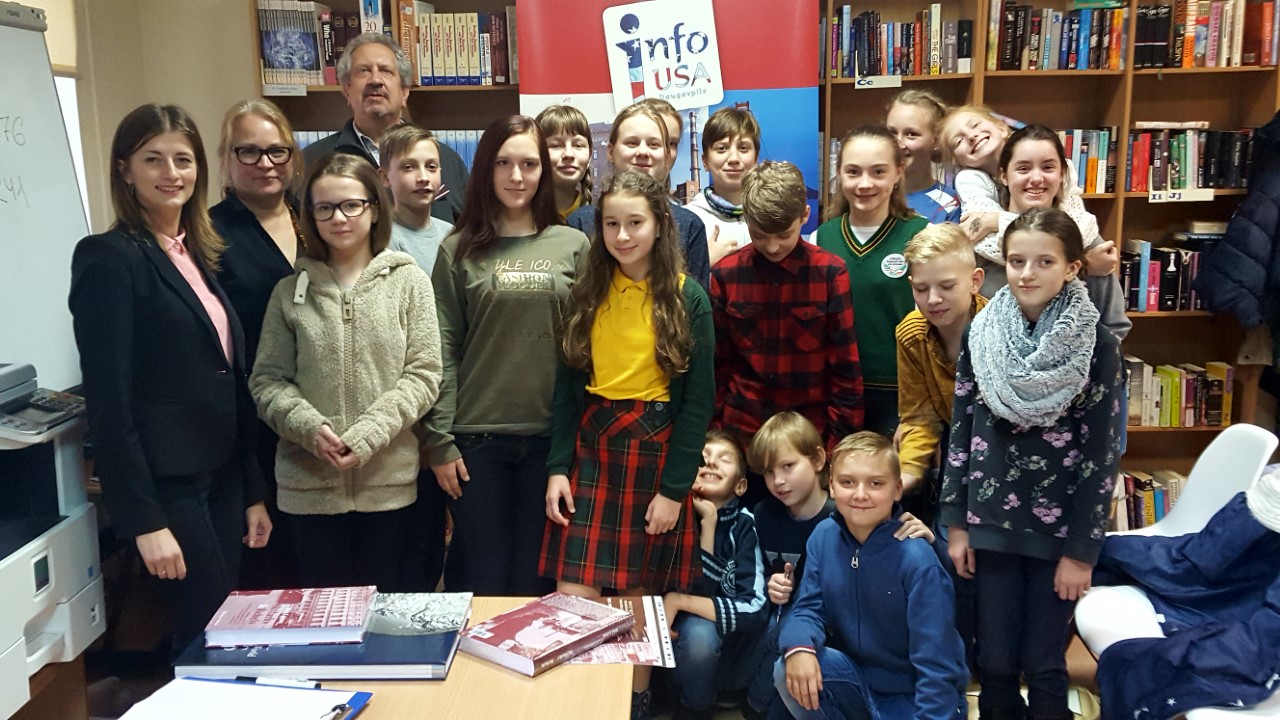 My tour ends in Daugavpils, the city where my paternal grandparents were married, where my grandfather worked as a justice of the peace, and where my father was born. We get to see Nils in action as a national guard in his camouflage outfit: he is joined by three US/NATO soldiers to visit Daugavpils' 12th Secondary School to give a talk about the "Brothers in Arms" program and NATO's presence in the Baltics. Daugavpils is a multi-cultural city, although predominantly Russian. It feels peaceful and sleepy. I address a crowd of students at Daugavpils University, and then Karl and I spend time at the US Information Center with children from the Józef Piłsudski Polish school, asking them what they know about America. Before leaving, we pop into a Belarusan market, where I buy traditional straw Christmas ornaments and admire our neighboring country's pretty folk costumes. If only everyone got along…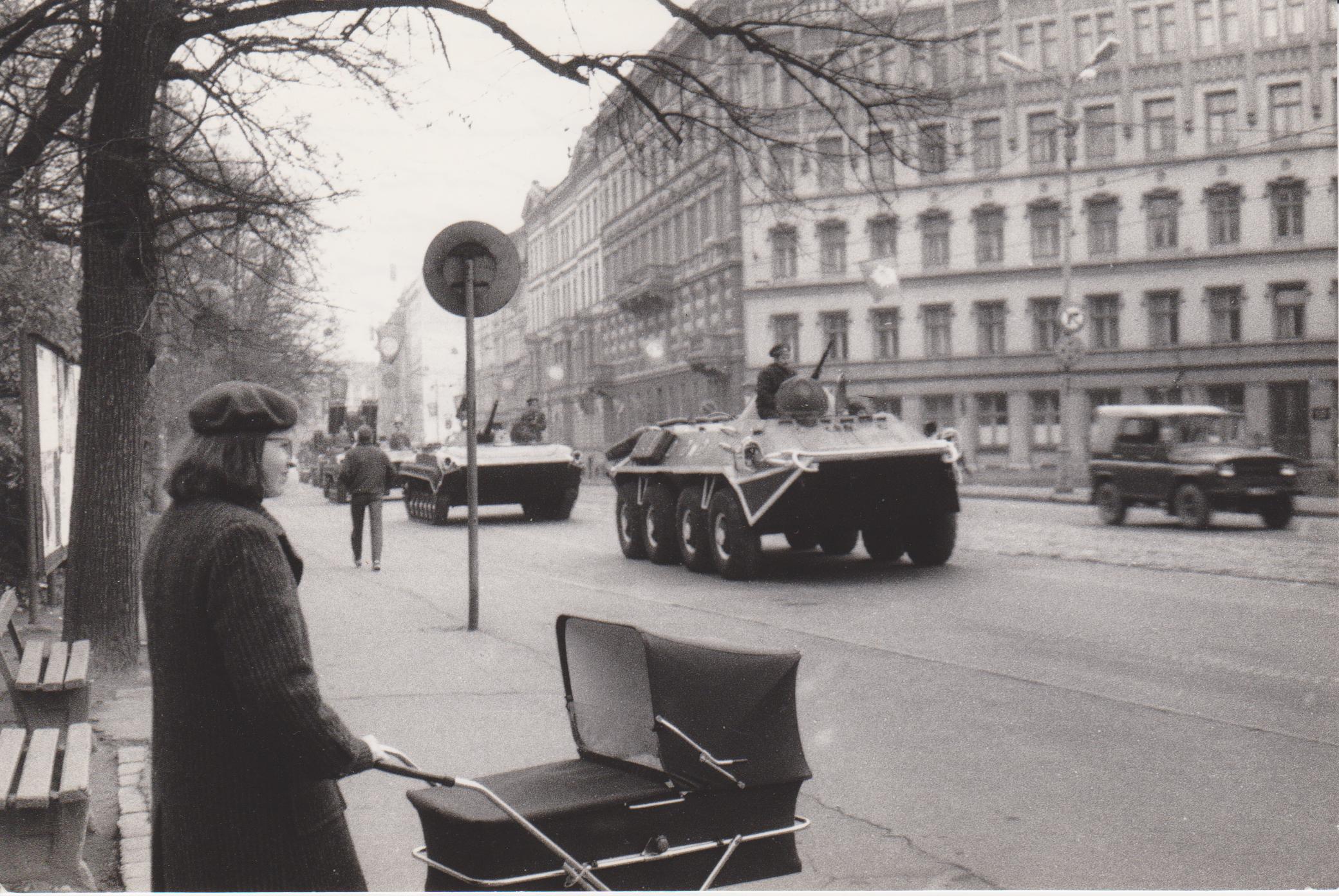 Thirty-seven years
My flight away from the boredom of the American suburbs towards Latvia, then shrouded in darkness, began 37 years ago. Today I feel like a mature apple tree, with new blossoms at the tips of my branches – my grandchildren. I myself am a fading blossom, and the roots of my great family tree lie deep in Latvia's soil. In my memoir, which brought me back to Latvia in November 2017, I tried to tell the story of my fatherland in the 20th century, because it deserves to be told. I am just one voice out of two million that should add to this story. Many years ago Gertrud von den Brincken, whose people (the Baltic Germans) left their 700 years' imprint on the Latvian language, mentality, architecture, and culture, and their bones in graveyards, but who are gone forever, wrote:
To come home meant to find the way back to oneself, to the land one belonged to, which remained inalienable even when dispossessed or changed.26
Indeed, I came "home" as a 20-year-old in 1980, and even though Latvia was changed and damaged by the Soviet occupation, I recognized those features that had survived from my grandparents' era. I left Latvia in 1999, and since then it has changed yet again, as have the countries and societies around it. We have exhumed our past and are examining it, and we are adding our own memories and life experiences to Latvia's history.
Almost everywhere we traveled, our contacts were women: women in the libraries; women in the audience; women asking questions. It cemented my belief that women are the backbone of Latvia, maybe because of how the many military conflicts on our soil have depleted our manpower. According to a 2010 BBC article, women outnumber men by 8% in Latvia.26 I have no reason to believe that seven years later this ratio has changed; if anything, the disparity has grown. Latvia needs strong, stable families with good jobs to ensure its future. Corruption, inequity, and poverty are weak bricks on which to build our future. In Latvia, it is often women who guide the way. This is not unusual: most of the teicējas or authors of our dainas (folk poems) were women.
The empty towns and countryside tell me a national long-term strategy for the cohesive development of Latvia is missing. Importing people as a work force will only deepen our Latvian ethnic crisis: we are a nation in rapid decline. In spite of these problems and worries, Latvia is just as beautiful and memorable as ever. Its museums, art, books, world-renowned achievements in music and sports, and good-looking people tell me we have pretty amazing genes. My grandchildren's bright, inquisitive eyes inspire hope. What part do I play in strengthening Latvia? It remains to be seen. Right now sharing my story seems like a good start. Latvia is a land of literature and books, and I brought a stack back to the United States to read, mostly about history. Borrowing from my memoir's title, my own flight is upward – like that of the skylark – towards self-enlightenment.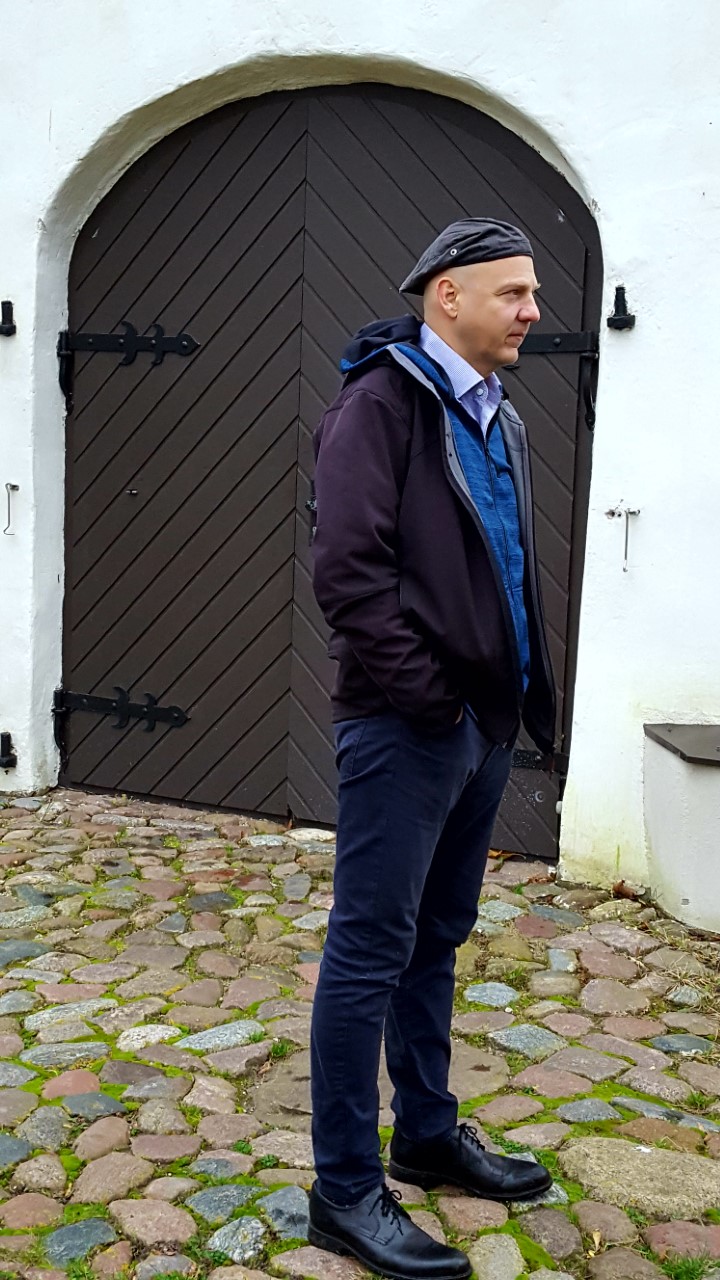 A special thanks, once again, to: the US Embassy in Latvia, my tireless guide Nils Students, the National Library of Latvia, and to all the wonderful librarians in Kuldīga, Ventspils, Liepāja, Rīga, Valmiera, Limbaži, Jelgava, Rēzekne, and Daugavpils for their professional preparation of our visits, Latvian hospitality, and tokens of appreciation in the form of books, pens, note pads, honey, chocolate, and even Latvian bread! Thanks also to Jānis Frišvalds of the European Latvian Youth Association and Natalija Oseverova of the American Center in Daugavpils for their investment in the success of my tour! Photo: My guide Nils Students, born and raised in the United States and now keeping Latvia safe.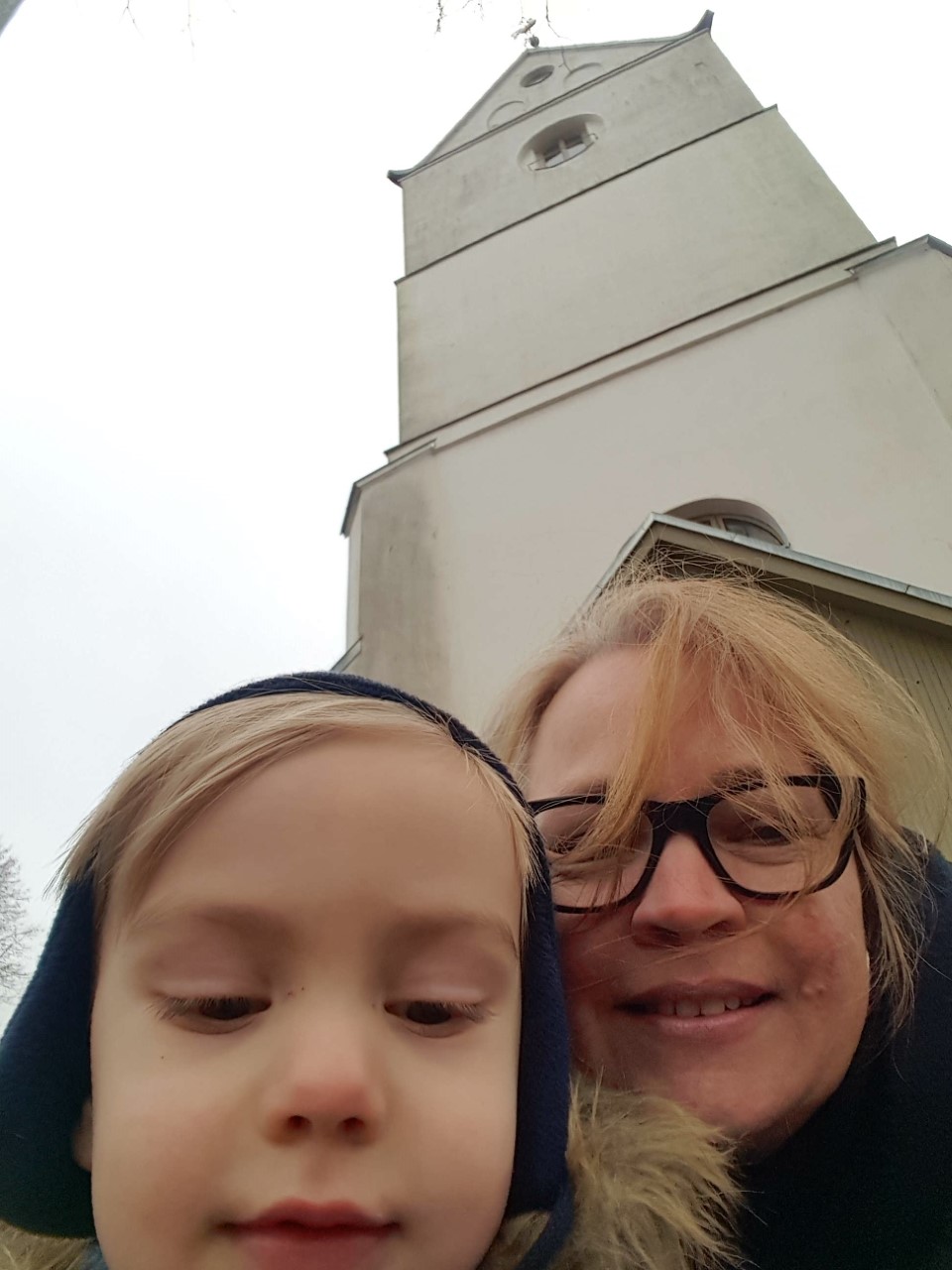 FOOTNOTES
15 The Central Library of Kuldīga was designed by Latvian architects Vija Ozola, Gundars Vērpe, Kaspars Cērps, and Zane Stiebriņa (Ozola & Bula).
16 The only Catholic church in Kuldīga, Holy Trinity Roman Catholic Church was built under orders of the Polish king. (http://www.vieglicelot.lv/lv/object/kuldigas-svetas-trisvienibas-romas-katolu-baznica.htm)
17 From "Carmina Burana," a medieval Latin Goliardic poem set to music by Carl Orff (1895-1982).
18 Conscripted into the Soviet Army, Ābiķis rebelled and was punished by being forced into psychiatric care.
19 Jākobsons, Ervīns. "Brāļi Irbīši." www.laimetazimes.lv 16 Feb., 2015 (http://www.laikmetazimes.lv/2015/02/16/12886/)
20 From a song by Imants Kalniņš and Liepājas brāļi ("Liepāja Brothers"): https://www.youtube.com/watch?v=WGwJ_BTabto.
21 Ludvigs, Pauls. Mūsu Latvijas ūdeņi: Stāsts ar attēliem par Baltijas jūru, Latvijas ezeriem un upēm. New York: Grāmatu draugs, 1967.
22 "Vienīgā" ("The Only One") is a beautiful 1990s song by Remix about Liepāja.
23 World War II separated my grandparents: my grandfather fled west with my father, while my grandmother was prevented from leaving the farm in Vidriži. When my grandmother died in 1990, she was buried along with my grandfather's ashes.
24 Jukka Rislakki: http://neputns.lv/book/vilki-velni-un-viri/#.Wl6pN3lG33g
25 TV*NET 22 Jan., 2012. http://www.tvnet.lv/zinas/latvija/407994-latgales_pierobezas_21gs_realitate_izmirusas_sadzas
26 Von den Brincken, Gertrud. Nogrimusī zeme: Piedzīvojumi divos pasaules karos, bolševiku laikā un pēckara gados (Land Unter: Erlebnisse aus zwei Weltkriegen, Bolschewikenzeit und Nachkriegsjahren / "The Land Under: Adventures During Two World Wars, the Bolshevik Reign, and After the War"). Tukums: Tukuma muzejs, 2015 (128: ch. 9). Translated from Latvian by Rita Laima.
27 McGuinness, Damien. "Latvian Man Shortage Leaves Women Lost for Love." BBC 13 Oct., 2010. http://www.bbc.com/news/world-europe-11493157
Part one of "Flight" can be read here