A web based social media campaign by Finnish artist Jani Leinonen, has been shut down by the US based multinational food corporation, Kellogg's.
The campaign features the Kellogg's Frosted Flakes cereal mascot, Tony the Tiger. Tony was featured in Kellogg's advertising throughout the 1980-90's, helping children with their every day problems during commercial breaks. Each commercial ended with troubled children being inspired by Tony's pep-talks while in the background, a snappy tune with lyrics reminded viewers to :
"Show them you're a tiger,
show them what you can do,
the taste of Tony's Frosted Flakes,
brings out the tiger in you."
Leinonen's video features the same Tony trying to help with grown-up problems – including police violence and prostitution – over a bowl of Frosted Flakes.
Kellogg's was asked social media sites to shut down the campaign within 24 hours, after complaining about unauthorized use of their character.
In 2011, Leinonen kidnapped a Ronald McDonald statue from a Helsinki McDonald's restaurant.

In a 2012 interview, Leinonen explained his focus on multinational food brands:
"I read a study that the most unhealthy food products are the most dazzling by the appearance, and those are of course kid´s products. The first time I used packages in my art I received a threatening letter from a Finnish company called Raisio. I had painted on their age-old Elovena oat meal packages. There´s a girl in a traditional Finnish national costume in the cover and I had painted her in Niqab, or as a call girl, or a suicide terrorist. Their lawyer wrote in the letter they have a right to claim financial compensations because I have damaged their trademark. They dropped the case after getting a lot of bad publicity which was in those days my only weapon against these giant corporations. That was the first time I realized that these colorful and seemingly innocent images are dangerous."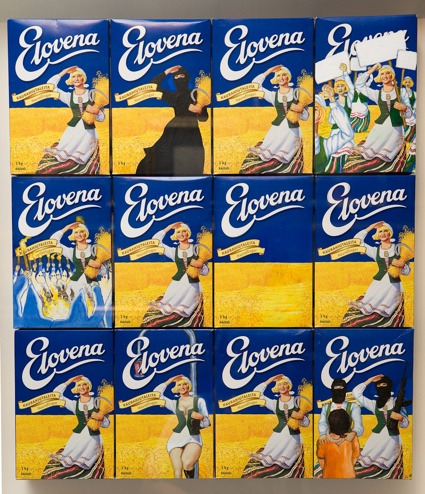 The "Tony is Back" website has been edited but continues to function.