Estonian multidisciplinary artist KIWA gives a rare New York performance and lecture, "HIPPIES WITHOUT ACID – in memory of A. Hoffmann",  on Tuesday, March 24th from 6:30 – 8:30 p.m organized by The Dept. of Signs and Symbols.
Furtive, mysterious, accessible by invitation or last minute word of mouth, underground performances have always provided a forum for expression, communication, inspiration, and a release of fresh energy. There would be no mainstream without an underground movement. Such performances are laboratories where the ingredients for future movements are mixed and experimented with. While they gain inspiration from the often overlooked past, they pave our contemporary moment where everyone is trying to escape the redundancy of our current state of the art world.
The Estonian multimedia artist KIWA will be performing an audio-sound performance, followed by a presentation on Soviet sound culture, this Tuesday, March 24th from 6:30-8:30 p.m., at the new experimental artist run space in Vinegar Hill- The Dept. of Signs and Symbols. The event is entitled "Hippies without acid – in memory of A. Hoffmann". The performance blends hypnotic electronic soundscapes and rich sounds with minimalistic visuals, creating a total immersive experience. The lecture utilizes music and video in discussing the experimental sound art and dissident rock music of Estonian counterculture made in the Soviet Union between 1960-1988, a time in which cultural production was under state control, avant-garde art was forbidden and rock music was repressed.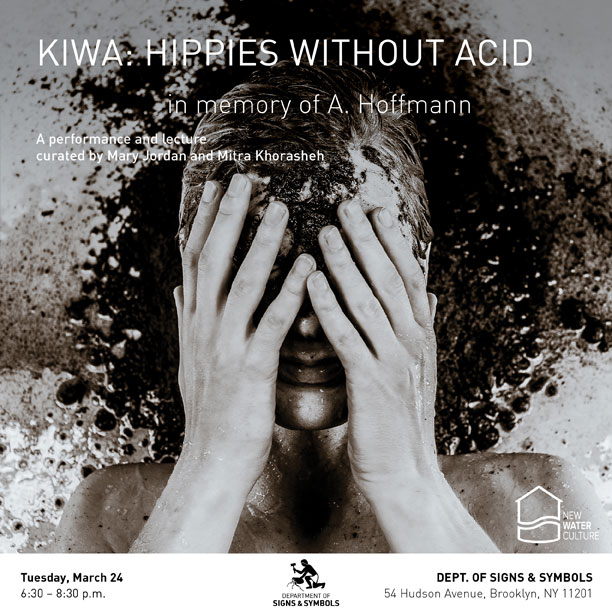 Who is KIWA? In New York he's known as a  participating artist of The Water Tank Project, but back home in Estonia, KIWA is a cultural icon and multidisciplinary artist whose work blends various media, from conceptual objects to total audiovisual environments.
In her weekly cultural column in Estonia, Mary Jordan has cited him on numerous occasions as "one of the most amazing and diverse talents of the remaining avant-garde." KIWA's artistic practice includes painting, sculpture and installation, video, performance, sound art, scenography, and text; all together they function as a hyper-textual research of meaning-making and cultural codes on different levels.
But what makes KIWA the enigma he is known for? The former bass player of the oi-punk band Nyrok City (who was allegedly thrown out of the band for wearing glittered pants), is known for his multiple personas and personal reinventions. His most notable personalities include that of a super model, DJ, trans- and anarcho pop artist, graffiti guru, drag queen, art critic, curator, media manipulator; a true multifaceted artist. His work is often a byproduct of his lifestyle, and influenced by the Soviet Hippie movement—the psychedelic underground of 1970's Estonia, and by the 80's Estonian pop-culture subconscious. His body of work focuses on experimental texts, performance, music, and conceptual gestures, as he explores and engages himself with cryptic textual experiments that test the levels of the readers endurance, and difficult to tolerate experimental music. For KIWA, all emerges from nothingness, nonexistence, the void, as he states: "my field of activity is the maliciously dry humor of textual operations, manipulation with communication errors, the partial deletion of operational diagrams and maps, the breakbeat of decoded imagery, and the blind observance of textology, which results in meta-meanings, noise and voids.
KIWA is also an active lecturer in the Estonian Academy of Arts and a curator promoting interdisciplinary and research-based projects of the younger generation of Estonian artists. KIWA studied at the Estonian Academy of Art and Tartu University. He has been the subject of several solo exhibitions and has had work in over 300 group exhibitions worldwide. Exhibition and performance highlights include: Moderna Museet, Malmö; Vaal gallery, Tallinn; Y-gallery, Tartu; Galerie Rivoli 59, Paris; The Kitchen, New York; Tate Modern and Milch Gallery, London; and DeAppel, Amsterdam, among others. In 2013, KIWA founded the publishing group paranoia (paranoia.ee), distributing radical experimental literature. He is the winner of the 16th Tallinn Print Triennial, and is nominated for the Köler Prize. KIWA lives and works in Tartu and Tallinn, Estonia.
The Dept. of Signs and Symbols is a laboratory for innovative experimentation and expression. The curatorial program serves to nourish emerging artists, to disinhibit the ordinary and to incite the unexpected. Focused on interaction and visible process, the project space allows for critical exposure for the artists, as well as a fostering of curatorial voices and collaboration. Through this crossing of art and life, a constellation of people, ideas, backgrounds, intentions and dreams form. Open to the public and based within the distinctive neighborhood of Vinegar Hill, The Dept. of Signs and Symbols opened its door to the public in March 2015, with its inaugural exhibition presenting the work of Brooklynbased artist Daniel Horowitz (currently on view until April 12). This is the Dept.'s second activity in the space.
KIWA's performance is made possible by the support of The Water Tank Project, and is organized and curated by Mary Jordan and Mitra Khorasheh, and will be hosted by The Department of Signs and Symbols at 54 Hudson Avenue in Brooklyn. You don't want to miss this.
For more information, please contact info@deptofsignsandsymbols.org or visit us at www.deptofsignsandsymbols.org
KIWA: www.kiwanoid.com