Plagues, nuclear armageddon, alien invasions…when or how the apocalypse arrives is anyone's guess. But there's a Latvian underground biking collective named in anticipation of humanity's doom, and perhaps they know something we don't.
They are the Riders of the Apocalypse, and though their name may sound rather ominous, it certainly shows they believe they have staying power, as its brand won't exactly seem "passe" until at least the end of time.
Upon first hearing of this "biking collective," one may assume this means motorbikes. It could even mean Latvia's answer to the Hell's Angels. But how wrong this would be: they meant bicycles. And they didn't just mean riding them — they meant making, recycling and reinventing them.
"We're doing everything in an extremely DIY way," explains Karlis Rinkevic, a 20-year-old mechanic who taught himself to weld metals alongside the other Riders. "Whatever you want, we can make it."
And they mean it. Throughout their workshop in northern Riga, set down beside hammers, nails and rusty wheels, are a collection of bikes, made out of recycled materials ranging from curtain rails to lawnmowers, and from hospital beds to shopping trolleys, all put together by these young bike aficionados.
Many are renovation works; old bike frames redone. But some, like the cycling shopping trolley, or their cycling teddy bear, are 'FreikBikes' — a series of bizarre and contorted redesigns: their frames appear stretched at mad angles, with wheels of various sizes. The results are like strange creations from the lab of Doctor Frankenstein, but essentially they work, and they are good fun to ride.
Peddling Ladas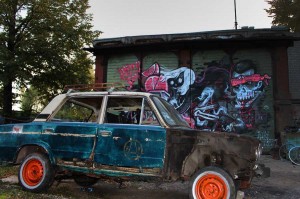 One recent project has been especially symbolic. The Riders have found an old broken down Soviet-era Lada and replaced its burnt-out engine with pedal contraptions. It will not be winning the Tour de France any time soon; it takes four riders peddling with all their might to get it up to a speed of 20kph.
But in its conception, and in its execution, it's an idea that wonderfully sums up the new Baltic generation's reforging of its identity in the post-Soviet age. The manufacture of the Lada was once a proud symbol of Soviet heavy manufacturing. And the repurposing of this rusty emblem, otherwise consigned to the scrapheap of history, shows the ability to appropriate symbols and use them to demonstrate a new world view.
To bring that message home even more clearly, the peddling Lada served as a police car in soviet times, and the Riders found it still containing several books by Karl Marx.
Ironically, the repurposed Lada is regularly trailed and stopped by active policemen, who for legal reasons insist the peddling Lada can only drive on the sidewalk, to the bafflement and amusement of tourists and passers by.
But like so many brilliant and wacky ideas, the conscious reasoning was far more simple than the preceding paragraphs suggest. In fact, the Eureka moment came about almost as a joke: two Riders wished they could cycle home after a night out, but did not trust their abilities (at that point in the evening) to cycle home on two wheels. Thus the idea was born — a justification for nights out in Riga if there ever was one.
Screeching alley cats
"We're trying to make this whole underground scene a little less underground," says Edijs Kleijsters, a charismatic 20 year old Rider. "We're trying to make a proper community, and we want to show that cycling is not just transportation from A to B; that if if you do this stuff, it becomes a lifestyle."
The challenge for the Riders of Apocalypse has been how to get this message to other young Latvians. One way they have been doing that is through organising AlleyCat Riga, a street race where you set your own route through the city, and then race to a previously chosen end point. All you need is your own bike.
Last Saturday, undeterred by poor weather, 50 Alley Cats screeched through Riga's Old Town, dodging traffic, veering round sharp corners and ending up at an after party that lasted until the early hours of the morning.
The need for music at these parties is often satisfied by a music bike, where a set of speakers and laptop have been attached to amplifiers and a car battery, before being fixed up to the frame of a cargo bike and cycled to wherever the party's happening: "It's music on the move!" says Rinkevic, his eyes bright with the memories of good times as a cycling DJ.
On the back of these sorts of events, Alley Cat has reached over 400 likes on Facebook, and the organisers believe it still has a long way to grow. The Riders regularly post updates and start conversations online, including a promo Youtube video for the race, artistically shot in sombre black and white.
When asked how involved they were on social media, the Riders looked as if they had been asked the most obvious question in the world. Kleijsters replied swiftly: "We're using a lot of social media – there's a lot of blah-blah-blah chats. We just speak and that's how our word spreads."
Another way they are reaching out is by being on hand to teach any young teenagers how to weld and fix their own bikes. "We just love to spread our knowledge. It's always about sharing." says Kleijsters.
This represents a behaviour shift from when Rinkevic first started a few years ago. The cycling scene was much smaller back then, he says, and the experienced guys would always be busy, and never keen to help the younger guys learn. "Don't watch my hands!" imitated Rinkevic, his own hands as he does so covered with the grey tint of oil. "They were angry all the time!"
"But now" continues Rinkevic, looking more optimistic as he does so, "There are many more good guys who know how to make your bike." He smiles, looking down at his hands.
The chain reaction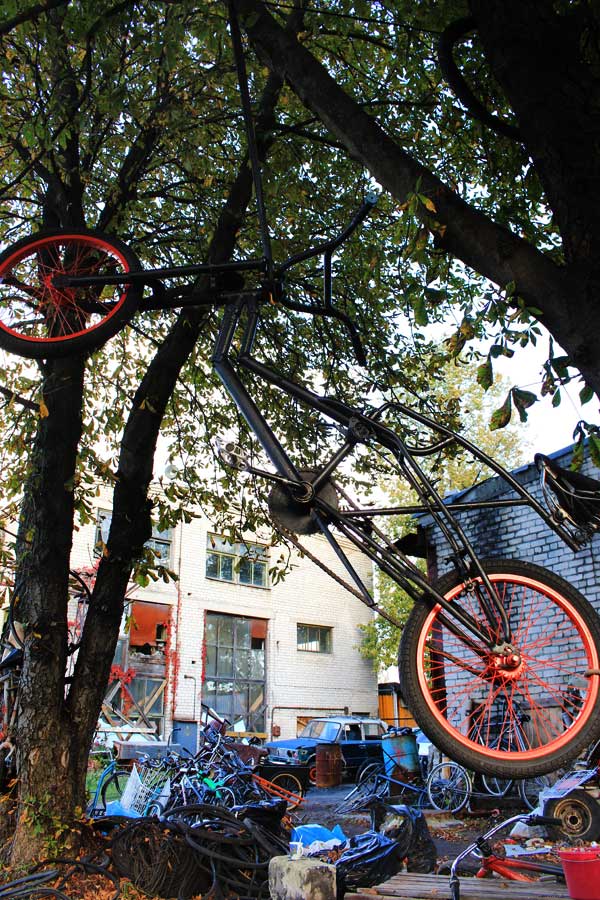 The emergence of Riders of the Apocalypse is no anomaly. It is part of an increasingly vibrant cycling culture throughout Latvia. A linchpin of this cycling culture is the strong bike messenger community, also known as cycle couriers.
Though it may seem like a strange technological regression in the age of the internet, and instant communications via emails, the requirements of legal and financial companies to obtain handwritten signatures for contracts gives plenty of work for these young couriers. And the frequently bad traffic jams in Riga, combined with issues of parking and high fuel costs, make cycle couriers far more speedy, reliable and cheap when it comes to delivering packages.
A day job as a bike messenger allows many of the Riders a chance to make their bike making financially sustainable, and they become key pillars in the cycling community. All too often the winner of AlleyCat races and other races around Riga happens to be a veteran bike messenger, well-accustomed to weaving through the streets by day, delivering business contracts to companies hungering for a speedy deal.
The Riders of the Apocalypse are also emerging alongside a thriving micro manufacturing scene. The revival of Erenpreiss Bikes in 2012 was another symbolic moment. Once the pre-eminent Latvian bike manufacturer in the 1920s and 30s, Erenpreiss was closed down by the Soviets when the Latvian cycle manufacturing industry was nationalised after World War II.
Its revival by Toms Erenpreiss, a descendent of the Lativan designer Gustav Erenpreiss, has brought back one of the most iconic Latvian bicycle designs to Latvia's streets.
Other companies are following suit, with manufacturers like Dip Dapp creating bikes for children, and companies like Woodstick making bikes that look as though they are made from wood. There are even two Latvian artists who created a bike made entirely from glass!
Riga's cycling scene is buoyed on by political factors too. Riga's City Council, prodded by the European Union to reduce its carbon emissions — and eager to present Riga as a viable centre of sustainable cycle tourism, following in the tyre tracks of Scandinavian countries like Denmark — has introduced the Riga City Sustainable Energy Action Plan (2010-2020), and a major part of the plan has been the introduction of cycle lanes and bike parking areas; which, though interspersed rather randomly through the city, have made cycling much easier and much less haphazard.
Even the consistently poorly thought-out execution of some of these council initiatives are being watched hawkishly to make sure they don't go wrong, mostly by a well established group of pro-cycling lobbyists such as the European Cycle Logistics Federation.
And regular publicity stunts keep bringing cycling to the attention of Riga's public. Just this October the European cycling group Let's Bike It even bolted brightly colored car-sized frame constructions to their bikes as a way of demonstrating how cycling can dramatically reduce rush hour traffic.
A new Baltic Way
Of course, it is impossible to ignore the importance of professional cycling in the region. The Baltic Chain Tour, a professional race through the Baltic States celebrated its 25th anniversary this year, and is now a regular feature on the international circuit alongside the Tour De France and the Giro d'Italia. And there is also the increasingly popular Riga-Jurmala Grand prix that takes place in Latvia each year.
Kleijsters, when asked if he was inspired by these sorts of events, and by the 2012 London Olympic-style racing, he responded positively: "We are highly inspired by all this! We are really big fans! We watch it! We know everything about it! We talk about it in the same way that maybe other guys would talk about cars!"
And how about all that gear, all that kit? Rinkevic responds:
"We are highly inspired by all this Olympic kit and all this drag bike kit. But of course we can afford none of it! So we make our own versions of it!"
A lifestyle like that of a professional cyclist, whose kit is so enormously expensive, so out of reach for the average Latvian, must be frustrating to observe for the Riders. But the spirit with which the Riders of the Apocalypse have innovated to build their own quality kit is wonderful to witness.
They are always looking to find ways to get round the exclusivity that comes with high price tags. In their upcoming races, they are keen to make thrift a virtue rather than a weakness. Who can make the most with the least becomes the new question.
And when asked about what plans are on the horizon in this respect, the Riders reveal another interesting plan: the idea of racing the whole way along the Baltic Way.
It's a route remembered for the iconic moment in August 1989, when over 2 million people from Lithuania, Latvia and Estonia joined hands to form a human chain that linked up the capital cities of Vilnius, Riga and Tallinn — a protest for their independence from the Soviet Union.
Independence came in 1991, and the Riders want to race the Baltic Way with bikes that are not allowed to cost more than 91 Euros.
It's another idea that's as revolutionary as a bicycle wheel, and another clear sign of how this small Latvian biking collective epitomises the emergence of a new young generation, one that that prides itself on sustainable creativity; a generation with hope aplenty, and with strange smart new ideas for the future.
This article originally appeared in The Baltic Times and has been republished with the kind permission of the author.