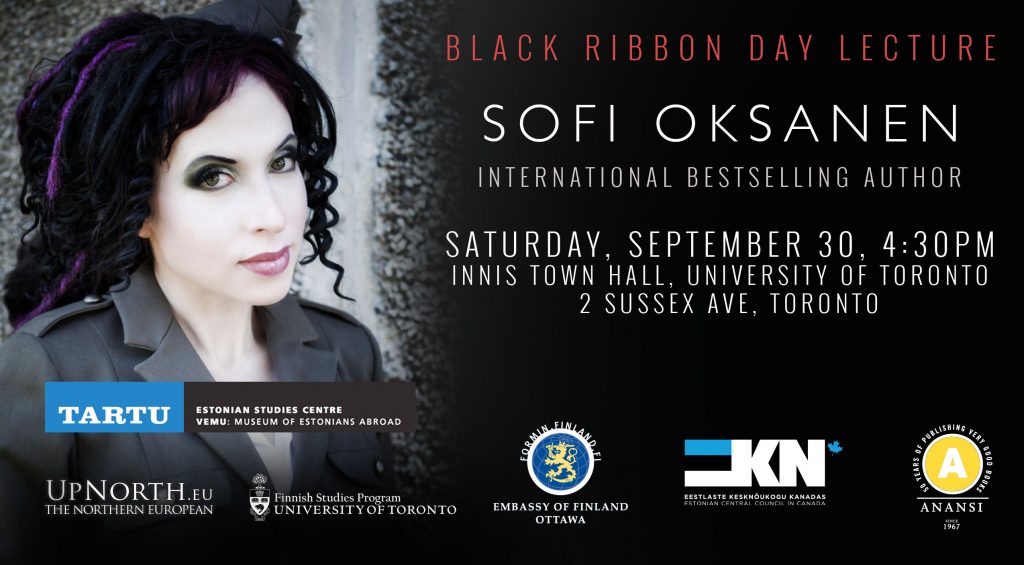 Bestselling Finnish-Estonian author, Sofi Oksanen, will give a lecture on the politicization and falsification of history in Toronto on Saturday September 30, 2017 at 4:30PM at The University of Toronto's Innis Town Hall. Registration for the event is free via Eventbrite.
Sofi Oksanen will be in Toronto to support the release of her latest book, Norma, published by House of Anansi Press. Norma is a spellbinding new novel set in present-day Helsinki about a young woman with a fantastical secret who is trying to solve the mystery of her mother's death.
When Anita Naakka jumps in front of an oncoming train, her daughter, Norma, is left alone with the secret they have spent their lives hiding: Norma has supernatural hair, sensitive to the slightest changes in her mood — and the moods of those around her — moving of its own accord, corkscrewing when danger is near. And so it is her hair that alerts her, while she talks with a strange man at her mother's funeral, that her mother may not have taken her own life.
Sofi Oksanen is a Finnish-Estonian novelist and playwright. Her novel Purge won the Prix Femina and the Nordic Council Literature Prize, and When the Doves Disappeared was the winner of the Swedish Academy Nordic Prize and longlisted for the International Dublin Literary Award. Her latest novel, Norma, is a #1 bestseller in Finland and has been shortlisted for the Young Aleksis Literature Prize. She has also received the Budapest Grand Prize and the European Book Prize. She lives in Helsinki.
"Through her books, Sofi Oksanen has been able to connect global audiences with the profoundly disturbing traumas that the people living in nations occupied by the Soviet Union and Nazis experienced," said Black Ribbon Day lecture organizer and editor of UpNorth, Marcus Kolga. "We're extremely lucky to have her speak in Toronto on this subject and of the ongoing attempts to distort and deny it."
Sofi Oksanen frequently writes and speaks about the Kremlin regime's attempts to manipulate and falsify history. She was among the first targets in the modern Russian information war in 2009, after publishing a collection of essays on the subject of Soviet repression with Estonian author, Imbi Paju.
The first Black Ribbon Day Lecture is supported by the Museum of Estonians Abroad (VEMU), The Estonian Central Council, UpNorth.eu and The Department of Finnish Studies at the University of Toronto.