It's hard to know precisely why everyone is being so coy about what is a very simple question – should President Andris Bērziņš attend May 9 'Victory Day' celebrations in Moscow? The answer is perfectly simple.
Of course Bērziņš should attend.
He should accept the invitation just as soon as Russian troops leave eastern Ukraine, Crimea is handed back, Russian bombers stop flying over the Baltic Sea with their transponders turned off, Eston Kohver is returned to Estonia, and the alleged perpetrators of the Medininkai massacre are sent to Lithuania for a fair trial.
The Russian government has no regard for diplomacy at all – it sees it merely as a useful diversionary tactic – a sort of three-shell game in which Putin, Lavrov and the gang simply can't believe the West keeps falling for the same old trick.
As a gesture of goodwill to show that he is a reasonable sort of President rather than a paranoid, power-mad dictator he might even neglect to mention the fact that for Latvia the defeat of Nazi Germany (a good thing) was merely a prelude to fifty more years of Soviet occupation, deportations, the Gulag and oppression (bad things).
If those comments in brackets look ludicrously simple, that's because they are. This whole question is ludicrously simple, so why on earth are we pussy-footing around with a will-he-or-won't-he manner?
Russia – or rather the Russian government, for it is important to differentiate the rulers from the ruled – is currently an aggressor in the world, intoxicated by a feeling of its own power and importance.
Imagine for a moment the sight of Bērziņš standing there in Red Square, nodding sagely as missiles, field guns, tanks and troops bounce past, fresh from practicing how to invade the Baltic states in the Red Army's latest wargames.
As if the sight in front of Bērziņš isn't bad enough, take a look behind him. Who will he standing alongside? Alexandr Lukashenko, Kim Jong Un, Islam Karimov, Ramzan Kadyrov, Bashar Al-Assad? Quite a bunch. How proud we would be to see Berzins among their number.
The only possible reason for Bērziņš to accept the invitation would be if he felt he could pull off some sort of diplomatic coup while in Moscow – say, a promise from Vladimir Putin that no more journalists, lawyers or civil rights activists will be locked up or killed.
Of course, Bērziņš would have to be a certified simpleton to believe any such promise, given Putin's track record. Bērziņš is not a simpleton. But in a week when French President Francois Hollande said he was sure Russia didn't want to control eastern Ukraine because Putin had told him so, it is entirely possible that being a president does something odd to your brain.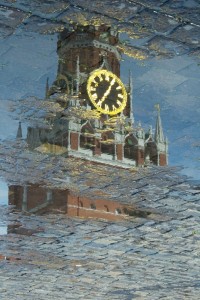 And the only explanation for why everyone is creeping around this question is some sort of misplaced faith in Russian diplomatic protocol – the same protocol that makes its ambassador to Estonia routinely ignore summonses to explain airspace intrusions and which made Foreign Minister Sergei Lavrov claim with a straight face, repeatedly, that there were no Russian forces in Eastern Ukraine. The same regard for diplomacy that made President Putin say the Little Green Men of Crimea had bought their military fatigues and weapons in retail outlets.
The Russian government has no regard for diplomacy at all – it sees it merely as a useful diversionary tactic – a sort of three-shell game in which Putin, Lavrov and the gang simply can't believe the West keeps falling for the same old trick.
The obvious counter-argument of course is that marking the defeat of Nazi Germany should be something independent of the current strife we see in the world, no matter how strikingly similar it is in some respects.
If only that were possible. Because one thing of which we can be perfectly sure of is that May 9 will not only be about defeating the Nazis. It will be only tangentially related to how millions of Russians, along with the other Allies and resistance fighters, gave their lives to defeat Hitler once he'd torn up the Molotov-Ribbentrop pact the Nazis and the Soviets had used to enslave Eastern Europe between them.
May 9 will be about how modern Russia under Putin is a lot like good old Soviet Russia under Stalin, who wasn't so bad after all. Russia is supposed to take over little countries, it is supposed to have huge numbers of offensive weapons and it is supposed to submit its own citizens to an unrelenting barrage of propaganda.
Do we even need to ask if the Latvian president should be seen endorsing such a monstrous message? Yes, Vaira Vike-Freiberga did go to Moscow – but that was before Putin had shown the true colors which have emerged so clearly during the last year.
The invitation from the Kremlin says 'RSVP'. If diplomatic protocol really must be followed, a prompt and polite "Thanks but no thanks" might be in order.
Otherwise, just tell him where to stick it.
Views expressed are the author's alone.