I will start by stating the obvious: There have been several episodes and instances in the information domain in and around Finland that are simply not normal or acceptable. Finland and Finnish society have repeatedly been subjects of Russian disinformation. Journalists and experts critical of Russian foreign and security policy are being abused and harassed.
However, these problems have been recognized. In October 2015, President Sauli Niinistö stated that information warfare is a reality and it also affects Finns. According to Niinistö, national defence is every citizen's duty also when it comes to the information environment. At the same time, the Prime Minister's office announced that it will put a hundred government officials through training in order to help them understand and identify attempts to influence, such as disinformation campaigns. This training obviously became a subject of new disinformation on the conspiracy and disinformation websites that foster anti-Western sentiment in Finland. In March 2016 Finnish journalist Jessikka Aro won the Bonnier Grand Journalist Prize for her work to expose pro-Russian trolling in social media. Just a few weeks before Aro won her prize, the editors of the largest media companies in Finland released a joint statement, in which they announced their commitment to proper journalism in opposition to the "fake media" that is behind most of the hate speech and abuse in the Finnish information environment. In April, the National Defence Training Association of Finland (MPK) held the first course on information security. The course was specifically designed to address the questions of how to identify malicious information campaigns, how to interpret information presented by the media, and to understand the basics of crisis communication.
However, the problems lie elsewhere. Because of the altered security situation in Europe and in the Baltic Sea region, the current situation exposes some old ideologies that were the norm during the Cold War and in the Finnish appeasement policy – Finlandization – towards Russia.
Whenever a journalist, a researcher or an expert discusses Russian foreign and security policy critically, they can be sure to draw criticism for their one-sidedness which can even be characterized as "provocations".
For instance, member of Finnish Parliament and also former Minister of Foreign Affairs, Erkki Tuomioja, recently stated, that (this translation is my own):
"I do not believe that any of the NATO countries are about to attack Russia. Nor do I believe that Russia would be planning attacks against NATO countries. Ultimately, it is these Eastern European countries where there is a fear that Russia may attack. […] And there is a genuine worry in Russia that NATO may have hostile military objectives and this creates a cycle, which media, for its part, is aggravating."
A former State Secretary in the Finnish Prime Minister's Office, Risto Volanen, also referred to YLE (Finnish National Broadcasting Company) and Helsingin Sanomat (the largest subscription newspaper in Finland) as "security risks". In the same blog text, he condemned the "russophobia" and "unprofessional take" of the Finnish mainstream media in reporting security policy related topics.
So, let us take this to another context. Could a politician, without losing his face, have blamed the Iraqi media for provoking the United States and harming the relations between the two countries in 2003?
Would anyone have argued that the U.S. attacks were, at any time during history, even partially provoked by the demonization of the United States in the media?
This type of argumentation is not only disturbing, but symptomatic in a democratic society. Yet there are political actors who openly use this "criticism" to issue political guidance not only to journalists, but also experts and researchers who are invited, by the media, to analyze Russia's (military) political actions in public.
I have also been subject to such criticism. Erkki Tuomioja was the latest to criticize my views on Russian information warfare in an interview by Radio Télévision Suisse (the program also contains my interview before Tuomioja's). According to Tuomioja, my views are "unbalanced", and he points out that I do not pay attention to the influence attempts of Western actors, such as the Baltic states.
What would be even more interesting were to discuss how and who in the Baltic states – especially in Estonia – have been targets of Finnish influence attempts.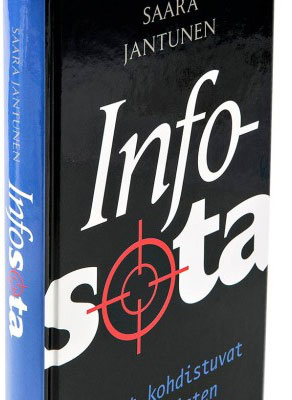 Tuomioja's criticism is a good example of the type of argumentation I have gotten quite used to as a person who focuses specifically on research in the field of information warfare. I don't know whether Tuomioja has read my book or not, but at least in his statements he chooses to ignore the fact – very clearly stated in the book – that the book focuses on the Finnish experience of information warfare conducted by Russia. It is the only book written in Finnish for the general public on this topic and on information warfare in general. From this perspective I find it interesting that a politician chooses to make a point about the "balance" of a book that actually filled a gaping hole in the Finnish language book market specifically because of its focus on Russia.
Most of us recognize Tuomioja's style of argumentation. It is called whataboutism, and Tuomioja's comments are a prime example of how the logical fallacy is used to belittle and even discredit the work of journalists and researchers. It is an attempt to question their professionalism and objectiveness and to influence their independent judgment. Sadly, the use of whataboutism has become standard in some quarters of the security policy discussion in Finland.
In Tuomioja's case, the accusation of the lack of "balance" is a diplomatic way of expressing that if researchers criticize Russia, they should attribute an equal amount of criticism to other state actors too. The political face-saving game begins: "balance" means that when facts are politically uncomfortable, you soften them up by expressing collective condemnation. Essentially this is to save Russia's face.
The accusations of "unbalance" reveal a highly politicized attitude towards research: experts and researchers are given a political function according to the Finnish tradition of appeasement policy. In other words, the rules of diplomacy are applied to the domain of research.
This is how research becomes an ideological tool for politics.
I shall conclude with two very simple rules of thumb, which will hopefully help people understand the real issue at hand:
Research is not diplomacy and experts are not politicians; it is not the duty of the researcher to present politically balanced conclusions, to serve appeasement, or to be diplomatic.
The only duty of research is to produce and disseminate more information, perceptions and analysis; research has no political responsibility.