Translated from the piece that appeared in the Suddeutsche Zeitung by Alexander Fischer.
In dictatorships, those in power expect you to not only provide no resistance, but also to promote all government decisions as positive ones. Meaning that one indirectly participates in the government crap.  To say no to that is less of a political but more of a moral question. If one refuses to become a silent accomplice, he or she will automatically become an opponent of the regime – even if one refuses to use physical force against the regime. This refusal causes inevitable problems and difficulties for those who speak up.
Some people are unable to sit by and watch. This difficult decision was made in the past by the Soviet dissident Andrei Sakharov, the Czech Human Rights Advocate Václav Havel and the Polish priest Jerzy Popiełuzsko.
My father also made that decision. The European parliament wants to posthumously nominate him for the Sakharov Award. I am honoured but not surprised by this decision.
Rockstars become "traitors to the nation"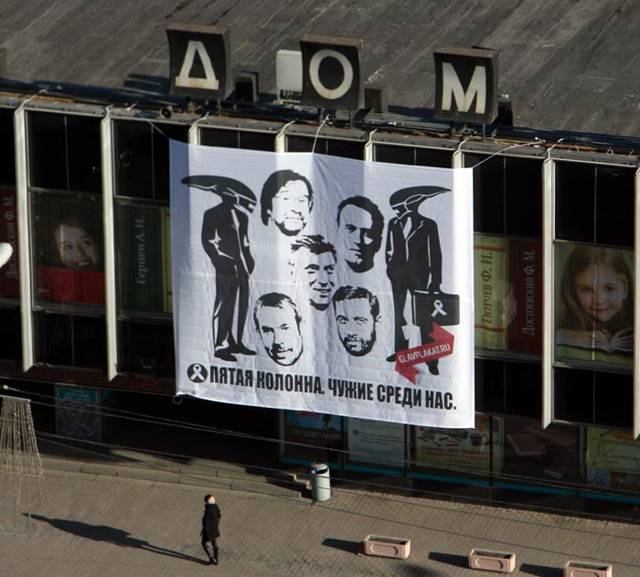 For a few years now, mild authoritarianism in the new millennium has been changing to flawless totalitarianism. Since the annexation of the Crimea, the transition to totalitarianism has accelerated. To live outside of politics is becoming more and more difficult. Many have been forced to make a choice: either one tries to pretend as if nothing is happening – a phenomenon that is currently the norm in Russia- or one remains true to themselves and speaks the truth. Back home, those who speak the truth are now referred to as radicals. Rockstars Andrei Makarevich and Yuri Shevchuk have refused to give their support for the Kremlin's Crimea euphoria. The mere mention of support for peace in Ukraine resulted in a smear campaign being launched against both of them. Overnight, they become "traitors to the nation."
People from many professions are now leaving Russia. The economist Sergei Guriev, former director of the Moscow school of Economics and current Professor at the Sorbonne, left in 2013. He was overtly political yet his occasional comments put him in the crosshairs of the Kremlin's "justice" machinery. His colleague Konstantin Sonin -who was a critic of the Kremlin's economic policy- recently emigrated to the United States and is in the process of becoming a professor in Chicago. For journalists the moral question is even more important.
NUMBER OF RUSSIANS WHO HAVE EMIGRATED 1997-2013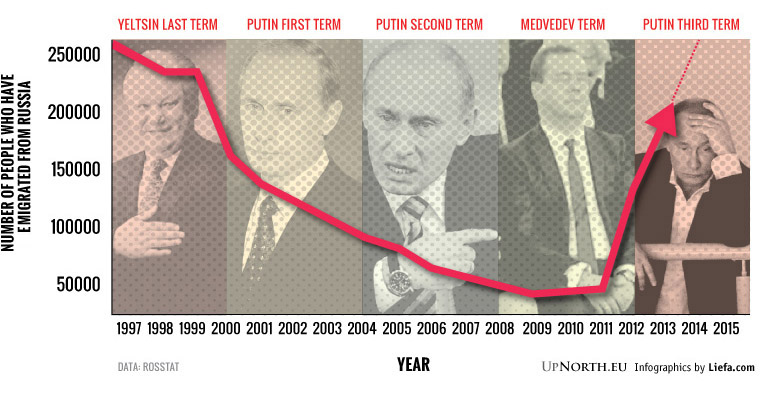 Most of the Russian media spreads an extremely aggressive, revanchist, state ideology that borders on fascism. But in my view, a journalist who doesn't give his opinion about the current madness in Russia isn't doing his professional duty. The private station RBK, who I've worked for until recently, is for the most part, not part of Putin's agitprop. I was never forced to lie, but my freedom of expression was limited. In the past year, tension among the editorial staff increased dramatically. Colleagues were split into two camps. I found myself in the minority as I was not happy with the aggression towards the Ukraine.
In 2014 RBK offered for my father to write a series about his work in Jaroslavl (just northeast of Moscow) as a deputy of the regional parliament. The title of the series was simply titled: "The Other." The only stipulation: not a word about Putin, discuss only ideas about how to solve local problems.  My dad agreed to it, but after the first episode, the series was discontinued. I believe someone from upstairs called to complain.
My Father's Death Threw Me Out of Balance
I met with my father and talked with him about my fears. I felt our country was standing on the edge of something dangerous. He was always a great optimist. He said, "don't be scared." He was proud that I had an interesting and successful job. I always thought that I had to be patient and maybe even resign myself to accept some of the things that were happening.
His death threw me out of balance. Again, I along with everyone else, was faced with the choice: to remain silent or to speak out?  Putin's regime took everything from me: my father was everything. Now I had to speak around the political responsibility that President Vladimir Putin carries for the murder of my father.
Even before to the funeral, state sanctioned news agencies smeared my father in the media, coming up with wildly different versions of the murder, blaming it on Ukranians or Islamists. The makeshift memorial on the bridge where my father died was repeatedly vandalized. Then, one of his best friends, journalist Vladimir Kara-Murza, was poisoned. I said to myself: that's enough. I left RBK because I could no longer take the inability to talk about politics in front of the camera and with the editorial staff. Talking about politics outside of work was okay, but only if done carefully.
The choice of refusing to be a moral and political accomplice, is in Putin's Russia, connected with the same dangerous consequences as existed in the Soviet Union. The Soviet dissident Natan Sharansky, who spent years in jail, named his memoirs after a phrase from one of the psalms: "I fear no evil." The refusal to participate in the misdeeds of the state implies that one has overcome his fear of the state. My father, for a long time, was part of the political elite in post-Soviet Russia and he could have had a brilliant career by conforming to the new reality. Many of his former cohorts did exactly that, but my father remained true to himself.
Putin has a vaccine against freedom
Unfortunately, only a few make the right choice. But those few who do will provide strength that, with time, will help transform society. Sharansky wrote that, in his time, the Soviets thought -not without reason- that one single, unbroken, dissident can become a threat to the entire totalitarian system. So that's how it came to be: for decades, single dissidents carried the virus of freedom within themselves and with Perestroika, it eventually spread throughout The Soviet Union. Sharansky hoped that the KGB would never find a vaccine against it.
Today, I have the impression that Vladimir Putin, at least for now, has found a vaccine against freedom: it is his new imperialistic chauvinism. Too many Russians are willing to forget that their own state caused the poverty of today. They willfully renounce their constitutional rights if in return they can delight themselves in the illusion of a new Russian empire.
But this is no reason to despair. The Polish priest Jerzy Popiełuzsko, who was murdered in 1984 by state security services because of his connection with the Solidarity movement, had a saying: "Defeat evil through good."  After his death, many in Poland were in despair. Today, Popiełuzsko is a national hero and the freedom that he fought and gave his life for is now a reality. I am confident that the same will happen in Russia.
Zhanna Nemtsova is a journalist and the oldest daughter of the politician Boris Nemtsov who was murdered in February. Translated from the original German piece that appeared in the Suddeutsche Zeitung by Alexander Fischer and republished with kind permission from the author.