I was interviewing Anthony Burgess when the Latvian Foreign Minister told me he was gay. At least, that's how it felt, for in our digitised world one's consciousness can be pulled in as many directions simultaneously as we have windows open on our desktop, the new eye of the soul.
Occupying most of the screen, Burgess was talking in a 1989 BBC Face To Face interview via the YouTube magic lantern about growing up in Manchester and the names the Catholics and Protestants of that city used to call each other.
"The first thing I learned about was divisiveness and bigotry, which still goes on," Burgess said, "The Protestants called us Cat-licks and we called them Proddy-dogs."
In a thin strip on the right of the screen – which must mean it's something equivalent to the Parietal Lobe of the brain where subconscious thoughts occasionally bubble up, a fresh batch of Twitter posts rattled through. I noticed one of them had the studious bespectacled face of Foreign Minister Edgars Rinkevics on it and as I am a journalist and supposed to keep an eye on the pronouncements of the bigwigs, I put Burgess on hold just as he was getting interesting about Somerset Maugham.
Rinkevics' message was intriguing and had the stamp of something posted as a result of some other ongoing conversation to which one has not been privy, a bit like walking into a room and hearing a woman declare "…and that's why I poisoned him!" only to find out later she was talking about a rat living under the cooker.
""Our country must create a legal framework for all types of partnerships, I wil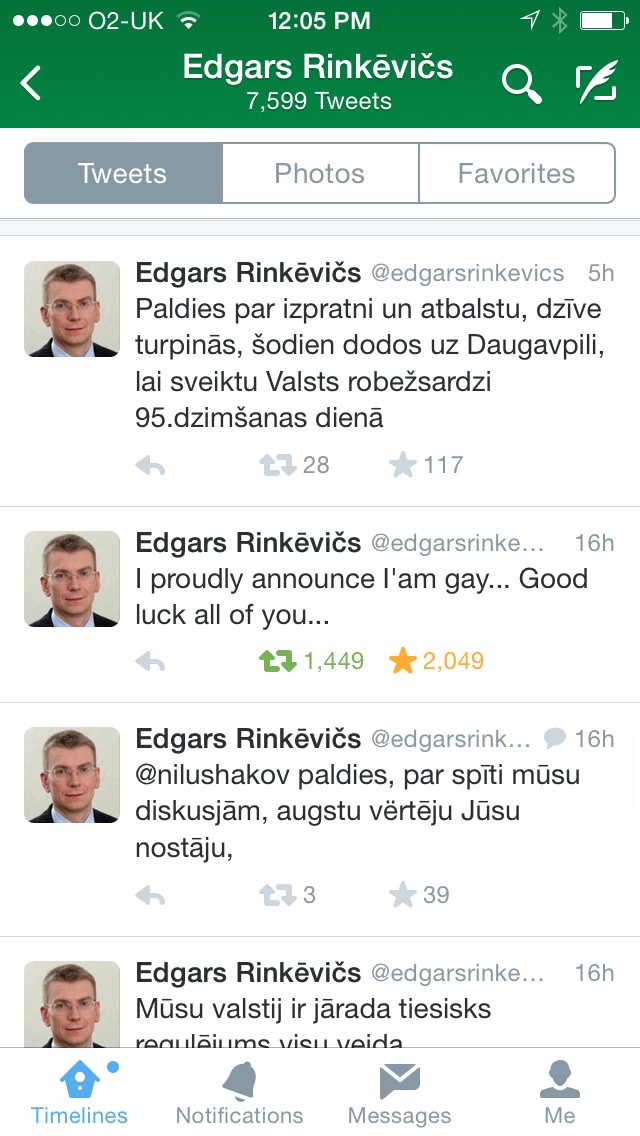 l fight for it," the message began. That's pretty bold, I thought, he's standing up for the same sort of registered civil partnerships that were just passed in Estonia.
Then I saw the end of the message and the all-important hashtag:
"I know that there will immediately be megahysteria but #Proudtobegay" Rinkevics wrote in Latvian.
I blinked a couple of times. I really wanted to hear the end of Burgess' Somerset Maugham anecdote, but, hang on, does this mean the Foreign Minister has just come out? I re-read the whole tweet. That's what it must mean, surely? Or was there some subtlety of the elusive Latvian language that was deceiving me? A double meaning of which I was unaware?
One part of the language-processing department in my brain struggled with this question suddenly deposited in its in-tray while out the back, having a cigarette break, the less conscientious mental staff were laughing at the concept of "megahysteria" a word that might easily have been coined by Burgess in A Clockwork Orange.
By now a minute had passed. Amazingly there was no reply yet to Rinkevics' tweet – and as one Europe's top political tweeters he has around 15,000 followers. Even in cyberspace it seems, one can have a pregnant pause
Earlier in the day an old Volkswagen had driven up the dirt road to my house and a fat man in a tracksuit, got out and came to the door. He handed me a package which contained the collected stories of Somerset Maugham. I was on a Maugham kick, having just read his genre-creating collection of spy stories, Ashenden which were admired and appropriated by everyone from Graham Greene to Eric Ambler, Ian Fleming and John Le Carre.
I sat in my preferred reading chair and leafed through the introduction which began with a tale of the elderly and senile Maugham playing hide and seek at Vevey railway station in the south of France with his devoted long-time private secretary and lover. "Yoo-hoo!" Maugham giggled from behind a pillar. With their train approaching, his partner tried to move him out of harm's way.
"Be gentle with that old man," a passing woman said, "he thinks he's Somerset Maugham."
Maugham was gay, but could never say so in public, though only the densest reader could fail to suspect the fact from a reading of his stories, novels and plays. He was also a genuine secret agent, and an ambulance driver in the trenches, after being refused for military service on the basis that he was already in his forties when the first world war broke out. He was no fay dilettante, but an open admission of his sexual preference would likely have had a similar effect on his career as it did on Oscar Wilde, who was being released from prison a broken man just as Maugham's first novel, Liza Of Lambeth was published. Burgess was halfway through comparing Liza Of Lambeth with his own slum childhood.
Back on screen, the cursor was still blinking blankly under Rinkevics' face. 'Megahysteria'. I hoped not, but even more I hoped my Latvian was good enough. If it meant what I thought it meant, then Rinkevics must be a very nervous man at that moment. Perhaps he was even staring at the same blank space as me on another screen somewhere, waiting for the megahysterical onslaught to begin.
I am not a great gay rights campaigner. Live and let live is about as ideological as I get on the subject and I admit that in the past, while covering gay pride events in Riga, Tallinn and Vilnius I have been almost as annoyed by the self-righteousness of some of the gay rights tourists who bus in and out from Germany, Denmark and Sweden to show 'solidarity' with the local gay community as I have been by the wacko Bible-thumpers on the other side of the chicken wire, one of whom memorably told me: "I'm a big fan of Queen and Freddie Mercury, but that… that is just disgusting!" pointing at two men holding hands and sticking their tongues out.
Maybe it wasn't just me and Edgars looking at the blank space beneath his name. Maybe there were dozens of people, all waiting for someone else to get the ball rolling. Better that the first comment is a positive one, before the droogs kick off a bit of the old megahysteria, I thought. But what to post?
Someone needs to come up with a standard response to coming out. If someone says they got engaged, you say "Congratulations". If someone dies you say "Condolences". If someone passes their driving test you say "Well done." But what do you say when someone says they are gay?
"Congratulations" sounds either trite or sarcastic. "Well done" also sounds sarcastic and after all, it's not an achievement, it's what you are. You'd might as well say "Well done on being tall." In fact pretty much anything sounds like it could be sarcastic so I decided to keep it as short as possible and typed: "Bravo!" It needed the exclamation mark or it definitely would sound sarcastic. Remarkably, it turned out that this was the first comment, not that that is any sort of an achievement, as it was far from the best.
Now the comments started to come and in this regard Latvian proved to be far more suited to coming-out felicitations than English. The phrase "visu cieņu!" was the most common, translating roughly as "with all due respect" but somehow with a bit more friendliness, fellow-feeling and soul than that cold Anglo-Saxon addition.
Messages were overwhelmingly supportive, at least on Rinkevics' twitter feed, where most people are instantly identifiable. It was somewhat different on the portals of the main news sites where individuals displayed all the insult, bravado and demagoguery that anonymity provides. But frankly, who cares what someone ashamed to write their own name thinks, no matter how many hours they have spent fantasising about the sexual exploits of others?
The following hours have produced plenty of comment, but I think, nothing worthy of "megahysteria", which is almost a shame given what a wonderfully over-the top word it is, but indicates that Latvian society may be a lot more mature and confident of its own identity than everyone assumed.
As he confirmed in a subsequent tweet, much to my relief, Edgars Rinkevics is indeed proud to be gay. No need to hiding behind a pillar playing hide and seek any more. Visu cienu.
---
This piece was originally published on the Latvian public media's English language service here