By Pekka Virkki and Jukka Mallinen
The public debate on foreign and security policy in Finland has often been characterized as vague, cautious, repetitive, shallow, and suffering from a "cold-war mindset." It is likely that none of these labels are unwarranted. The stereotypical picture of Finns as an "honest and straight-talking Nordic people" has not been very accurate, at least when the topic of discussion has been Finland's eastern neighbor, Russia. Instead, what we have witnessed is a demonstration of the excessive modesty that Finns are sometimes known for.
How should we Finns speak, then, and which one of us should do the speaking? Who are the people taking part in the debate at the moment? Many of the people cited below have had very close and verified contacts with the Soviet intelligence service, the KGB, and its affiliated service branches. At the very least, it would be essential to know what  the state of these relations are today. Not all of the persons cited broke their contacts after the collapse of the Soviet Union. The question arises, is an open debate about our security policy options in itself an element that contributes to the security of our whole society?
Development of Finland's Foreign Policy Debate
As the situation in Ukraine escalated, social media commentators came out publicly in a way that was quite unprecedented in Finland. James Mashiri and Janne Riiheläinen became "semi-celebrities" thanks to their role in the debate, for which they were targeted for harassment. Earlier, the foreign policy blog, The Ulkopolitist, had stirred up the debate from its own, more academic perspective. One of the blog's editors, Matti Pesu, even took the debate to the Kultaranta discussions at the Finnish President's summer residence.
Russia is using its old networks and is constantly building new ones in Finland and elsewhere to further its interests.
Before Finland's parliamentary elections of 2015, President Sauli Niinistö decided to summon the leaders of the political parties for a visit. Following the meeting, the security and foreign-policy debate vanished from election campaigns. However, the debate was already in full swing on the internet. One example of this was Riiheläinen's blog, Turvallisuuspolitiikan korkeajännitys ("Security Policy Commando"), on the website of Finland's leading daily, Helsingin Sanomat. The blog was, however, cancelled in early 2016.
Regardless of the reason for the cancellation, the symbolism in the message was quite alarming: No questions, no analyses; the political leadership will do as it sees fit. It is worth noting that before Riiheläinen's blog was cancelled, he had been calling for a more clear-cut explanation of Finland's official security policy. On a brighter note, the crowdfunding project to develop The Ulkopolitist blog has been quite successful.
Taking Part in the Debate
Limitations on the openness of public debate will have an inevitable impact on the content and concepts of the debate itself. In Finland, the "legitimate" forums for debate have included the regional branches of the foreign policy association, Paasikivi Society, and certain clubs of state officials and select academics. Media usually learns no more than what those involved in the societies wish to divulge from those debates.
One of the new players in the debate is the Finnish Geopolitical Society (Suomen Geopoliittinen Seura, SGS). According to the society's website, its mission is "to promote geopolitical research, debate, and awareness related to Finland." Furthermore, the website says that the society can organize "presentations, seminars, and other similar events, engage in publishing activities, and maintain contacts with international and national organizations, research institutions, universities, businesses, and other organizations that regard geopolitics as important."
The list of the society's board members is quite revealing. This is not to say that the society would be a front group of any particular actor, or that the society would engage in any covert activities. However, it is symptomatic that the list of "legitimate" commentators mainly includes gentlemen from a certain generation with similar career paths and contacts.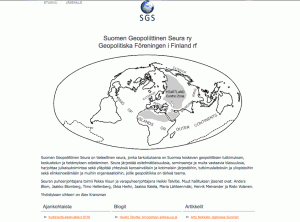 The society's Chairman is Reserve Colonel Pekka Visuri, while the Deputy Chairman is Finland's former Ambassador to Moscow, Heikki Talvitie. Other members of the board include Anders Blom, Jaakko Blomberg, Timo Hellenberg, Ilkka Herlin, Jaakko Kalela, Henrik Meinander, and Risto Volanen. In addition to belonging to the same age group, the board members seem to have a rather similar attitude toward the society's agenda. Only Hellenberg, Herlin, and Meinander are not, at least not obviously, so-called "cold-war veterans."
Both Chairman Visuri and Deputy Chairman Talvitie are known as extremely enthusiastic advocates of Finland remaining outside military alliances. Career diplomat Talvitie has emphasized Finland's special relationship with Russia. Amongst other activities, he has been Chairman of the Finland-Russia Society and has received the Russian Federation's Order of Friendship medal from Vladimir Putin himself.
For his part, Anders Blom is the CEO of the Finnish business consultancy, Eurofacts, which focuses on trade with Russia. He has often been described as similar in mentality as veteran MP Ilkka Kanerva, though as having gone much further in appeasing the Kremlin in his youth within the National Coalition Party (Kokoomus). When he was still a high-school student, Blom won the national writing contest on Finland's YYA Treaty (Agreement of Friendship, Cooperation, and Mutual Assistance) that the Soviet Union imposed on Finland after WWII.
In an interview with Heikki Saari, Blom said he met the Soviet "friendship delegation" led by one Gennady Tkachev in Turku in November 1976. Tkachev, chairman of the Leningrad branch of the Soviet Communist Party's youth organization, Komsomol, later became Blom's main Soviet contact. Russia's current President, Vladimir Putin, later took over the office at the St Petersburg city hall that Tkachev used to occupy.
Jaakko Blomberg became Under Secretary of State at the Finnish Foreign Ministry around the time when Mauno Koivisto became President. Blomberg has since wielded significant influence within the ministry. Jaakko Kalela made a long career in the Office of the President from the time when Urho Kekkonen was President. During his career, Kalela maintained contact with the KGB and acted as KGB's "whisperer" within the President's Office. For example, in 1974, Kalela delivered a message from the Soviet Embassy in Finland (known as "Tehtaankatu") that KGB General Valentin Kossov wished for Kekkonen to "strenghten the position of [Social Democratic Party chairman Kalevi] Sorsa." We now know more about SDP's sordid campaign to bypass Kekkonen, using the very same "foreign policy tool" that had secured Kekkonen's ascension to power.
State Secretary Risto Volanen has become known to the wider audience since the terms of office of prime ministers Anneli Jäätteenmäki and Matti Vanhanen, thanks in part to his exemplary conduct during the tsunami in the Indian Ocean in 2004. He has been very active in the public debate on Finland's security policy and opposes Finnish membership in NATO.
Volanen has said  on his frequently updated blog that he has been in close communication with Timo Hellenberg during the critical events in Ukraine. Conflict researcher and long-term resident in Kyiv, Hallenberg has worked at the Aleksanteri Institute of the University of Helsinki.
Ilkka Herlin is a key shareholder of the Finnish provider of cargo handling solutions, Cargotec, and the son of Pekka Herlin, long-term CEO of the engineering and service company, Kone. Suomen Kuvalehti reported that Herlin was a member of Finland's Centre Party (Keskusta). According to the article, he has been one of the main authorities within the party on issues related to Russia. His most notable job within the Centre Party was campaign manager for Anneli Jäätteenmäki's election campaign in 2003.
Henrik Meinander is Professor of History at Helsinki University. At least to a layperson, the tone of his writings seems completely different from that of the other members of the board of the Finnish Geopolitical Society. Meinander finished his doctoral dissertation in 1994, and before his professorship, he worked as intendant at the Mannerheim Museum in Helsinki.
The small, but seemingly very active, Facebook page that carries the name of "Suomen Geopoliittinen Seura" has had as its members, in addition to Volanen, people involved with veteran centrist politician Paavo Väyrynen's newly-established political party, Citizen's Party (Kansalaispuolue). Whether the Facebook page and the society are officially linked has not yet been confirmed.
Of the Finnish Geopolitical Society's board members, at least Talvitie is a member of another association called Historians Without Borders, which was established by Finland's former foreign minister, Erkki Tuomioja. The purpose of this association is "to help prevent the use of history to fuel conflicts or maintain enmity and false myths, and to promote the use of history in defusing conflicts." One of the association's partners is the Aleksanteri Institute of the University of Helsinki.
Historians Without Borders came to the public limelight when the local daily, Ilta-Sanomat, reported that Tuomioja had organized a conference in Helsinki with Russian historians, and that he had discussed the event during his surprise visit to Moscow. The visit puzzled many, given that the long-time MP used to occasion to meet with Russian Foreign Minister Sergei Lavrov as well. The Parliament was informed of the visit just one day in advance.
Heikki Talvitie was member of the board of Historians Without Borders in 2015 and 2016. Another board member was the long-time editor-in-chief of Helsingin Sanomat, Janne Virkkunen. Tuija Talvitie, Executive Director of Crisis Management Initiative, is still involved in the organization, while Henrik Meinander has been the association's inspector for two years. The main historian of the Finnish Security Intelligence Service (Supo), Kimmo Rentola, joined the board as of the beginning of 2016.
It is interesting to consider what these forums are needed for. Naturally, the increasing instability in Finland's neighbourhood gives birth to rising interest in questions related to geopolitical security. The people who are active in these organizations have had, or at least should have had, a continuous interest in these questions.
It is to be noted that Virkkunen has a background in attempts to silence Finnish public debate about contacts with Russian intelligence services. Harri Nykänen, reporter at Helsingin Sanomat, interviewed the then head of Supo, Eero Kekomäki, in autumn 1993 after having obtained information about the spying case involving Mats Dumell. Nykänen came across an employee of a certain microfilm company. In 1973, one of its employees had allowed [the then member of the Finnish Communist Party,] Jaakko Laakso, photograph the entire membership list of Finland's Constitutional Right Party at the company's premises over night.
Virkkunen insisted that the article about Laakso's activities would not be published. He claimed that there was nothing newsworthy in it. Nykänen then sent the article to the editor-in-chief of the local tabloid, Ilta-Sanomat, which went ahead and ran the story. This irked Virkkunen, who issued a written warning to Nykänen. Soon afterwards, Virkkunen nevertheless announced that Helsingin Sanomat would publish the story after all. Helsingin Sanomat had been known as [President] "Koivisto's court" even before Virkkunen became its editor-in-chief.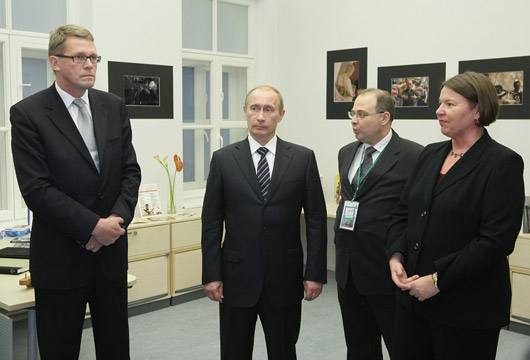 Years Ahead: Turbulence and the New Normal?
The years ahead appear critical for Finland's foreign and security policy. Security policy blogger Riiheläinen suggested that the Finnish Geopolitical Society could be working in support of centrist MP Matti Vanhanen's presidential aspirations.
Regardless of what to think of this, Finland's next presidential elections will probably turn out to be more interesting than expected. Even if the incumbent President would announce his candidacy and be re-elected, other candidates could be able to exert considerable influence on his policies with and during their campaigns.
It is very likely that the Social Democratic Party, which generally leans towards a line that is more appeasing toward Russia, will become a "kingmaker" in the race to the presidency. The National Coalition Party's policy line seems to be blurring, and there is no reason to expect any clarity at least within the next few months. Meanwhile, Paavo Väyrynen has thrown his support behind Sauli Niinistö's second term.
The next parliamentary elections may see Väyrynen's new Citizen's Party may shuffling Finland's security policy cards. Conservative blogger Mikko Laakso pondered whether the party might actually be a "hybrid" instrument of external influence.
Laakso provided convincing arguments in support of his suspicion, and presented detailed historical analogues, referring to comments by the non-fiction author and former party secretary of the Centre Party, Jarmo Korhonen. Speaking in an interview with Ilta-Sanomat, Korhonen predicted that Finland's political landscape would change, adding that the change would be linked with Russia.
"Now we have one politician who is clearly different from the rest. What will [Finns party leader] Timo Soini do, when he has to decide whether to support Finland's exit from the eurozone? As of now, Soini is hostage to the government. Meanwhile, Väyrynen is saying that we should get out of the eurozone, and 30-40% of Finns agree. […]
The collapse of the Soviet Union was followed by 20 years of tranquility, but now that is all over. This forces all political parties in Finland to reconsider their strategies on how to relate to Russia.
It should be remembered that when the YYA Treaty was declared to be null and void in December 1991, it only took a month and a half until it was decided, under the leadership of President Mauno Koivisto, to apply for membership in the EU. We are now sliding into a similar situation, in that the parties are looking for ways to gain support. In the midst of all this, we have Väyrynen's national Finnish party."
Korhonen forecasts, quite understandably, that Väyrynen's party will split the Centre Party. It would also be logical that many voters of the populist Finns party would oscillate toward Väyrynen's new party.
"The bickering will not really begin until 2018, when the parties will begin drawing up their lists of candidates. Hundreds of Centre Party local branches will see lots of internal squabbles as they try to sort out those who would enter Väyrynen's party list."
The crucial thing is not the amount of support that Väyrynen's new party will garner, but how its mere existence will influence the balance of power within the next Parliament and the policies of rival parties. Foreign and security policy will probably be one of the new party's main themes, which is why its rivals may feel even more coerced to lean toward an appeasement of Russia. On the other hand, this division may turn out to be more important and become something that the candidates and parties will use to stand out in the election debates.
Security in Transparency
Russia is using its old networks and is constantly building new ones in Finland and elsewhere to further its interests. The unique network of Moscow's "friends" in Finland, at its strongest in the 1980s, is still an efficient instrument for using Finland to advance Russia's interests in the West. That said, political differences and differing points of view are, naturally, part of a democratic process, and allowing their existence must never be traded away.
Yet exposing unhealthy phenomena that can influence our body politic, such as close contacts with foreign intelligence services, is vitally important to defend against hybrid threats. To this end, we need lustration. However, there has been a constant attempt to postpone and thwart the whole process in Finland. In light of the recent joint EU-NATO declaration, Finland, as a member of the EU, must take a clear stance on the issue.
Jukka Mallinen
Author
Pekka Virkki
Entrepreneur, Journalist
Originally published on Lustraatio.fi