Professor and former  Finnish ambassador, Alpo Rusi and the former party secretary of The Finnish Centre Party, author Jarmo Korhonen have published a new book titled "The Kremlin's Footsteps – Finlandization and Background of the 2002 Spy Scandal" (Kremlin jalanjälet – suomettuminen ja vuoden 2002 vakoilukohun tausta (Docendo 2017)). The book is available only in Finnish, but it cover issues of high international relevance.
"Tuomioja can be considered an operative of Russian intelligence after the Zavidovo leak for his positions and his openly stated Mareyev-connection," Rusi and Korhonen write in their book.
The name of the book refers to the "footprints" of the Kremlin. Two subjects are covered in depth:  finlandization and the background of the 2002 Finnish spy scandal. The connections between both issues are closely examined in the book.
Alpo Rusi – who is currently a professor at Vytautas Magnus University in Lithuania – became the focus of a Finnish spying scandal after leaving his post as an advisor to Finnish President Martti Ahtisaari (1994-2000). Alpo Rusi's brother, Jukka, had been in contact with the East German STASI during the Cold War and documents concerning Jukka Rusi – in which Alpo Rusi was marked as a possible future contact – were used to label him as a spy.
The spying claims concerning Alpo Rusi were completely false, but the investigation process revealed many gaps in Finnish society and the challenges of Finnish "Vergangenheitsbewältigung" [the struggle to overcome the past] in general. What happened to Rusi and President Ahtisaari has become a prototype for Kremlin-style active measures. While the investigation itself was kafkaesque, the details contained inside the broader situation were created during the era of finlandization.
RETURN TO ZAVIDOVO
The book begins by explaining the so-called "Zavidovo Leak", which took place in the autumn of 1972. Finland was about to enter into an Association Agreement with the European Economic Community (similar to the Ukraine-EU agreement that Viktor Yanukovych refused to sign), which many Finnish left-wing politicians openly opposed. Some viewed the EEC agreement as a "back-door" to NATO, despite the fact that the provisions concentrated strictly on trade issues and that Finland had signed a similar, earlier agreement, with the Eastern Bloc countries.
In 1972, President Urho Kekkonen discussed an association agreement with the Soviets in Zavidovo. Leonid Brezhnev expressed his suspicions, but Kekkonen tried his best to convince him that the Finnish policy of "neutrality" (which was actually quite heavily Soviet-leaning in the case of Finland) would remain.
Kekkonen wrote a memorandum about his meeting with Brezhnev and Soviet objections to Finland's EEC Association Agreement. The status of the memo was top secret, but somehow Erkki Tuomioja, then an MP representing the left-wing faction of the Social Democrats, managed to obtain information about the memo and leaked it to Tor Högnäs, a Swedish-speaking journalist – who was considered  pro-Kekkonen and anti-Social Democrat. The leaked publication of high level Soviet opposition to the Finnish-EEC agreement, was very likely meant to destroy the entire EEC-process and even Kekkonen's presidency.
According to Suomen Kuvalehti, selecting Högnäs to publish the leak was a cover operation for Tuomioja and his left-wing comrades, who were able to make Kekkonen believe that foreign minister Ahti Karjalainen was responsible for it. According to the authors of the book, the unofficial working group responsible for the selection of Högnäs consisted of Antero Jyränki, Bo Ahlfors, Erkki Tuomioja, Jaakko Kalela and Jaakko Blomberg.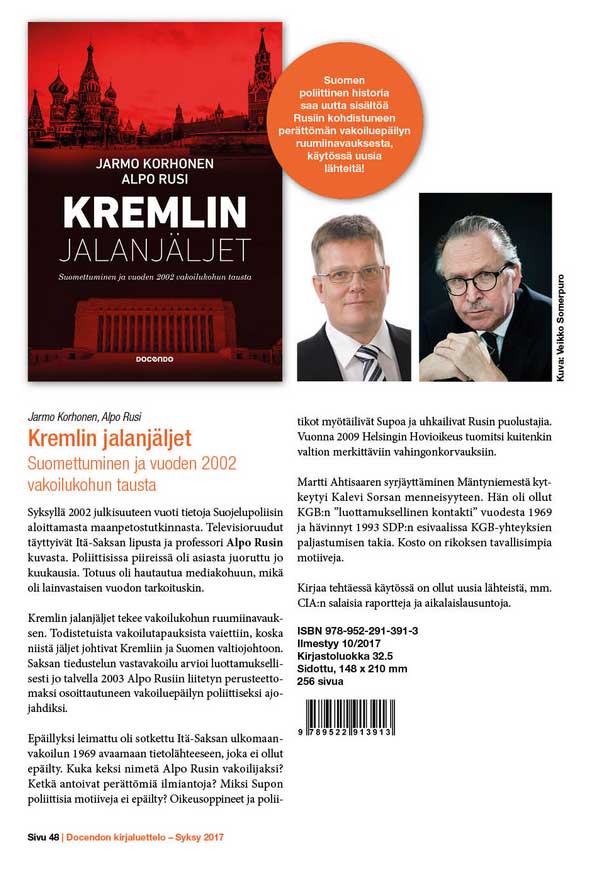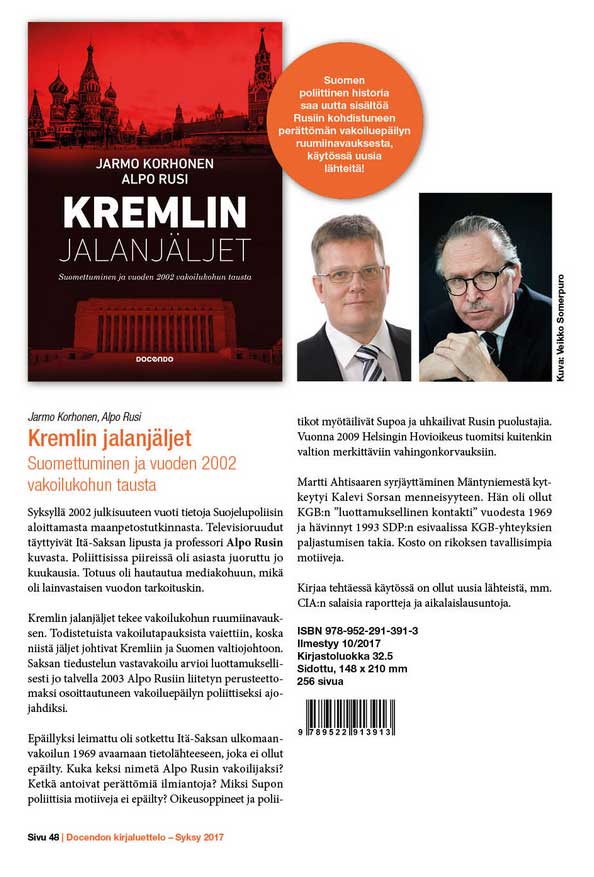 Kalela and Blomberg belonged to the authors' collective called "Y. Y. Antonen". Using that name, they published a piece arguing for the necessity of the leak in Ydin Magazine. The founder of the collective, Kari Tapiola, worked as a secretary for Kalevi Sorsa (a left-wing Social Democrat with close KGB-connections) to whom the memorandum was delivered in the first place because of his post as minister. Tapiola was able to see all the secret information with Sorsa's permission.
Kalela and Blomberg built impressive careers as civil servants – Blomberg in the Foreign Ministry and Kalela in the Office of the President. During Tarja Halonen's presidency, both acted as Ambassadors to Estonia. Kari Tapiola further grew his career in the service of international labour organizations. His son, Pirkka Tapiola advises the European External Action Service leadership on Eastern Europe, and more broadly on issues related to democracy and transition.
In his book "Kukkaisvallasta kekkosvaltaan" (Tammi 1993), Tuomioja admitted that he committed the leak but didn't reveal his own source(s). He probably believed that he was beyond criminal responsibility for it and that the leak wouldn't be viewed as aggravated treason. However, he did not reveal where he got his information from.
However, presuming that Soviet intelligence – which was closely connected to the anti-EEC Social Democrats – knew who the leaker was all along, it leaves little room for speculation whether Tuomioja was under the threat of potential blackmail.
Maybe because of his personal animosity towards Kalevi Sorsa, Tuomioja supported Ahtisaari's presidency in the 1994 election. He even acted as a chairman of Ahtisaari's supporter group. In September of 1993 Tuomioja wrote in his diary that his former "home Russian" (personal KGB-officer) Valery Mareyev invited him for a lunch, which demonstrates that contact with the Russian embassy continued.
Rusi shows in his book that like former president Mauno Koivisto, Tuomioja was also reluctant to stand up against Serbian dictator Slobodan Milosevic.
Tuomioja was named Minister of Foreign Affairs in 2000. Rusi shows in his book that like former president Mauno Koivisto, Tuomioja was also reluctant to stand up against Serbian dictator Slobodan Milosevic. When the negotiation process for the Lisbon Treaty took place, Tuomioja's role in downplaying the security guarantee based on EU membership was significant. "Not a specially meritorious statesman's act", historian Jukka Tarkka has stated.
When The European Union took its decision to place sanctions against Russia in 2014, Tuomioja expressed his dissenting opinion in the governmental committee. He hoped that Finland would leave an option to oppose the sanctions if a ceasefire held, no matter how the other EU countries acted.
After leaving his post as Foreign Minister, Tuomioja has paid private visits to Russian Foreign Minister Sergey Lavrov and chaired a network called Historians Without Borders.
"Tuomioja can be considered as an operative of Russian intelligence after the Zavidovo leak for his positions and openly stated Mareyev-connection", Rusi and Korhonen write in their book.
A recent UpNorth article analyzed some of the correspondence and relationship between Tuomioja and pro-Kremlin docent [teacher not a professor] at Helsinki University, Johan Bäckman.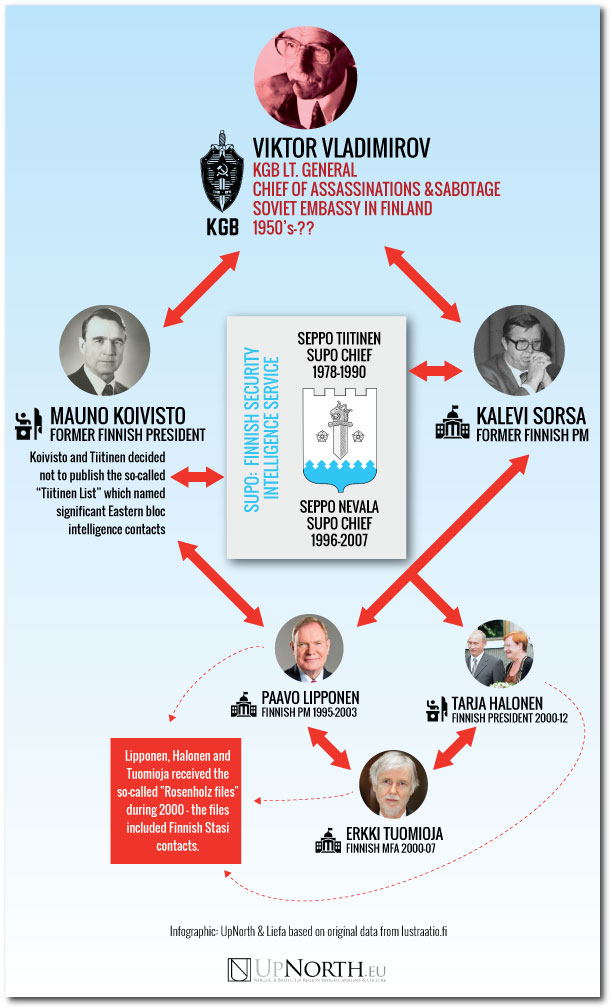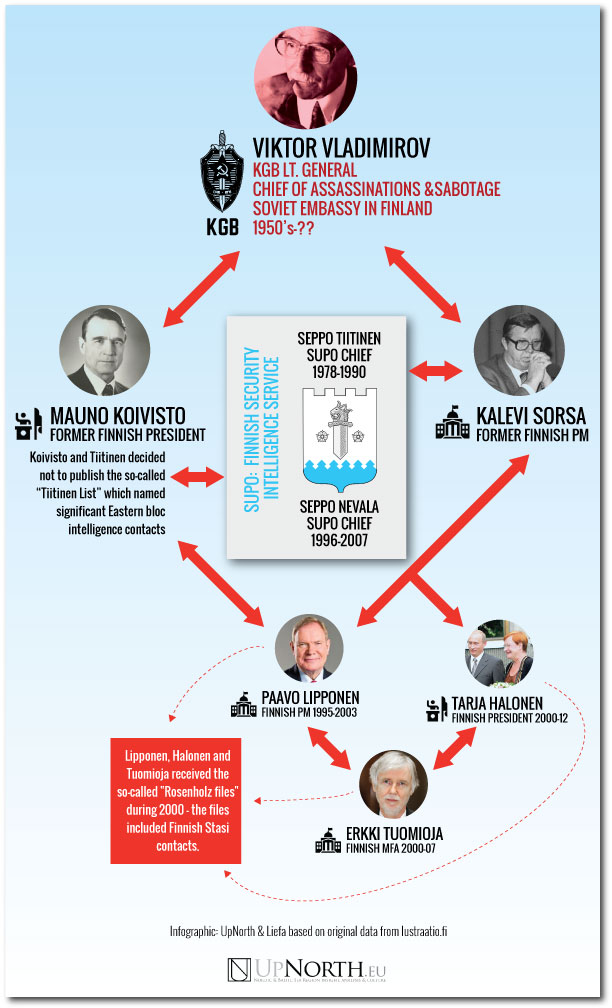 FSB, SUPO AND THEIR NETWORKS
The Finnish Security Police, SUPO, was penetrated by the KGB during the Cold War. According to Vasily Mitrokhin's archives, its chief Arvo Pentti was recruited as an agent by the code name "Mauri" and rewarded with 150 000 Finnish marks.
His successor Seppo Tiitinen held the post from 1978-1990. In 1992 he was named Secretary General in the Finnish Parliament, from which post he retired in 2015. According to the authors of the book, British intelligence warned that Russian intelligence could blackmail Mr. Tiitinen.
According to Rusi and Korhonen, in addition to the influential Western intelligence community, Estonia's Internal Security Services, KAPO  also delivered warnings about the KGB's and its successors' influence on SUPO.
SUPO seems to have ignored this even in the most obvious spying cases (for example in the case of Jaakko Laakso and President Tarja Halonen's strategist Riitta Juntunen, who was recruited as a STASI agent), which raises many questions. When the latter case was raised publicly, SUPO was led by Seppo Nevala, Kalevi Sorsa's former secretary (as then President Tarja Halonen and Prime Minister Paavo Lipponen were).
Last year, Suomen Sotilas published a memorandum concerning Nevala's nomination as the deputy chief of SUPO, which took place when Tiitinen (with his Center Party background) was nominated as its Chief. The memorandum includes detailed information about how Nevala used alcohol in an inappropriate way and some of his difficult personality traits. It's also mentioned that Nevala is formally unqualified for the position. But whether these facts have enough correlation with the other nomination – probably referring to Tiitinen – the author of the memo doesn't believe that Nevala's nomination will be rejected either.
It looks like two Finnish Presidents actively worked to keep the list that included 18 people associated with the STASI, secret. This Tiitinen/Hassinen list (Raino Hassinen worked in Ahtisaari's office as an advisor) was ignored by both Mauno Koivisto (1990) and Martti Ahtisaari (1999). According to Rusi and Korhonen, Kalevi Sorsa and many top officials in the Finnish Foreign Ministery were on the list. When the list was evaluated in Ahtisaari's office, the President himself, Chief of Staff Jaakko Kalela, and Hassinen were present.
Although Ahtisaari was in principle, pro-western and relatively independent from party politics, he was elected to his post as a candidate for the Social Democrats. Also, his career in the Foreign Ministry began with a recommendation from Sorsa. The "spying scandal" constructed around Alpo Rusi – who was independent from the Social Democratic background forces – was needed to cover up the real influence of Eastern intelligence in Finland.
The distrust between the President and his advisor was also provoked by rumours about the latter having inappropriate contact with the Russians during the Balkan Peace Process. It's commonly known that the erosion of trust and confidence between politicians and their closest advisors – and people in general – is one of the basic tactics of the KGB and its successors. Many of those who acted behind the scenes during the Zavidovo leak – such as Kalela and Tuomioja – were now active inside or near the President's office.
However, the President of the United States, Bill Clinton expressed his special thanks to Rusi after peace was achieved having been responsible for organizing the summit of Sarajevo in 1999.
It is likely that Ahtisaari himself – later rewarded with Nobel Peace Prize – felt somehow threatened. Jussi Lähde, who had worked as communications manager of the President, has said that he received a call from London in summer 1999. The caller offered a significant amount of money in exchange for compromising information about Ahtisaari.
WHAT HAPPENED TO  RENÉ NYBERG?
Paavo Lipponen, the long-serving Prime Minister who started his political career as Kalevi Sorsa's secretary and international secretary for the Social Democrats, strongly opposed publication of the so-called Tiitinen List and the opening of archives concerning the STASI's activities in Finland. In a famous column, he imagined how a guillotine would be constructed in central Helsinki, and "hippies" marched in to kick the bodies after the heads had been removed. In Lipponen's vision, Alpo Rusi would sign the graves of the suspects.
Rusi's book "Vasemmalta ohi – kamppailu Suomen ulkopoliittisesta johtajuudesta rautaesiripun varjossa 1945-1990" (Gummerus), was published in the same year. In that book, he revealed many details about the STASI contacts with Finnish politicians – 'especially Social Democrats'.
In 2008, Lipponen announced that he signed an agreement with Nord Stream AG for consulting services. This job has paid him many hundreds of thousands euros. His former secretary Antton Rönnholm – now acting as party secretary of the Social Democrats – and many other associates have also worked for Russian gas interests. Nord Stream AG is led by former STASI agent Matthias Warnig.
Already in 1998, then Prime Minister Lipponen's advisor Timo Pesonen, spread rumours that "SUPO is following Rusi and Nyberg". Somehow, the information was widely spread, although Rusi himself was not made aware of it.
We now know that Rusi withstood the scandal and has since been proven innocent. But what was the case with Nyberg?
After his diplomatic career in Moscow and Berlin, René Nyberg (whom Pesonen likely referred to) founded a consulting company called East Office. The company claims to specialize in building Finnish companies' relations with Russia. Its board is led by former Center Party Prime Minister Esko Aho, who was also invited to join the board of the Kremlin owned Sberbank last year.
When Nyberg published his book "Viimeinen juna Moskovaan" (Siltala 2014) Lipponen praised it.
Recently, a retired ambassador Hannu Himanen recommended NATO membership for Finland in his book, "Länttä vai itää – Suomi ja geopolitiikan paluu" (Docendo 2017). Nyberg claimed in Helsingin Sanomat, that Himanen's book was unethical.
WILL ANYTHING CHANGE?
The new book by Rusi and Korhonen includes some very important historical puzzle pieces about recent Finnish history and Eastern intelligence operations here. At the same time, it provides another example of the methods the Kremlin and its operatives are willing to use to achieve their geopolitical goals and discredit those who may threaten their imperialistic goals of securing "spheres of influence".
During the last few months, we have seen a flow of new – or at least recently organized – information regarding these issues. Historian Juho Ovaskainen has demonstrated in his book "Mauno Koiviston idänkortti" (Otava 2017), how Urho Kekkonen's successor used The Soviet Union to achieve his career goals. It is known that he was good friend of Viktor Vladimirov, a Soviet diplomat in Helsinki, who used to lead KGB's assassination department.
While these revelations may uncover further information, the old network is still holding on to what it can. It is likely that when these old Soviet-based networks of influence lose their influence and importance, Russia may start to provide more support to Western European style anti-establishment movements.
Recently, the Kremlin granted archival access to Kimmo Rentola, Timo Vihavainen, Ohto Manninen and Sergey Zhuravljov for historical research. Their book "Varjo Suomen yllä – Stalinin salaiset kansio"t (Docendo 2017), gives perspective to policies of the Soviet Union in relation to Finland under Stalin's regime.
In 2014, professor Vihavainen received an Order of Friendship from Russian President Vladimir Putin. In 1990 he became known for his criticism of finlandization, but he is now known as a staunch conservative "traditionalist". In June 2014 he said the Ukrainian Euromaidan was started by "a violent mob" and compared those protestors to the terrorist separatists in Eastern Ukraine. He has also attacked the idea of lustration in Finland, which has gained more support lately (the youth arm of the National Coalition (Conservative) Party adopted publication of Tiitinen's list in its policy platform of 2017).
Professor Kimmo Rentola is a historian and former communist. He is the author of "Ratakatu 12" (WSOY 2009), a history book concerning and ordered by SUPO, then led by Seppo Nevala. In 2016 he was elected to the board of Historians without Borders, organization, founded by Erkki Tuomioja.
PERSONAL PRONOUNS
When asked about finlandization in 2009, Finnish-Estonian author Sofi Oksanen stated that if it was so normal, "why can't we talk about it openly"? She also recommended to start using personal pronouns in such evaluation.
When it comes to Russian intelligence activities in Finland (yet not equal to the term finlandization), Rusi and Korhonen have opened a Pandora's Box. It will not be closed any time soon.