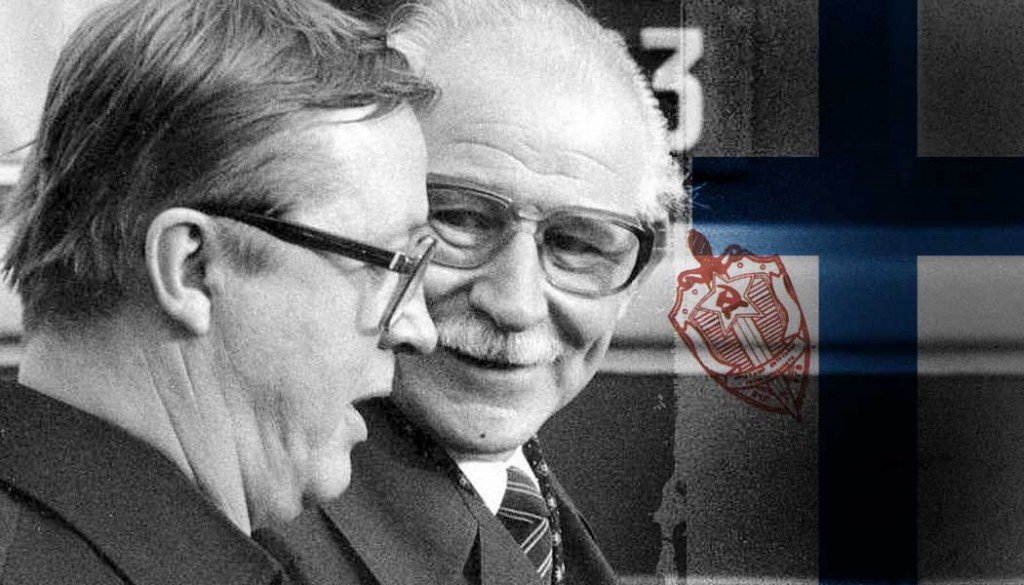 By Pekka Virkki & Antti Hämäläinen
Strong evidence concerning Russian interference in the United States presidential election has recently been made public. This is nothing new, Russian intelligence agencies have long collected files with compromising material – "kompromat" – about numerous influential people in various countries. Russian intelligence collects "kompromat" in attempts to blackmail people or destroy their careers. This is not a fantastic Soviet spy fiction but a reality today, in 2017. When Russian president Vladimir Putin denied holding such material about Donald Trump because he was "only an unknown billionaire" back in 2013, he didn't deny the method, but merely claimed it wouldn't be used specificallyy against Trump.
As Ukrainian analyst Vitaliy Portnikov has stated, that "compromising information – in Russian "kompromat" – is powerful regardless of whether it is true, a reality that has been lost in many discussions about the current examples of it loosed upon the world."
Reports like the Trump-Russia dossier, can have destructive influence even when the information is circulated within closed groups. If a relatively large secret "inner circle" knows about the material, the target will strive to keep it from gaining more attention. While aware of the information, mainstream press will not publish it so long as it cannot be verified and the matter is not openly and publicly discussed by any credible individuals.
For decades, Finland has had a tradition of circulating these kind of unofficial "information packages" – orally or in writing.
One of the most well known politicians who is believed to have been actively influenced by the Soviet intelligence services was Kalevi Sorsa, the prime minister in three governments in the 1970s and 1980s. According to adjunct professor Heikki Urmas (1935-2013), the veteran conservative politician and businessman Päiviö Hetemäki (1913-1980), urged Urmas in the 1970s to stop writing a book which contained information Hetemäki considered sensitive and warned that Urmas was "in a real danger of death" if he published the information. The book was not published and Urmas never elaborated about the exact content of the planned book. Kauko Parkkinen said during a 2013 lecture, that the reason for the warning was probably his plan to release details about how dirty background information of the high-profile politician Kalevi Sorsa, acquired while he was working for UNESCO in Paris (1959-1965) and could had been used to ensure the continueance his co-operation with the Eastern Bloc intelligence if necessary.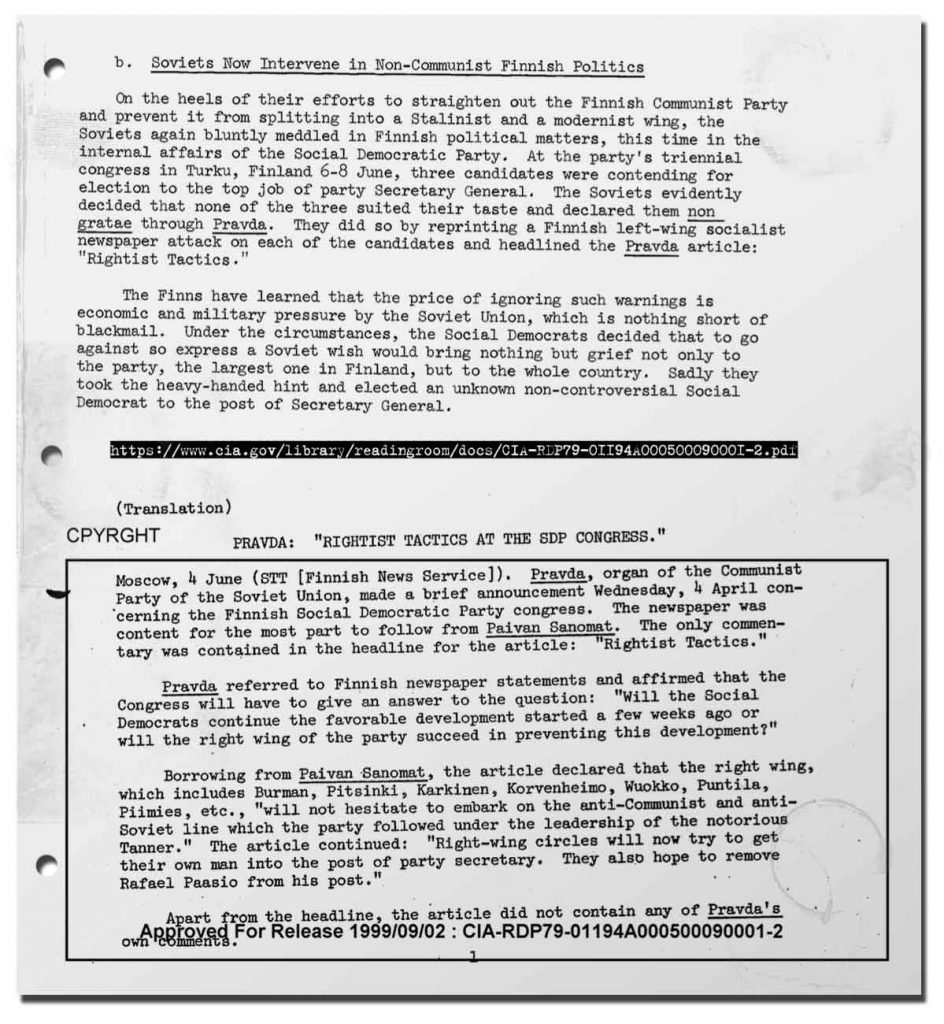 Sorsa, however, may already have been a trusted contact  for the CPSU/KGB before Paris. After Paris, he was immediately appointed as the social democratic party secretary. His opponent in the 1969 party secretary election, Pekka J. Korvenheimo, has admitted the Russian intelligence was involved in the election. This is supported by the CIA material recently published.
Finnish government communications chief Markku Mantila said recently that there is no evidence about Russian interference in Finnish elections. The statement is extraordinary. It is well known that Russia has been influencing politics and individual politicians, the world over, for decades, including the section of candidates for parliamentary and presidential elections. Professor Alpo Rusi has demonstrated in his studies, based on first-hand source material, that counter-intelligence efforts by the Finnish Security Police, Supo, had not been effective and that both the KGB and Stasi had broad contact networks among political circles in Finland during the 1970s and 1980s. Some Finnish politicians have maintained their contacts after the cold war, including the former foreign minister Erkki Tuomioja, among others.
Mantila himself has taken part in protecting at least one politician with a KGB connection. This happened when he allowed Kalevi Sorsa to spread disinformation concerning his contacts with the East German Security Service Stasi saying "I did not know anyone from the East German Embassy". Mantila was the editor-in-chief of the Pohjalainen newspaper in 2003 when the interview was published. His motives and possible discussions with outside actors would be important to examine, as well as the reluctance of Finnish Security Police to publicly discuss the Eastern intelligence contacts of Sorsa.
Former assistants of Sorsa include former president Tarja Halonen, former prime minister Paavo Lipponen – who is known for his heavy lobbying in favour of the Russian Nord Stream gas pipeline- and Seppo Nevala, the head of the Finnish Security Police until 2007. All of them played crucial roles in Finnish politics in the early 2000s.
Seppo Tiitinen was the head of the Security Police until 1990 and afterwards was the secretary general of the Finnish parliament until 2015. Tiitinen has recently opened up about some of his past bargaining with Sorsa.
The Kremlin has a long tradition of interfering with politics anywhere it can. Finland as a neighbour, has been and continues to be a natural target, but curiously enough, this is not openly discussed or widely recognized in Finland. It seems entirely possible that the interference itself is what still manages to keep the subject away from the public focus, as the people who have information are reluctant to discuss it due to their own or colleagues or friends past or present involvement.
Co-authired by Pekka Virkki and Antti Hämäläinen