After years of delays and promises, Russia's first floating nuclear power plant is now scheduled to roll out next year, according to remarks Tuesday remarks by Deputy Prime Minister Dmitry Rogozin carried by the official TASS news agency, and he expects three new-series icebreakers to launch by 2020.
Rogozin's remarks on the floating plant's delivery echoed earlier promises by builders to complete it by 2016.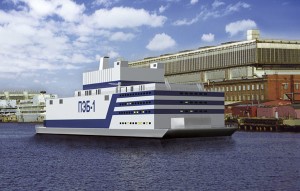 The announcement that Russia's first FNPP, the Akademik Lomonosov, will be set for delivery by October next year has prompted interest from Canada, which is considering using similar plants to power its far-flung seaside mining activities that rely on diesel generators, The Alaska Dispatch reported.
Both Russian state nuclear corporation Rosatom, and the Washington-based non-proliferation group the Nuclear Threat Initiative, say 15 countries world-wide are interested in leasing Russian floating nuclear power plants, most significantly China.
Norwegian environmental NGO, Bellona's executive director and nuclear physicists, Nils Bøhmer, has long voiced concerns over floating nuclear power plants' susceptibility to terrorist attacks or accidents, as they essentially involved parking a large amount of nuclear material in remote locations.
Russian economic downturn likewise makes them vulnerable, he said.
"So far, construction of this plant has been expensive," he said. "It will wind up in a remote place where dealing with mishaps will be costly, so the issues of whether Russia can support it once launched is questionable – if not, it could end up as another orphaned, dangerous nuclear installation."
Northern light shows
Rogozin, who is responsible for Russia's military-industrial complex, has in the past few days made flamboyant overtures toward Moscow's manifest destiny over the Arctic.
From Svalbard, Rogozin travelled to the North Pole, from which he likened Russia's intentions for Arctic conquest to Moscow's annexation of Ukraine's Crimean peninsula in March 2014.
Last weekend, he turned up on Norway's Arctic Svalbard Archipelago without a visa and despite his inclusion on a list of Russian officials banned for European travel for their role in destabilizing Ukraine. Norwegian officials were not amused.
From Svalbard, Rogozin travelled to the North Pole, from which he likened Russia's intentions for Arctic conquest to Moscow's annexation of Ukraine's Crimean peninsula in March 2014.
Rogozin sees floating nuclear powr plants as critical to developing Arctic-based industry and infrastructure.
In Tuesday's TASS report, Rogozin was quoted as saying the FNPP "is already almost built – our first FNPP will be ready by October of next year."
He described that the plant is "in fact a nuclear reactor that can be docked to coastal infrastructure, and it will provide energy through a cable to any Arctic city."
Russia has for the past decade put the hard sell on floating nuclear power plants. According to Russia's nuclear industry, they can be used to power industry in port towns, as well as oil and gas refineries.
The Akademik Lomonosov is a 144-meter barge crewed by 69 with two nuclear 35-megawatt reactors and must be towed to its destination. It has a draught of less than six meters, meaning it can operate in shallow waters, reported the Barents Observer news portal. The reactors are intended to operate for 40 years.
The plant is slated for delivery to the far eastern Siberian port of Pevek, a town of 4,000 in Chukotka on the Kamchatka Peninsula.
Floating plant weathers bankruptcy and possible corruption
The Akademik Lomonosov's construction started in 2007 at Russia's Sevmash Shipyard, but was moved to St. Petersburg's Baltiisky Zavod shipyard in 2008. The official reason for the transfer was a supposed surplus of military orders at Sevmash. But a source from Sevmash told Bellona at the time that money for the floating nuclear plant construction was being siphoned off to ease the traffic jam of military contracts.
A flurry of bankruptcy proceeding against Baltiisky Zavod threatened again to delay or even scuttle the project altogether.
But the state-owned United Shipbuilding Corporation acquired the shipyard in 2012 and a new contract for the plant's completion by Baltiisky Zavod-Sudostroyeniye, the successor of the bankrupt namesake, was signed in December 2012, World Nuclear News reported.
Baltiisky Zavod's director, Alexei Kadilov, said in October this year that the delivery date for the floating nuclear power plant would be in 2016.
The Akademik Lomonosov was first scheduled for delivery in 2010. That was bumped back to 2011, and again to 2012. It's scheduled arrival in Pevek is 2017, but Kadilov has said Kamchatka's infrastructure that "lags far behind" to service the plants needs on the frozen peninsula.
Russia plans to build seven more such plants.
Originally published by Bellona