Since the crisis in Ukraine, the integration of Russian-speakers, always a contentious subject, has become an even more pressing issue in Baltic discourse, and the effect of Russian media has been a central concern. Russian media is louder and better-funded, and is considerably more popular with local Russians than local alternatives. The Baltic countries are frequently featured on news broadcasts, usually in a negative light – stories tend to draw upon existing sources of tension, such as the small, but hugely contentious march of Latvian Legion veterans [Latvian soldiers who fought with the Waffen-SS] that takes place in Riga every March. The citizenship laws of Estonia and Latvia are also often cited as proof that the Baltics abuse human rights – after the end of the occupation and the restoration of independence, only those residents who could prove a family connection to the pre-war republic were given automatic citizenship; the rest had to pass a language and citizenship test, with the consequence that 21% of Russians in Estonia and 30% in Latvia remain stateless, effectively citizens of a defunct state.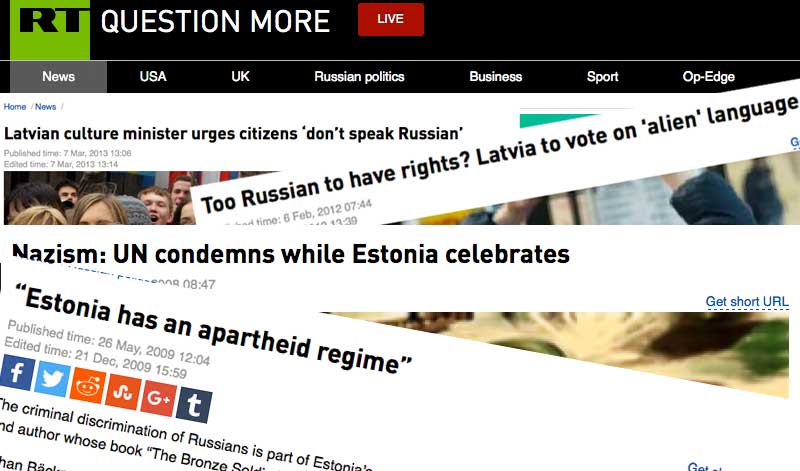 The fear has been that lingering resentment over issues such as this could be exploited by misinformation in majority-Russian areas like Ida-Virumaa in north-east Estonia or Latgale in south-east Latvia, perhaps covertly supported by Russian troops. The response of the Baltic countries has been inconsistent – at times aggressive, at others conciliatory: Lithuania has twice issued three-month suspensions for Russian TV channels accused of propaganda; Estonia, by contrast, recently launched a new government-funded Russian-language TV channel, although few think it will compete with the better-funded offerings coming from across the border.
But the last couple of years have seen the development of a reverse model: Russian-language media organisations using the Baltics as a base to broadcast information critical of the Russian state. The most high-profile of these is the website Meduza, which launched in Riga in late 2014.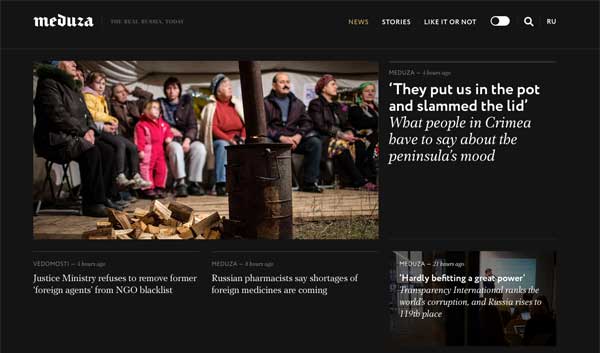 Meduza's offices are now located in a gloomy turn-of-the-century apartment on one of central Riga's shabbier thoroughfares, a mix of extravagant, chipped Art Nouveau and downbeat, ill-lit cafés and convenience stores. There's no indication on the building itself of their presence within, so you have to call to arrange entry. Workers cluster around computers, three or four to a room. Everyone does a lot of squeezing past everyone else. Everything and everyone is focused on the land 150 miles east. Ilya Krasilshchik, the outlet's publisher, explains that the choice of Riga was the result of a highly mathematical process of weighting advantages and disadvantages. Prior to making a decision, the nucleus of Meduza's staff drew up a spreadsheet featuring "thirty or forty" cities; Berlin had been their first choice, but the spreadsheet helped Riga win out due to an overwhelming combination of advantages: low cost, being just a single hour ahead of Moscow time, and the absence of any laws in Latvia against the registration of companies with wholly foreign work force.
The majority of Meduza's staff were, until March 2014, employees of lenta.ru, at that time Russia's most popular news site – one famed for its independence for Kremlin control. But when in March 2014, an article on the site linked to an interview with a radical Ukrainian nationalist, the editor, the respected journalist Galina Timchenko, was fired and replaced with Aleksey Goreslavsky, the former head of a website regarded as pro-Kremlin. Timchenko put out a statement decrying "a violation of the laws of journalism", signed by 84 members of the lenta.ru staff – many of whom walked out with her. Just seven months after Timchenko's dismissal, Meduza launched under her editorship, with the tagline "the news returns". Although Krasilshchik denies that it is a deliberately anti-Putin channel, he does admit that "I am sure that no employee of Meduza likes Putin", and a fair amount of its coverage consists of simply pointing out the errors and omissions of state-run media sources. Despite being registered as an SIA (Latvian limited liability company), the website deals not at all with Latvian issues, and although the employees are drawn from the width and breadth of the Russian-speaking world, none are Rigans. As Krasilshchik puts it: "most Latvians don't know about us, but there are some Russian-speaking citizens who hate us. They watch Russian television every day, and they think of us as maybe traitors or people who were bought by the US State Department or something like that… we have some audience in Latvia – it's not big, but it exists."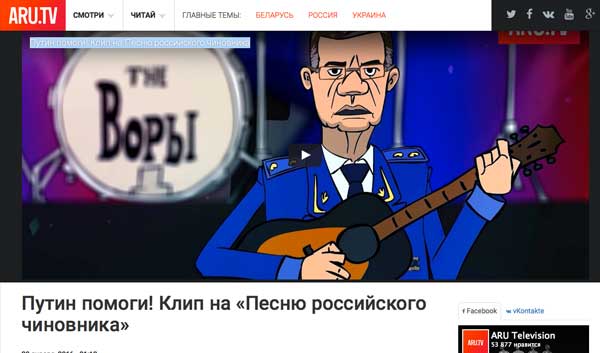 Pavel Morozau, a Belarusian who holds refugee status in Estonia, is a reminder that the Baltics (or at least Latvia and Lithuania) border not one but two authoritarian, Russian-speaking regimes. Morozau's current project, aru.tv, broadcasts from Estonia's capital, and, unlike Meduza, is explicitly anti-Putin (and anti-Lukashenko, the authoritarian leader of Belarus), specialising in primarily cartoon-based satirical material in Russian.
Morozau confirms that the site's audience is primarily concentrated in Russia, Ukraine and Belarus and that no more than 8% are in the Baltic states. He was given asylum in Estonia after he was arrested in his homeland in connection with drawing anti-Lukashenko cartoons. Like the other emigres I interview, he seems broadly sympathetic to the geopolitical orientation of the Baltic states, and although his wife is an ethnic Russian Estonian, he supports the tough stance on citizenship, arguing that the new Estonian authorities "did as they did because they wanted to build up independent countries"; he contends that had they handed out passports to everyone, Estonia and Latvia would now be de facto satellites of Russia, like Belarus.
The Baltic states – Lithuania in particular – have long been a refuge for those fleeing oppression in Belarus. The European Humanities University, formerly Belarus's premier higher education institution, has been based in Vilnius since 2004 after – they claim – the Belarusian authorities shut it down for its resistance to limit on academic freedom, principally serving expatriate Belarusians. But increasingly Russian citizens are also claiming asylum in the Baltic states. In September, Lithuania granted asylum to a Russian journalist and liberal activist, Andrei Nekrasov, after he was arrested in Cyprus on an Interpol warrant for extortion and threatened with deportation to his homeland; a campaign to free him claimed that his arrest was linked with his attempts to expose corruption in his home town of Izhvesk. Vsevolod Chernozub, the former co-chairman of Solidarnost, an opposition movement founded by, amongst others, Garry Kasparov, also was granted asylum in Lithuania after his involvement in the "Bolotnaya Square case", a series of protests against Putin just before his inauguration for a third term, which led to the arrest (and in many cases, imprisonment) of 27 people on charges of riot. Kasparov himself applied for asylum in Latvia in 2013, but his claim was rejected due to "procedural issues". It's not only liberals, either – last month Dmitry Savin, a member of the Russian nationalist party Novaya Sila (New Force), claimed asylum in the Latvian coastal city of Liepāja. In an interview with TV Kurzeme, he said that his flat in St. Petersburg had been searched by the authorities, something he alleged was connected to his public criticism of Russia's annexation of Crimea.
Anatol Lieven writes of a "Day of Russian Culture" held in the Estonian border city of Narva in 1938, during which Archpriest Alexander Sakaharov expressed his thanks to the Estonian government for permitting Russians to live "in peace and prosperity". These Russians were disproportionately targeted after the Soviet occupation of the Baltic states.
Chernozub seems to have found readjusting to life as an exile difficult – he complains that away from Russia "I cannot do the things I want to do, and the things I feel strongly about". However, he does work as the editor of a small Russian-language website, and mentions being in touch with what he refers to as "the new Russian diaspora" that is forming in Vilnius, as well as in Tallinn and Riga – made up of "well-educated, enterprising, creative people", principally businesspeople, IT specialists, scientists, journalists and artists. He also tells me that, largely by accident, he has been in touch with the Old Believer community in Lithuania.
The Old Believers, a traditionally hermetic religious group, are themselves a reminder that the émigrés last few years is just one of many waves of emigration to the Baltic states by those whose lives have been made difficult across the border. The Old Believers were those Orthodox Christians who refused to accept changes to the liturgy made by the Tsar and the Patriarch of Moscow in the 17th century; they were persecuted for their defiance, with many being killed, and so many fled to parts of the empire where they would be most likely to be left in peace – the far west and far east. Old Believer settlements remain scattered throughout the Baltics, many alongside Lake Peipsi in Estonia; the community in Riga is considered the oldest extant in the world. In the 1920s, White Russians fleeing the revolution congregated in the newly independent Baltic states; between the wars, Riga was second only to Paris as a centre for émigré Russians. Even during the Soviet occupation, they were considered somewhat other, unusually liberal and developed republics, places where – especially in Estonia – a slightly awkward, artificial version of the '60s was permitted to exist. Just like now, their remoteness and idiosyncrasy made them boltholes for Russians seeking to get away from problems: it was while hiding out in a friend's farmhouse in rural Estonia that Aleksandr Solzhenitsyn wrote his indictment of the Soviet prison camp system, The Gulag Archipelago.
What effect will these recent arrivals have on the sometimes fraught ethnic situation within the Baltics? In the short term, it may heighten tension as the alienated section of local Russians react with hostility to what seems to be yet another enemy. But as anyone familiar with pre-20th century Baltic history knows, good relations between Russians and the Estonians, Latvians and Lithuanians are by no means unprecedented. In Latvia in particular, the great figures of the 19th-century national awakening advocated cooperation with the Tsarist forces to liberate the common people from the the overwhelming power of the Baltic German aristocracy – which they saw as a much more pressing problem than Russian imperialism. During the period of inter-war independence, although relations between Russians and Balts were strained at points, they were greatly better than at present. In his book The Baltic Revolution, Anatol Lieven writes of a "Day of Russian Culture" held in the Estonian border city of Narva in 1938, during which Archpriest Alexander Sakaharov expressed his thanks to the Estonian government for permitting Russians to live "in peace and prosperity". These Russians were disproportionately targeted after the Soviet occupation of the Baltic states.
The appeal of the Baltics in and of themselves shouldn't be overestimated – the factor that came up again and again in my interviews was their geographical location: Krasilshchik says he still goes back to Moscow every month; Troitsky says that Estonia's proximity to Russia was the deciding factor that made him choose Tallinn University over another job offer he received – from Columbia University in New York; Chirikova has not gone back at the time of interviewing, but says Estonia is convenient for Russian colleagues and friends to visit her. Nonetheless, for whatever reason these Russians are in the Baltics, in the Baltics they are, and it's not impossible that the presence of liberal, influential, anti-Putin Russians could reshape these small but crucial countries as much as any of the predecessors.
With reporting by Richard Martyn-Hemphill