Artemy Troitsky has, for thirty years, been the international face of Russian rock music. Yaroslavl-born and Prague-bred, the son of a true-believer Marxist academic, Troitsky has spent the 32 years since being kicked out of the Soviet History of Arts Research Institute frenetically promoting his country's alternative music, still officially frowned upon and periodically cracked down on as late as the 1980s. For the straggle of Western rock musicians who started to visit the Soviet Union in the 1980s he was a guide and fix-it man; Billy Bragg remembers about his trip in 1986: "Art Troitsky met me off the train from Helsinki at the Finland Station in Leningrad and proceeded to introduce me to the underground rock scene in the city, taking care to point out the security service stooges that turned up at the gigs I did." These experiences were turned into Back in the USSR, the first book about Soviet rock music, published in 1987. The '90s saw him build a media career, including serving as the first editor of Russian Playboy, albeit an unconventional one who pressured the American owners to cut down on the nudity. But Troitsky now no longer lives in Russia, the country he still specialises in explaining to the world; he's now a resident of Tallinn, the capital of Estonia.
Troitsky has had an increasingly troubled time since the accession to power of President Vladimir Putin in 2000, something he puts down mostly to "my big mouth". Fiercely critical of Putin since the beginning of his reign, in recent years he has noticed the number of media channels willing to offer him work dwindle rapidly – what he describes as "unofficial blacklisting". He has also been verbally attacked repeatedly by supporters of the regime, and was unsuccessfully sued twice in 2011, once by a musician who he had described as "a trained poodle" for Vladislav Surkov, Putin's powerful chief of staff at that time.
Billy Bragg in Tallinn and Moscow 1987
The final straw came in autumn 2014 when, he tells me, his primary employer, Moscow State University, where he taught a course in music journalism, informed him that in the new academic year his salary would be cut by twenty times – from 60,000 rubles monthly to 3,000. As he puts it, "the basic problem for me wasn't that I was under some kind of repression, but that I was simply devoid of any income…" He was offered academic positions in various countries, but eventually decided to take an offer of a job at Tallinn University, which he supplements with work in Helsinki, a two-hour ferry ride away. Estonia is a country which Troitsky has known well since the '80s, when the little country was one of the freest and most creatively fertile of all of the republics of the Soviet Union; he describes the Baltic countries as "among the most loveable places on the planet".
It's not a particularly different story for documentary-maker and erstwhile Muscovite Vitaly Mansky, now resident in Riga, the capital of Latvia, 150 miles south of Tallinn. Coming to prominence in the '90s, Mansky won acclaim for cold, unblinking looks at Russia, specifically the Russia that emerged from the Soviet Union at the start of the '90s, humiliated, loaded, decadent, degraded, creative, crippled and broke – from Pipeline, which looked at the gulf between local inhabitants at either end of a gas pipeline, to Broadway, Black Sea, a portrayal of an unofficial shanty resort dispensing pleasure to a mix of holiday-makers, soldiers and refugees from the wars in the Caucasus. Between 2000 and 2001 he was even granted exclusive access to Vladimir Putin, then in his first year in office, which he turned into Red Tsar, an hour-long portrait which shows a much more hesitant figure than the Putin we know today.
Mansky has also become a strident opponent of Putin's regime over the last couple of years, in particular to its actions in Ukraine, the country of his birth. He stresses that reluctance to inadvertently support this aggression, rather than any personal fear, was behind his move to Latvia last year: "I know [Putin] too well personally to be afraid of him". However, like Troitsky, his professional and artistic options have been steadily constricted recently: in 2014, speaking of the festival of Russian-language documentaries that Mansky holds annually in Moscow, the current Minister of Culture, Vladimir Medinsky, declared that "no single project of Mansky's, including ArtDocFest, will ever receive any money as long as I am Culture Minister". This autumn, ArtDocFest took place in Latvia's capital instead, incorporated into the Riga International Film Festival, which boasted in a press release that "Riga has become the world capital of Russian documentaries".
Chirikova says she has experienced no problems at all linked to nationalism since her arrival in Tallinn – she tells me that she has many Estonian friends and that Estonian people are "really very kind and very good".
Like Troitsky, Mansky appreciates the natural and cultural riches of the region, especially the historic architecture of his new home Riga, rich in Art Nouveau and Gothic styles. As a native of Lviv, a Habsburg pearl of a city in Western Ukraine, it is particularly poignant: "half of my life I spent in Lviv, and thirty years of my life I lived in Moscow. And for me, Latvia is like coming back home – at least visually".
Affection for the Baltic states is common among Russians of a certain age, a legacy largely of the Soviet Union. Their pleasant, if cool summers, long coastline and proximity to the metropolises of western Russia made them attractive holiday destinations for Soviet citizens; at the same time, their non-Slavic languages, Latin script and elegant baroque and Gothic capital cities made the Baltic countries something intriguingly other, a manageable version of Europe, where prices were affordable and everyone spoke Russian. Even after independence, and (latterly) sanctions, they remain popular destinations for tourists from Russia.
This fondness for the landscapes and cities of the Baltic states has coexisted, since the breakup of the Soviet Union, with suspicion and hostility at a political and social level. Most of this is attributable to history: Estonia, Latvia and Lithuania were independent states between the world wars, and were annexed by the Soviet Union in 1940, following the secret Molotov-Ribbentrop Pact with Nazi Germany. The majority of the population were always opposed to the occupation, and the Baltic countries were at the forefront of the nationality-based resistance to Communism that swept the state in the late 1980s. In 1990, the Lithuania SSR became the first constituent republic to unilaterally declare its independence from the Soviet Union, setting into motion a series of independence declarations which culminated in December of the following year with the dissolution of the country. Following the restoration of independence, the Baltics resisted advice to cultivate ties with the CIS, refusing to join and positioning themselves firmly with the West; all three also refused demands from Moscow to instate Russian as a state language. Whether this firm break is responsible or not, the Baltics are today rather exceptional among the fifteen post-Soviet states: the wealthiest – Estonia has a GDP of $19,719, significantly more than Russia and over five times higher than Ukraine – members of NATO, the EU and the Eurozone; and the only ones assessed as "fully democratic" by Freedom House.
All of this has earned the Baltic countries a special place in Russia's demonology, especially as tensions have risen with NATO over the last few years. Other sources of tension are also exploited: Russian media often implies Fascist sympathies on the part of the Baltic states, a reference to World War II, when Estonians, Latvians and Lithuanians were conscripted by both the Soviets and Nazis. Moscow also regularly makes claims of human rights abuses against the ethnic Russian population of the Baltic states, most of whom are Soviet-era immigrants. It's had an effect: a Levada Center poll last summer found that Latvia was considered Russia's greatest enemy, named as an adversary by 48% of respondents, immediately followed by Lithuania, Georgia and Estonia.
But this theoretical hostility has not stopped many Russians making the Baltics their new home. Yevgenia Chirikova is one of the most prominent figures to relocate, an environmental activist who rose to fame in Russia and internationally when she led protests against the destruction of an area of ancient forest near her home in Khimki just outside Moscow to make way for a stretch of motorway. She camped out in the forest for years, alleging corrupt understandings behind the government and company contracted to carry out the work of clearing the forest. This won her a striking level of support throughout Russia and international attention: she was awarded both the Goldman Environmental Prize and awarded with a Woman of Honour award by Vice-President Joe Biden. In 2010, in a surprising about-turn, then-President Dmitry Medvedev halted work on the project. However, challenging and defeating the regime like this came at a cost to the protest movement: journalists who wrote about the case were attacked (one was left with brain damage and later died) and activists, including Chirikova, were repeatedly arrested; Chirikova, as the face of the protest, suffered more than most – at one point, attempts were made by the authorities to take away her children, citing neglect. What's more, after her trip to Washington to receive her award, she found herself the target of smears of disloyalty from regime supporters. The nadir, she tells me, came when when her mother asked her whether she was a US spy: at that point, she says "I understood the Stalin period. I understood how it's possible, when your neighbours, mother and father and others who live with you for a long time cannot believe you and believe propaganda."
In the spring, she relocated to Tallinn, citing the possibility of the state "blackmailing" her by taking away her two daughters again. She now works for the Open Estonia foundation, which promotes inter-ethnic harmony in the country, and promotes her new project, Activatica, an interactive map showing environmental protests taking place all over Russia. Chirikova claims that she wants to go back, but stresses that at present she could not work effectively there – "I understand that in Russia I can be arrested or killed… I cannot work if I have been killed or arrested".
But hostility to Russian immigration, and in some cases Russians in general, runs very deep in the Baltics, in Estonia and Latvia in particular. During the occupation, their comparative wealth and development made them popular targets for inter-union migration, having a radical effect on the demographics of these small, sparsely populated countries: in Estonia, the proportion of ethnic Estonians fell to 61% in 1989, from almost 90% before the war; in Latvia, ethnic Latvians had made up three-quarters of the population of the pre-war independent state, but by 1989 they were just 52%. Fears of permanent Russification and tensions over the failure of the majority of immigrants to learn the native languages were great motivators in the 1980s resistance to the Soviet Union: in Estonia, protestors marched under banners demanding "Peatage Lasnamäe!" (Stop Lasnamäe) – a reference to a vast suburb of Tallinn begun in the early '70s and mostly housing Russian-speaking immigrants; in Riga, protests were sparked by the mooted construction of a metro system, a huge project that would have led to further mass immigration, mostly from Russia. Even now, resentment remains among Estonians, Latvians and Lithuanians over the human and economic damage of the Soviet Union, and the sizeable number of ethnic Russians who remain unintegrated and unable or unwilling to communicate in the state language.
"Peatage Lasnamäe"/"Stop Lasnamäe" – Ivo Linna (Alo Mattiisen/Jüri Leesment arr.: Tõnis Kõrvits)
But Chirikova says she has experienced no problems at all linked to nationalism since her arrival in Tallinn – she tells me that she has many Estonian friends and that Estonian people are "really very kind and very good". Troitsky also says that he has never faced any hostility due to being Russian in Estonia – in fact, intriguingly, he says that he and other recent Russian emigres have had a harder time with local ethnic Russians, who make up almost half the population in Tallinn. He gives the example of a Russian woman he knows who was recently berated by an ethnic Russian taxi driver for leaving her homeland and coming to "fascist" Estonia. He stresses the cultural differences between those who arrived in the Soviet period – mostly working-class, patriotic, reluctant to learn Estonian – with the better-educated, liberal members of the intelligentsia now relocating. "For them, we are traitors. We are people who betrayed Russia, came to Estonia, and tried to be more Estonian than the Estonians are themselves – which I think isn't true, but this is their theory".
Someone who has a lot of experience of mediating between the two sections of Baltic society is Anatolijs Golubovs, editor at the Russian-language Delfi news site in Riga. Delfi is the largest news network in the Baltic states, managing ten websites across the three countries in six different languages (all three state languages, in addition to Russian, English and Polish). Delfi has at times faced criticism over the loose synchronisation in editorial tone and featured content between the different sites, especially where Russia is concerned – in 2014 a commentator for Estonia's national broadcaster attacked Estonia's Russian-language version of Delfi for running allegedly pro-Putin, anti-Ukraine material not reproduced on the Estonian-language version. Asked about this, Golubovs comments that the split in interests, and to a large extent, political views, between the two sections of Latvian society mean that it is not profitable to simply translate material from the Latvian-language site – he gives the huge song and dance festival that takes place in Riga every five years as a subject that has relatively little interest for Russian-speaking readers. This division in society even influences semantic choices: while Latvian-language media calls the forces controlling Donetsk and Luhansk "terrorists", Russian Delfi prefers "separatists" – and even this is still viewed as unnecessarily derogatory by many of its readers.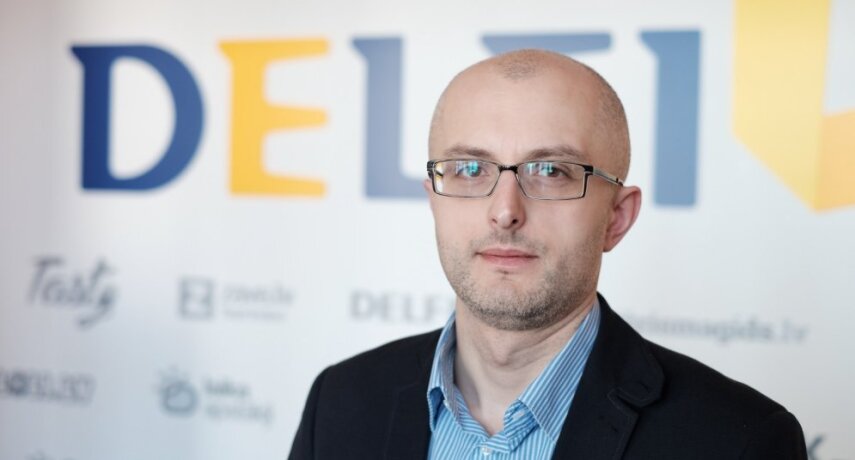 Confirming that he has seen a sharp uptick in job applications from Russia in recent years, Golubovs comments that the new arrivals "see the very bright sides of life here", appreciating things like the comparatively well-cared-for environment, the architecture of Old Riga, affordable prices and the greater ease of dealing with officials. Crucially, they also view their presence in Latvia in a very different way from established Russians: "they don't feel that this is their country; they feel that it is somehow different and they have to integrate", which means learning the language and respecting local customs. This contrasts sharply with Russians born in Latvia, whose attitude is often that Latvia is their country and they should not have to integrate.
With reporting by Richard Martyn-Hemphill