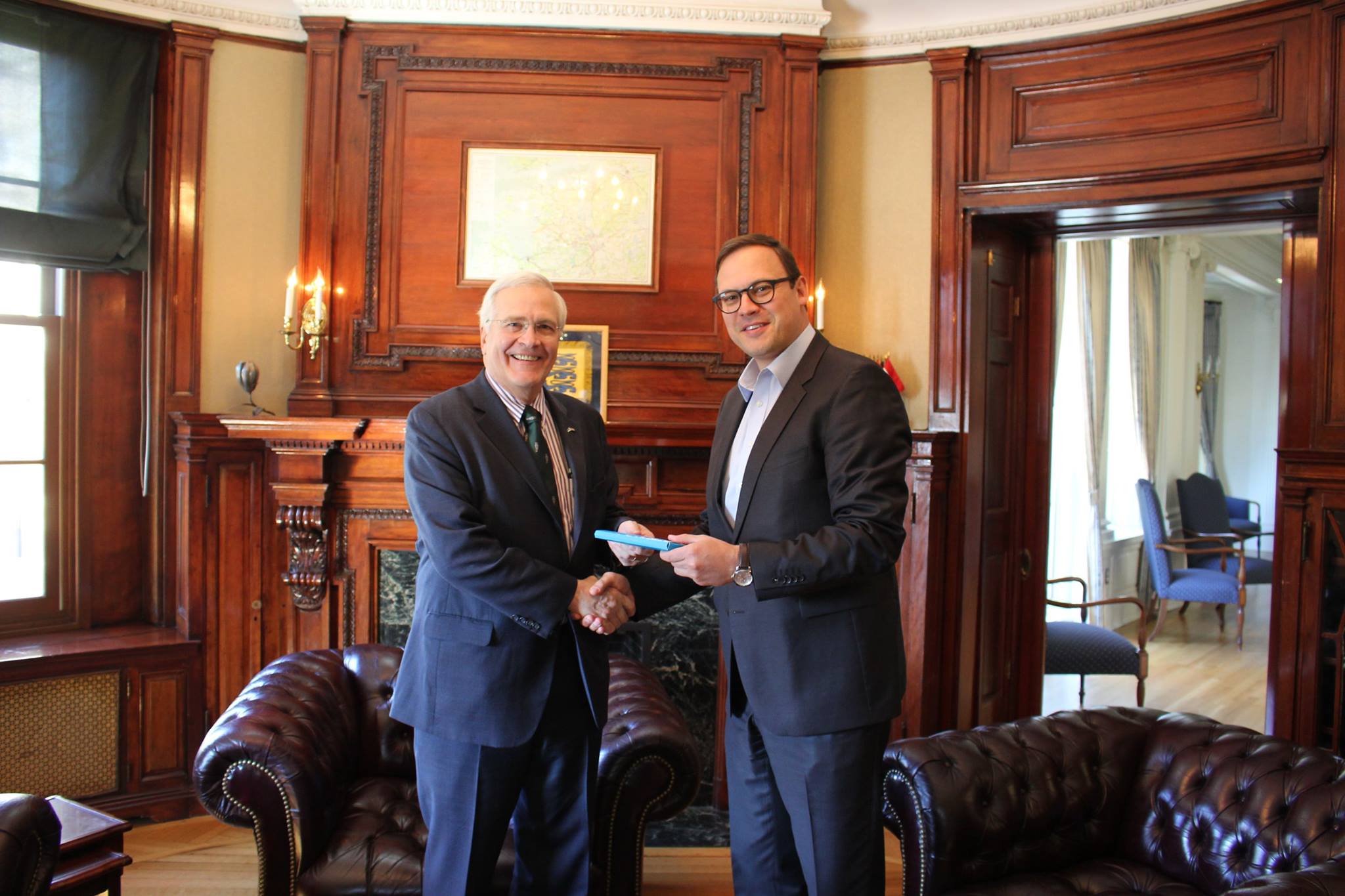 Last week, Eerik Marmei, the Estonian Ambassador to the United States, presented Michael Keller, Stanford University Librarian, with an Estonian e-resident's digital identity card.  Keller has become one of the 6,000 people to join the tech-savvy country's bold e-residency program.
Under Michael Keller's leadership and with donor support Stanford Libraries has established a growing Baltic Studies Program, which includes resources on Estonian, Latvian and Lithuanian history, literature and culture. In addition to books, periodicals and primary source holding Stanford Libraries actively collaborates with the Museum of Occupations in Tallinn, Estonia, as well as other institutions and organizations in order to enhance the Baltic studies by conducting collaborative projects, organizing seminars, conferences and other events to support collection development.
"It is a great pleasure to give the e-resident's ID card to somebody like Mike Keller who is already linked to Estonia in so many ways," said Eerik Marmei, Estonian Ambassador to the United States when presenting the ID card to Keller. "I am absolutely confident that Mike Keller's e-resident's ID card will be used actively and will prove beneficial when communicating with Estonia," he added.
Keller's new e-residency status has no implications for the right to live in Estonia. "Estonia's e-residency digital identity card gives me a digital signing and certification function based on an authentication of my identity by the government of Estonia," said Keller.
"Unlike all other digital signature services, the Estonian e-residency service makes falsification of my digital signature very, very difficult, perhaps impossible," said Keller.
The Estonian e-residency service involves other services, including document encryption and, eventually the ability to do business in Estonia itself, starting a company, contracting with an Estonian company, banking, among other services.
Keller also serves as a member of the Supervisory Council of the Kistler-Ritso Foundation – who provided the endowment to Stanford to hire an Assistant Curator for Estonian and Baltic Studies and the organization that founded the Estonian Museum of Occupations in Tallinn.
Liisi Esse, the Assistant Curator at Stanford, and Merilin Piipuu, the Director of the Museum of Occupations, both describe Keller as a great friend of Estonia. "His support and belief in Estonia and Estonians has helped us to overcome difficult times and look into the future," said Piipuu.
"The fact that Michael Keller became an e-resident is both a great symbol of his continuous support towards Estonia and the Baltic studies program at Stanford, as well as a powerful tool for further strengthening these ties," adds Esse.
Piipuu claims that although Keller appreciates Estonian culture, he most of all values the freedom, which the museum aims to promote.
In addition to Piipuu and Esse, Keller's e-residency status is receiving endorsements from many other Estonians, including  Sten Tamkivi, one of the founders of Skype and a member of the Kistler Ritso Foundation's Supervisory Council.
"Mike has been a true friend and advocate of everything Estonian in the Stanford community, from the choir music traditions to cyber defense and the startup movement; now joining the ranks of our e-residents hence carries a lot of symbolic value beyond just the practical help to the practical bureaucracy he can now swoosh through electronically in his frequent ventures across the Atlantic," said Tamkivi.
The Republic of Estonia is the first country in the world to offer e-residency – a transnational digital identity available to anyone in the world interested in administering a location-independent business online. e-Residency additionally enables secure and convenient digital services that facilitate credibility and trust online. Digital ID cardholders can digitally sign documents and log into all information systems and portals that recognize the Estonian ID-card. 

Estonia launched the portal for e-residency applications in May 2015. Through the portal, applicants all over the world can submit their applications to join the program. In the first six months after the launch, 5962 people all over the world have become Estonian e-residents.