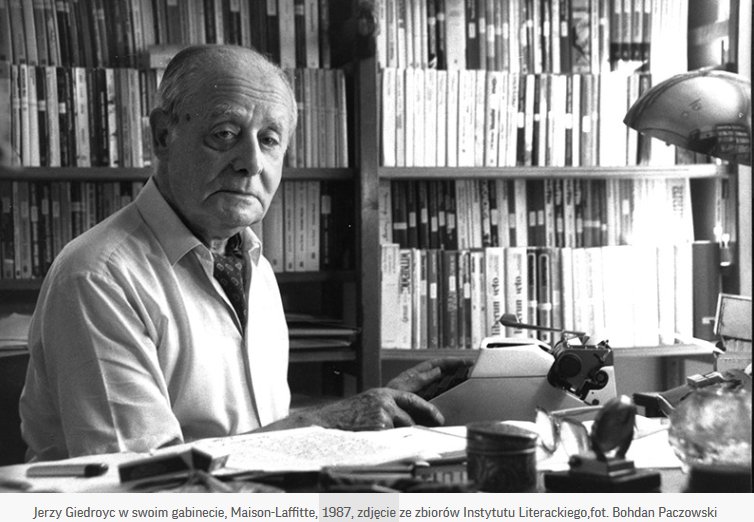 In June 2020, on the 79th anniversary of the Soviet Union's invasion by Nazi German invasion, Russian state media published a flurry of programming implying that the nations of Eastern Europe and the Baltic region never confronted their histories and went unrepentant for various sins.
2020 marks the 80th anniversary of the Second World War's second year. The war completely transformed the region – lives were irretrievably lost, multicultural societies became homogenous, and states cracked apart like tectonic plates. The rebuilding process would be substantial. In the 1970s, Polish émigré Jerzy Giedroyc reinvigorated Polish diplomatic strategy by promoting a doctrine of friendship between Poland and its neighbors – Belarus, Lithuania, and Ukraine.
Given contemporary Russian claims that the region remains divided and incapable of confronting its past, the Giedroyc doctrine suggests otherwise.
What is Giedroyc's doctrine?
The Giedroyc doctrine was born out of intellectuals' attempts to reconcile the strategic goal of Polish nationalism – preservation of Polish sovereignty and prevention of Russian dominance – with the desire to mend broken relations between Poland and its neighbors. Jerzy Giedroyc was born in Minsk, the future Belarusian capital, and identified early on with an unconventional Polish patriotism expressed in his interwar journal Bunt Młodych ("Revolt of the Youth").
The journal's tolerant attitude towards nationality set the tone for Giedroyc's future endeavors.  One colleague, Adolf Bochenski, outlined the journals ideals thus: "Our aim is 'not to broaden the frontiers of the Republic…but to destroy the pincers of the great powers, between which Poland dooms itself to eternal defensiveness." The best response to foreign threats, in the young radicals' minds, was a concerted effort to free the neighboring nations and act together against encroachments by Russia and Germany.
Giedroyc revisited his compatriot's idea decades later in exile, as he envisioned a post-Soviet regional order. By then editor of the journal Kultura, Giedroyc used his publication to outline a collaborative vision for the region anchored in sovereignty, mutual reconciliation, and collective security.
Geidroyc's vision of an independent Eastern Europe was the foundation for his hoped regional peace and prosperity. In the 1950s when Kultura began, Belarus, Lithuania, and Ukraine were under Soviet occupation while Poland itself was a satellite state. A bloc of independent states in East-Central Europe would hamper Russian westward expansion and ensure no single power dominated the continent. Giedroyc's closest partner Juliusz Mieroszewski noted "A Russia dominating over eastern European nations is an invincible rival." While Giedroyc's vision is often compared to the interwar-era Promethean ideology which also advocated for an independent ring of Eastern European states around Russia, Giedroyc's doctrine did not include the movement's insistence on Polish primacy. In his memoirs, he recalled battling local administrations in Vilnius for increased aid to Belarusian-language schools – a sign he saw all local inhabitants as worthy of full citizenship in a free Poland. Classical prometheanism focused on pacification, which meant that old disputes were scarred by new troubles.
Reconciliation was key to Giedroyc and his contributors. Poland would have to acknowledge not only its neighbors' sovereignty but also the postwar territorial changes. One writer, the priest Józef Majewski, suggested "let the Lithuanians who suffered a worse fate than us enjoy their Vilnius, and let the blue-gold standard fly over Lviv." Majewski implicitly acknowledged that Lithuanians faced a double burden – not only were they presently under Soviet rule, prior to it their coethnics in the Vilnius region lacked adequate cultural and political autonomy within the Polish Second Republic. By referring to "their Vilnius" and using lyric terminology in describing the Ukrainian flag, Majewski lent both nationalisms a positive legitimacy. While Belarus was not referenced in this quote, the cultural center of Grodno was in a similar position to Vilnius and Lviv and Giedroyc mentioned Belarus in conjunction with Lithuania and Ukraine. To encourage Lithuania and Ukraine to willingly cooperate in building a new regional security architecture, Poland would need to assure them that the past was understood and would be a lesson.
The ultimate product of Eastern European independence and regional reconciliation was a free-standing region united in a security pact, linked to Western Europe. As early as 1951, Giedroyc's partner in Kultura, Juliusz Mieroszewski, called for an "Eastern European international brigade" to fight alongside the West. Kultura under Giedroyc's editorship advocated for a democratic Poland within a larger European framework. While ambiguity lingered about how far integration would go – Giedroyc expressed concern at historical Polish "dependence on external centres of power" – there appeared no question about Poland's ultimate diplomatic orientation.
Giedroyc's Legacy: Cooperation in the East
Having examined Giedroyc's vision in its historical context, the question remains: did Poland achieve the reconciliation and regional cooperation its exiled thinkers sought? The robust cooperation between Belarus, Lithuania, Poland, and Ukraine suggest some successes. All four nations are independent, sovereign states, despite Kremlin pressure on Belarus and intervention in Southern and Eastern Ukraine.
The newly-formed solidarity was tested early on when pro-Soviet figures tried to undermine Lithuania's efforts at regaining sovereignty. Poland resisted supporting potential irredentism exploited by the Soviet Union's hardliners. In September 1989, the majority-Polish Šalčininkai Regional Council proclaimed a "Lithuanian Soviet Socialist Republic's Polish National Territory's Region of Šalčininkai." One of the Soviet deputies from the Lithuanian SSR by 1990 called for creating a Polish republic within the USSR. The non-communist government in Warsaw did not support these efforts to undermine Lithuania's quest for independence, stating that the minorities' demands were a Lithuanian internal matter. This did not remove Warsaw's interest in Polish communities abroad while signaling that Lithuania was a sovereign entity entitled to its laws. In this vein, Poland signed a treaty of cooperation with Ukraine in 1992, pledging to respect the post-1945 border and develop positive ties.
Relations with Belarus were initially fraught with difficulties, but in 1991 a treaty of good-neighborliness was signed as well, securing Poland's Eastern European relations. Indeed, Wincuk Wiaczorka, co-founder of the Belarusian National Front, claimed that Giedroyc's optimism fostered positive bilateral relations which "caused Belarusans (sic) to believe in themselves"
In tandem with diplomatic recognition and formalizing borders, the new governments of Poland made efforts at acknowledging the past and fostering peace. In 2004, surviving WWII partisans from Poland and Lithuania signed a "treaty of peace" figuratively acknowledging each side's fight for independence in the 1940s. The efforts were reciprocated in 2010 when Lithuanian intellectuals wrote a letter of condolence after the Smolensk plane crash which killed President Lech Kaczyński – a symbolic humane gesture. Vis-à-vis Ukraine, in 2002 Polish president Aleksandr Kwaśniewski acknowledged the 1947 deportation of Ukrainians (including the Lemko people) from southeastern Poland. In 2019, Ukrainian President Volodymyr Zelenskiy announced in a joint meeting with Polish President Andrzej Duda that he was "ready to unblock the permits for [Polish] search operations in Ukraine, and the Polish side is decorating the Ukrainian memorial sites in Poland." Local trust-building efforts were also organized with Belarus, from a joint eco-tourism project near Agustow to government-supported contact seminars for Polish, German, and Belarusian students to understand each other on a personal level.
Most recently, cooperation among all four countries (and their publics) has been strong on a security level, preserving independence in the face of foreign challenges. Poland and Lithuania are NATO members and guard the strategic Suwałki Gap connecting the Baltic states to their NATO allies further west. The belief in collective security is mutually held, as Lithuanian embassy counselor Dovydas Špokauskas noted "The old methods of bullying are still alive. Ukraine, Moldova and Georgia…are striving to realize their right to independence. Europe's freedom will always remain vulnerable if these countries are unable to create their future in conditions of freedom and peace," echoing Giedroyc's vision for a Europe at peace.
Poland and Ukraine likewise work closely on maintaining regional security and bolstering democratic practices. Polish president Aleksandr Kwaśniewski mediated during the revolutions of 2004 and 2013-2014 which resulted in reformist movements gaining power in Kyiv.  Diplomatic support is coupled with military aid. On December 19, 2014 in Kiev, the Polish military equipment producer Lubawa S.A. signed an agreement with Ukrainian state enterprise UKROBORONPROM to introduce its products into the Ukrainian arsenal.
Most importantly in this "intersection of the nations'' unity is the Lithuanian–Polish–Ukrainian Brigade. After years of preparation and negotiation, the brigade was inaugurated in 2015 and serves as a way to coordinate on regional security matters. Lithuania, Poland and Ukraine each assign an infantry battalion as well as special forces and staff, ensuring interoperability between the three militaries. Uniquely, this operation is outside formal NATO and EU frameworks though it engages in joint exercises. While Ukraine remains unlikely to join NATO, it seeks close ties to the bloc as a sign of its current pro-European orientation. Where all three nations' soldiers fought each other for control of territory a century ago, they work together now to preserve it.
While Belarusian foreign policy oscillates between rapprochement with Russia or Europe, Poland remains a supporter of independent Belarusian institutions and civil society. The only independent Belarusian-language TV station, BelSat, has a Polish headquarters and is operated by the Polish public broadcaster Telewizja Polska. The Polish government and public universities also provide scholarships for Belarusian students to study in Poland, irrespective of nationality or political orientation. These public diplomacy efforts may not provide the physical security of military exercises or NATO cooperation but they signal the Polish government's goals include a bloc of stable democracies in Eastern Europe, approaching Giedroyc's vision.
Looking Forward

Jerzy Giedroyc never held public office in Poland, but his writings influenced the eponymous doctrine which fostered Warsaw's political, cultural, and security policies towards its neighbors Belarus, Lithuania, and Ukraine. His view that a peaceful European continent depends on a united, tolerant, and sovereign group of Eastern European nations remains a cornerstone of Polish diplomacy and refutes Russian claims of complete historical amnesia. Confronting the past takes time, but the fruits of reconciliation are already budding.