"When you can't make them see the light, make them feel the heat."
– Ronald Reagan
The Helsinki summit brought Russia's small Western neighbor to world news headlines, while the geopolitical position of Finland also came under some scrutiny. According to some evaluations, intelligence activity in Helsinki has reached Cold War levels.
Some domestic Finnish political turbulence has also emerged. The limits of the constitutional power of the Finnish President, and new legislation concerning the intelligence activity of officials has been widely debated during the past year year. The new legislation includes detailed regulations for counter-espionage and anti-terrorist activities. The critics have seen it as a step toward a police state-like society. Current president, Sauli Niinistö has expressed his strong support for the bill which was approved by exceptional procedure in October 3. The new law is seen to be especially beneficial for Finnish military intelligence.
The old law's roadblocks are partly due to certain historical issues. It can't be excluded that when referring to the past, which is traditionally dealt with in the President's  New Year's speech, the President also meant something beyond that tragic year, 1918, when Finns picked up arms against each other. The Freedom War or Civil War of Finland was very tragical especially for the civil population in Southern parts of the country.
The concept of Finlandization also came into the spotlight during the Helsinki summit. Among some British journalists, it was asked whether Finland was selected as the host because of its historical "special relationship" with Russia, or the fact that Finland has chosen to remain outside  of the NATO alliance. CNN raised these issues with the president himself, but he answered, defining them mainly, as problems of the 1950's, not today.
"Finlandization", as its essential meaning, is the historic,  large-scale appeasement of the Kremlin. During the Cold War, it was not only the foreign policy of Finnish "Realpoltik" and avoidance of confrontation, but also a strongly leftist, even communist movement that worked for Soviet interests in Finland. Its activity was not limited to foreign policy. Between 1971-89 The Communist Party of the Soviet Union funded its Finnish counterpart to the tune of €30 million.
Foreign archives are now opening, and the truth about "Finlandization" seems to be even harsher than many of us would have liked to believe. However, the Finnish Security Police (Supo) has adopted a policy of secrecy. During the Helsinki summit, professor Alpo Rusi stated in an article published by Iltalehti that the problem of Finland as a Western country, is acknowledging and addressing its past.
Recent developments have some mutual characteristics with the Cold War period and so-called "Finlandization": Russian intelligence activity has significantly increased and Kremlin-connected operatives – working for financial and/or ideological motivation – keep on receiving placement in  powerful and high positions in society.
The method of Russian subversion includes creating a corrupt network and subverting official  unique dependency and instability, making it easier to spread foreign influence among society.
At the same time, certain contradictory  developments can be spotted: at the end of September, the Central Investigation Bureau with support of some other officials, including the military raided a property company called Airiston Helmi Oy. Officially, the case is about money laundering. However, the properties in the Western coast of Finland are significant also in the military terms. According to anonymous sources interviewed by Suomen Kuvalehti, the data captured by the officials comes from underwater data cables. It is gone through by the military and Finnish Security Police.
"I remember very well", Sauli Niinistö responded to former party secretary of the National Coalition Party, Jussi Isotalo after the latter one referred to the story of Al Capone, who was never convicted of killings but money laundering. . The case was also covered by The New York Times.
However, it seems that also the Danske Bank money laundering scandal may have Finnish roots. According to the Financial Times,
"Danske's troubles began almost immediately after buying Sampo Bank, a Finnish lender, in 2007. The Estonian branch represented just 0.5 per cent of assets in Denmark's largest bank which would be badly hit by the global financial crisis. By 2008, the non-resident business in Estonia — which serviced customers from outside the Baltic country, especially from Russia — accounted for 8 per cent of Danske group's DKr2.23bn pre-tax profits.
The bank's management in Copenhagen had already received warnings. In 2007, Estonian regulators and even the Russian central bank told Danske what it had got into. "Clients of Sampo Bank permanently participate in financial transactions of doubtful origin," the Russian central bank said, estimating that billions of roubles monthly were involved, according to the Danske report into the scandal."
Nordea, which is currently chaired by Sampo Group chairman Björn Wahlroos is also now allegeded to have participated in money laundering. Wahlroos, sometimes described as a Finnish "Russian oligarch", was one of the most important advisors to the KGB-linked Finnish president Mauno Koivisto during the fall of communism and the transition period in Eastern Europe, when he made a great share of his gigantic fortune.
The mystery of Finnish Intelligence Research Establishment
At the end of 2017, on December 16th,  Helsingin Sanomat published an article concerning the Finnish Intelligence Research Establishment (FIRE).
FIRE is part of the Finnish military intelligence structure and the content of the article was taken partly from highly-classified documents. Sauli Niinistö – who was elected to his second term as the president a few weeks later – expressed his strong objection towards the publication of the documents in a statement (the same day).
On December 22nd, an old friend of Niinistö, a former minister, and author of crime novels Kari Häkämies wrote:
"I met — Heikki Söder [a fictional character recently appeared in the book Kaksoiselämää] — when buying a Christmas tree. — After a long debate it sounded as though the investigators were also busy during the Christmas period because of an investigation related to national security. I understand that in January we will hear something more!" (translation by the author)
However, the debate and legal process have been unbelievably focused on the journalists who published the story, despite the fact that they actually revealed a security problem: there is a serious leak occurring. Professor Martin Scheinin, a former leading communist and highly-respected expert on constitutional law, published an article in which he speculated that the documents may have leaked from the office of Niinistö's predecessor, Tarja Halonen. Scheinin – who has expressed his strong doubts about the new intelligence bill – also presented  legal arguments as to who holds criminal responsibility when the leak of such documents pass through "a chain of people". The evaluation is not insignificant, for Scheinin is one of the most respected experts in the field of constitutional law in Finland.
The Office of President of Finland is not an extremely big organization. During Halonen's term, it was headed by Jaakko Kalela (2000-2005) and Jarmo Viinanen (2005-2012). After his post, Kalela was nominated as ambassador to Estonia. Kalela is closely connected with the so-called Zavidovo leak which was partly behind his position in the inner circle of president Urho Kekkonen. By the KGB, Kalela was known by his code name "Prof". This was revealed when an officer named Kozlov left his calendar in a taxi. Jarmo Viinanen has also worked for the UN. In 2016, he was invited back to Helsinki from the ambassador's post he held in Stockholm when the staff of the embassy brought many allegations of sexual assault to the daylight.
How information flows to the leaker, is unknown – at least in public, despite Häkämies' comment. According to Helsinki Court of appeals, the search carried out by the police in the home of the other journalist was legal. Markku Ranta-Aho from the Central Investigation Bureau states the files seized during the search may contain significant information.
***
A society built on trust?
Finland is widely considered to be a low-corruption society which is built on trust. The trial against the former Chief of the Helsinki Drug Police, Jari Aarnio, has probably not strengthened this image. Aarnio is suspected of de facto participating in criminal activities and ignoring the law concerning the handling of the informers. Also, former police commissioner Mikko Paatero and National Bureau of Investigation chief Robin Lardot are in the process of a criminal case for allowing these actions. In the case of Aarnio, even potential murder prosecution is raised to public speculation. This could take place if it became clear that as a police officer he has failed to act against a murder attempt. However, it should be remembered that the process is not finalized and Aarnio may still be shown not guilty.
Also, the Finnish Security Police (Supo) is fighting with problems arising from the past. The leadership has transitioned from the Social Democrats to the National Coalition Party. The current chief of the organization, Antti Pelttari, once worked for the former minister of internal affairs, Anne Holmlund. At the beginning of 2018, Pelttari applied for the chief of staff post in the ministry, which was then headed by his party colleague Paula Risikko, Pelttari's first cousin. It was revealed by Tuomo Yli-Huttula that Risikko pressured his party colleagues to challenge Stubb in the 2016 party congress. As a result of the vote, Stubb was replaced by Petteri Orpo, described as "the man of the president". It is widely believed that the president interfered in the party's internal affairs to prevent re-election of Dr. Stubb.
Before the nomination of new chief of staff, Risikko was replaced by Kai Mykkänen while she was elected as the Speaker of the Parliament. Mykkänen is known for acting as a "grey cardinal" in support for the former pro-Nato prime minister, Alexander Stubb. His father, Jouni Mykkänen was an integral part of the pro-Soviet wing of the National Coalition party during the Cold War. Kai, his eldest son, whose mother is of Russian background Maria (née Sokolova), speaks fluent Russian and has a career background in the financial world of St. Petersburg and Russian trade. After all, Ilkka Salmi, another former personal secretary for former minister Holmlund was nominated. Between 2007-2011, Salmi acted as the Chief of Supo. In those years, Holmlund was responsible for the appropriate handling of the so-called Rosenholz files which included detailed information concerning East German intelligence activity in Finland. Today, it has become clear that Holmlund acted in the matter at least partly in accordance with misleading information given by Supo.
Last winter, Finland saw also some bizarre performances, such as the one with professor Kimmo Elo applying for access to so-called Tiitinen's list. On February 19th, Supo announced through a bulletin that the access would not be granted. Tiitinen's list includes names of Eastern intelligence operatives working in Finland. Thel list was received by Supo from West German intelligence in the early 1990's and by a decision of Mauno Koivisto and Seppo Tiitinen – who was about to leave Supo soon – it was banned from publication. At the end of 2017, Tiitinen argued that there were no resources to carry out an investigation of significant industrial spying that was just revealed in the case of the Turku docks. In general, it is often claimed that Supo was focused on fighting scientific-technical espionage in the latter decades of the Cold War. This happened instead of and even at the expense of working to expose and defend against political intelligence activity, which was widespread in Finland. Considering the revelations of the recent months this narrative needs to be re-evaluated.
Nowadays, Supo advertises its role as an organization responsible for proliferation security. This means taking care of the final destination of dual-use goods, e.g. certain information technology. Many of these items can be found in the Russian sanctions list of the European Union.
It remains unclear – at least in the public sphere – what former minister Suvi Lindén, who is connected to a sea cable project and information technology business, was doing in Uganda at the beginning of this year. She made the trip with her party colleague who had several commercial connections, many of them related to information technology. Lindén herself has stated the purpose of her trip was "working for the development of the information society".The most disturbing case was one that involved Patria (former Tampella), the arms production company of the Finnish state. A businessman, who was part of Lindén's delegation, was found dead in his Kampala hotel room.  Insect poison and cocaine were found in his blood. For some reason, the public discussion was strongly focused on the arms business despite the fact that everyone familiar with the military budget of Ugandan state would find it hard to believe that any significant trade would be likely to take place between the parties.
However, this wasn't the only business carried out by the deceased person. He also acted as the chairman of the board in Nordic Security Alliance (NSA), which is a market leader in providing restaurant security services in Finland. Some of the other board members have serious criminal records. It has been speculated that the Finnish police authorities may have been impotent or not willing to act against the penetration of organized crime organizations into the door service business. Also, it is a generally known fact that Russia uses such security organizations and organized crime networks in its "hybrid operations" against foreign countries.
The deceased man was also a minority shareholder in an investment company which bought part of Långvik spa in Kirkkonummi, southern coast of Finland. The spa was formerly owned by Roman Rotenberg. Rotenberg was forced to sell it when EU sanctions against Russia came into effect. The Rotenbergs – Russian oligarchs, some of them with Finnish citizenship – also have a long-term background of mutual business projects with former National Coalition MP Harry "Hjallis" Harkimo, who is now working in his own political movement. Harkimo's aim is to build a new political movement, following the example of Italy's Beppe Grillo and  his Five Star Movement. Harkimo has already invited Davide Casaleggio to give a speech in a seminar taking place in the Parliament of Finland. Casaleggio is known as the political operative and internet entrepreneur believed to be behind the pro-Russian turn of the Five Star Movement. Not many political figures have supported the project at least publicly. However, Seppo "Sedu" Koskinen, a well-known nightclub tycoon recently expressed his support for the project. Also Mikael Jungner, the former party secretary of the Social Democrats and personal secretary of the prime minister, and current Russian Nord Stream lobbyist Paavo Lipponen, was one of the founding members of the political movement. Unlike Harkimo, who openly opposes NATO membership and was a vocal critic of Alexander Stubb, Jungner has contradicted his own party on the issue.
***
Questions on Russian commerce
On May 26th a bomb was dropped on the Russian trade establishment: the secret Polish military intelligence past of a well-known engineer of Polish descent, Stefan Widomski, was revealed. Widomski is considered as one of the most important figures in Nokia's Russian trade relations. During his long career, he has worked as the head of company's SEV trade and then the whole export department. According to the archives received from the Polish IPN, the pseudonym "Subiekt" also received some financial reimbursement for his deliverables. Widomski has worked to promote Russian commercial relations until recently, so it is natural to further investigate the nature of this connection.
The author of this article, visited IPN in the summer of 2016 and remembers well that the pseudonym was very visible. The information about the content of the dossier has probably spread quite widely since, yet the simple task of finding a willing translator to help further research has proved challenging. Widomski currently acts as the honorary consul representing the Republic of Poland in Helsinki, so a certain amount of diplomatic sensitivity is mixed in with this issue. This sensitivity combined with the fact that Widomski is a well-established part of the elite carrying out business with Russia in Finland, may be the reason for certain kind of "omerta" around the revelation. It is ironic that after the revelation, Mr. Widomski has participated in a radio program broadcasted by Finnish National Television, as an expert of Poland and its raising authoritarianism. When interviewed by Iltalehti, Widomski, claims that he used counter-espionage chief of Supo, Hannu Moilanen, to get rid of the Polish intelligence contact and receive some protection. The explanation would be quite fair if it was clearly in accordance with the chronology he provides in his biography Stefan Widomski ja puhelut Moskovaan (Otava 2006). In the book, you can find a clear picture of the two gentlemen hunting deer in Vesilahti, near Tampere.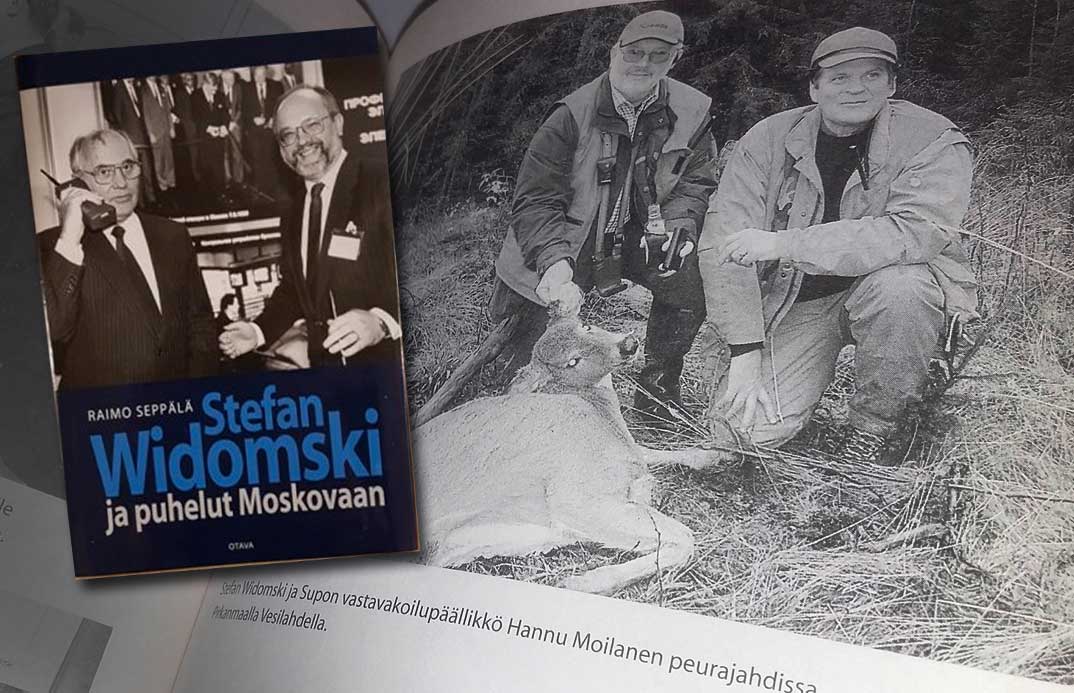 According to a piece of information received by the author, Hannu Moilanen is a cousin of Keijo Korhonen, a long-term foreign relations scholar and political operative of the Center Party. During the Cold War, Korhonen heroically defended Finnish neutrality. At the top of his career, he also acted as the Minister of Foreign Affairs. After he experienced a bitter defeat in 1994 presidential election, the swords defending "neutrality" were turned against the European Union. The former secretary of the Nobel Committee Geir Lundestadt has claimed in his memoir that Korhonen sent a letter to the Committee to prevent Martti Ahtisaari from receiving the Peace Prize. However, the former president, born in Viipuri (Soviet-annexed Finnish territory) was decorated by the award in 2008 for his work in the Balkans and Namibia. Ahtisaari's successor, Tarja Halonen was not invited to the ceremony.
In 2015, Korhonen sent a greeting letter to be quoted at the Itsenäinen Suomi (Independent Finland) demonstration. In the program of the event, Korhonen was not the only one mentioned with no physical presence: Ilja Janitskin, the principal of a notorious pro-Kremlin disinformation publication in Finland was abroad. More about Janitskin in this UpNorth article. In October 18, Janitskin was convicted alongside with Johan Bäckman, former employee of RISI, a research institute which reports of its activities to the Russian presidential administration.
Stefan Widomski, often described as a Polish patriot, brags in his biography by the amount of important information provided for Nokia by Soviet officials. This helped the company to balance its Russian trade to be as profitable as possible. Knowing the political nature of the commercial activity with the USSR and now Russia, could this happen without any exchange?
In 2018 it is known that according to William Browder's Hermitage Capital, Nokia has received almost 100 million dollars from suspicious accounts. Also tens of other Finnish companies are mentioned in the complaint. When Microsoft bought Nokia in 2013 some analysts claimed that the security interests of the United States were at least partly behind the sale. In Finland, this is often presented by the engineers fired from Nokia, when they say "our devices could not be broken". Also, the current prime minister Juha Sipilä made a large share of his fortune by delivering electronic filters to Nokia. Nokia's then manager Jorma Ollila is Sipilä's party colleague. Sipilä became "super rich" after American ADC Telecommunications bought Sipilä's company in 1996.
Esko Aho, now working for state-owned Russian, Sberbank, is often seen as Mr. Sipilä's political godfather. After the collapse of the Soviet Union, Aho acted for the Finnish Center Party's pro-European orientation and partly due to his actions, Finland was able to take the significant step of integration at the end of 1995. During his term as the Prime Minister, he had a somewhat "special relationship" with Social Democratic president Mauno Koivisto. Unlike Mauno Koivisto's former secretary, former prime minister Paavo Lipponen who serves as a lobbyist for Nord Stream, Aho's political career may not be over – his return to domestic politics, especially as a presidential candidate has been a subject of rumors in Finland.
Aho's current supervisor German Gref has a record of intervening in Finnish affairs. In 2005, it was revealed that he called the current Prime Minister's chief of staff, then Minister for Foreign Trade and Development, Paula Lehtomäki, and brutally announced that Finnish press should remain silent about procurements carried out inside the premisis of the Russian Commercial Representation in Helsinki. An article published by Iltalehti – seemingly removed from the internet – reveals that around the year 2000 some well-known politicians kept in contact with prostitutes. – Those phone calls were about prices, said Seppo Sillanpää, a retired detective inspector from the Helsinki police department.
Aho has chaired the board of East Office, a lobbying company established by Finnish corporations carrying out Russian trade. The first CEO of the office was René Nyberg, a former diplomat with Center Party background. At the end of 2017, he took part in a brutal debate with former ambassador Hannu Himanen, who has turned to support Nato membership. The argument about Finnish foreign policy and its relationship with Russia took place on the opinion pages of Helsingin Sanomat. Even the location of a painting performing former president J. K. Paasikivi – which was located in the Moscow embassy – was raised as a subject of dispute. Paasikivi supported appeasement with the Soviets after the World War II and interpretation of his writings has become a fatwa-like issue among foreign policy debates and even scholars in Finland.
Toms Baumanis, Latvian vice-rector of the Riga Stradins University has described Nyberg in his public Facebook post:
"He was Head of Finnish OSCE Commission back in 1994-1995. The Baltic countries were trying to get of Post-Soviet Kremlin grip. But Amb. Nyberg was always friendly remainding about Russian interests and so called Russian speakers rights in Latvia and Estonia. No wonder that Finnish OSCE delegation was strongly pushing Balts in the corner to set up the OSCE mission to Latvia for monitoring of "violations of their rights". Latvian and Estonian goverments had no choice but to agree what Rene Nyberg type of friends pushed for!"
***
Bulgarian son-in-law
Hannu Moilanen, the former head of counter-espionage in Supo with his East German education, is not the only one among police officers in his organization with grey spots in his career. UpNorth has already raised the case of Arvo Pentti, former head of Supo to whom the KGB – according to the Mitrokhin archives – promised to pay 150,000 Marks. Vasily Mitrokhin's archives show that the former war hero was added to the network with pseudonym "Mauri". Where did the money end up? It's a matter of speculation, but it's commonly thought that the recipient may have been the pro-Soviet wing (K-linja) of the Center Party and their political allies in the National Coalition Party. According to KGB officer Viktor Vladimirov, who served in the assassinations and sabotage department before the arrival of Pentti's successor, Seppo Tiitinen, Pentti's first visit to Moscow was more succesful than his predecessor's trips were. Quite likely that he meant "success" in the context of his own state organ. It is claimed that British intelligence gave a warning about Seppo Tiitinen, who was potentially blackmailed by Russia. Tiitinen has admitted he was aware of Vladimirov's background "all the time".
One of the most important goals of "K-linja" was to get Ahti Karjalainen to get elected as president after Kekkonen's long term. According to Secretary of State (a civil servant, not politician) Matti Tuovinen's diary, Seppo Tiitinen put forward a list given by Mr. Vladimirov in which the candidates of the 1982 presidential election were rated by preference. Though the momentum of Karjalainen had clearly faded, he was listed as the top candidate. The second best candidate for the Soviets was the Social Democrat, Mauno Koivisto. To conclude that Koivisto – who had ongoing contact with Mr. Vladimirov – was de facto the first candidate for the KGB, is quite natural.
One of the last factors blocking Karjalainen from the presidency was a spy scandal, which was revealed before the election. Atanas Tilev, Karjalainen's Bulgarian son-in-law, worked for the Eastern intelligence apparatus while at the same time holding a position in the Finnish state-owned arms production company, Tampella (now Patria). The issue was covered in the international media but after legal actions taken by Mr. Tilev, it was downplayed. It is known the case was brought to Supo, but after Kekkonen's resignation, it failed to proceeded. Tilev's former wife Kukka-Maaria Karjalainen didn't reply to any request to be interviewed by the author.
In Tilev's file, the author of this article has received from Bulgaria, the same pseudonym is used as in those documents found in the Mitrokhin's archives. Presumably, the stated fact shows a very close relationship between the Soviet and Bulgarian intelligence organs. It also raises questions related to Stasi and other organs, for it has become a normal practice to downplay their significance in the public debate by claiming "those were small things if you compare it to the KGB". Implicitly, this may have given an impression that contact with the intelligence services of some other Eastern bloc states actually proves the lack of KGB connection.
It's commonly believed that Tilev's file has disappeared from Bulgarian civil intelligence when former communist spy Brigo Asparuhov headed the organization in 1991-1997. There was a legal process to place responsibility on Asparuhov for the destruction of documents suspected to have taken place in 1993, but it was dropped when prime minister Simeon Saxe-Coburg-Gotha invited Asparuhov to become his advisor.
In recent years, Tilev has continued to operate in Finland e.g. by promoting the Kotka Sea Cable project. The aim of it was to increase energy supplies from Russia to Finland.
***
Police, informers, and Finlandization
Analyst Brian Whitmore has called corruption the new communism as Russian import to rest of the world. Former prime minister of Estonia, Mart Laar has described corruption as such an integral part of communism, that it may even be hard to notice it for anyone living in such a society. "Finlandized" society also creates its own "new normal" as a subject of continuing aggressive subversion and reflexive control. French author Bernard Henri-Levý wondered whether Cold War era Finland had adopted "a people's democracy of brains", which is stressed by essayist and Russia expert Jukka Mallinen in his writings.
Eero Kekomäki, Tiitinen's successor as the Chief of Supo, has evaluated that an additional couple of years of the existence of the USSR would have been enough for Finland to be turned into a socialist country. He tried to carry out "a purification" inside the organization. However, this ended when then-prime minister Paavo Lipponen began to strongly demand Kekomäki's replacement by Seppo Nevala. Just like Lipponen, Nevala was a former personal secretary to Kalevi Sorsa, who was revealed as "a confidential contact" of the KGB by Vladimir Bukovsky's archives. Nevala's career in the police organization began in 1978 when he was nominated to become the deputy chief of Supo. According to a memo concerning his nomination, he was evaluated as a formally unqualified and strongly political person with problems concerning alcohol and low self-esteem. The nomination took place the same year as Tiitinen took the position of the Chief. According to the memo, Nevala's nomination "correlates enough" with the other one, at least according to the "actors behind" him.
Also, Tarja Kaarina Halonen, elected as president in 2000, had worked for Sorsa. In her campaign, a significant role was played by Riitta Juntunen, a former Stasi agent operating with the pseudonym "Kati". The case was never brought to a prosecutor although espionage was carried out in exchange of money and was additionally motivated by ideological reasons. Hannu Moilanen, the counter-espionage chief, ignored the case.
Information provided by a reliable source, suggests that a high police official was under criminal investigation concerning inappropriate contacts with foreign officials before Nevala's nomination. The case should be opened again at least for public debate to clarify if there were political or other motives behind ending the criminal investigation. This would also expose more information about the backgrounds of officials now holding their positions. After Seppo Nevala was temporarily removed from office in 2004, the acting Chief post went to Hannu Moilanen, who is now retired.
According to the author's article published by Suomen Sotilas in 2015, there is reason to believe that Tiitinen's list includes, at least partially, informers of Supo's counter-espionage. Especially the relationship between Seppo Tiitinen and Jaakko Laakso, an operative of the KGB and Stasi (pseudonyms Jan/Mantel) has raised questions. The case is further opened in this article. It is known that Laakso worked as a headhunter for Eastern bloc intelligence among Finnish political youth. Mallinen has written in his article published by Aamulehti that Laakso was "the star" in Sergey Ivanov's apartment parties in Lauttasaari, Helsinki during his diplomatic service in Finland. Ivanov, later the chief of Putin's presidential administration, is believed to be one of the most important figures in orchestrating the Russian influence operation in US 2016 presidential election. It is also claimed that it was Laakso who opened the gates for Russian intelligence officers to get in touch with young Esko Aho. After the introduction, Anatoly Vasin was his contact.
In 2018, Laakso is known not only of his open and aggressive resistance to Finnish membership in NATO but also of his lobbying actions for the Azerbaijani government. According to a report of PACE, Laakso is even suspected of delivering money for the members of the assembly. After the report became public, Laakso was denied access to the organization. However, Laakso is not the only Finnish politician with questionable views on the Azerbaijani government. Tom Packalén, a former policeman and an MP of The Finns party, praised the elections organized by the Aliyev regime in 2013. Packalén, who also owns a start up company creating systems for data mining, has expressed strong doubts about Russian involvement in the MH17 plane crash and Skripal poisoning. An article published by Suomen Kuvalehti in August 2011, reveals that when Tarja Halonen was a candidate for the post of Human Rights Commissioner of the organization, Jaakko Laakso was a central supporter and advocate for her election.
What does remain open, is how strongly past connections with the Eastern bloc intelligence organs defines the present day actions of certain politicians and officials in Finland today. Complete normalization of the problem, ignoring moral factors and reluctance by officials to take necessary actions are a destructive combination. Robin Lardot, who has been sued in relation to the Aarnio case, was part of the inquiry concerning Supo's handling of the Stasi files in 2007. He was then a high ranking police inspector and confirmed  "a clean record" for his colleagues.
The method of Russian subversion includes creating a corrupt network and subverting official  unique dependency and instability, making it easier to spread foreign influence among society. A weak leader, who is still capable of maintaining "calm" among citizens, is ideal for the Kremlin. This is the essential characteristic of the "internal Finlandization", although compared to Ukraine, the pressure in Finland has been softer for decades and kept within the upper levels of the government and therefore invisible from many Finns. After all, the (at least partly justified) mistrust experienced toward officials and corruption may themselves create a whirlpool that sucks the country deeper and deeper. For these reasons, open research on "Finlandization" is also an internationally significant issue.
Austrian foreign minister Karin Kneissl (independent, but supported by the FPÖ party) shocked many Europeans lately by inviting Russian president Vladimir Putin to her wedding and dancing with him. Many have asked how Austria is able to act like this while remaining an EU member. However, the Austrian position has historical roots: during the Cold War the country remained "neutral", yet neutrality is often considered as more real than the Finnish version. The YYA treaty made it certain that this neutrality was de facto more an intent, not an objective description of the circumstances.
Widely recognized analyst Edward Lucas raised another case in a recent article: a police unit, controlled by an FPÖ politician raided the country's intelligence service. The unit – normally responsible for street crime and which has nothing to do with intelligence activities – was able to receive the passwords of Austrian intelligence officials. It is speculated that not only general frustration with FPÖ's position in Austrian society, but also the monitoring of connections between Austrian organizations and Russian intelligence had motivated the raid.
According to Lucas, Austria has become a subject of "ostracism" in the Western intelligence community for Austria's allies do not trust its ability or will to keep secrets. Improving access to intelligence information has also been one of the most important background motives for pushing forward new Finnish legislation on intelligence activities. However, other potential causes behind this "Finnish ostracism" should be critically evaluated.
A well-known KGB defector Oleg Gordievsky published a table originally included in an annual report of the organization in 1993. The table drafted in the 1980's was published in a Finnish magazine called Image. The following numbers can be spotted:
In counter-espionage
20 agents
15 confidential contacts
15 in preparation
In political espionage
33 agents
33 confidential contacts
25 in preparation
In industrial espionage
25 agents
20 confidential contacts
15 in preparation
In support for illegal residents
10 agents
5 confidential contacts
15 in preparation
This makes 216 persons in service of the KGB. The GRU works independently with its 160 agents. The numbers don't include the intelligence operatives of the Soviet satellites.
One of the most essentially corruptive elements, is the creation and establishment of a dogmatic dictate giving de facto full impunity for certain actors. In Finland, the will to be "trustworthy in terms of foreign policy" allowed the deep penetration of the KGB and its affiliates into society. The recent debate focused on the limits of the presidential power, and on what can be seen as a significant question in terms of foreign policy is somewhat alarming. On the other hand, debating the issue is better than silence.
For an outsider, it may also seem a little bit bizarre that a security policy-oriented blogger Ari Pesonen, was invited to a "discussion" in the headquarters of the Finnish Defence Forces. Pesonen, a supporter of Finnish NATO membership has revealed some deficiencies in the infrastructure of the Defence Forces. According to him, everything he published was taken from public sources or the internet. The civil society activist was questioned about his connections both to Western countries and Russia. Maybe to the contrary of the expectations of some people, Pesonen published a long article concerning his visit with a quite critical tone.
From the international point of view it is notable that after British officials publicly accused the Russian Military Intelligence GRU of poisoning its former agent Sergey Skripal, the role of the organization has received significant media attention. The methods used by the organ are harsh indeed: according to a GRU defector, new agents are presented with a video in which "a traitor" Pjotr Popov is burnt in an oven. In recent weeks, many suspected GRU spies have been caught around the Europe. In Poland, civil servant "Marek W." befriended politicians with the purpose of influencing energy policy. In Estonia, major Deniss Metsavas is suspected of using similar "dead mailboxes" to deliver material to Russians just as Polish documents were through Widomski in Espoo, Finland." It is claimed the Skripal case was unveiled by a GRU defector called "Apollo". If the information is accurate, a new Oleg Gordievsky may have been found.
Although it's claimed that the president of Finland was informed about the case of Airiston Helmi Oy already months ago, it cannot be excluded these facts and the relations with the Western intelligence community could have played a role in the operation. While the president chose to be rhetorically firm, prime minister Sipilä took a "Trumpish" approach by saying "it's easy to agree with the colleague" after Russian prime minister Dmitri Medvedev had called some Finns paranoid for expressing suspicions concerning potential military risks included in the Russian properties around the Western coast and talked about "infected brains".
In Seppo Tiitinen's new biography, the cases of Tilev and Widomski are completely ignored. When it comes to Tiitinen's List, the retired gentleman can't remember any names – despite his widely recognized excellent memory. Hannu Moilanen is not mentioned by name even once. However, Mr. Tiitinen says that with a  "reasonable amount of certainty" the names of Tarja Halonen or Kalevi Sorsa cannot be found on the list. "I'd say it is quite well-considered wording", Tiitinen says about his own expression.
A lawyer and historian with a deep background in the Foreign Ministry of Finland, Jukka Seppinen has announced that on his desk there is an investigation of the rule of law in Finlandized Finland. The thematic framework seems to be the same as in this article. Especially during the first decade of the new millenium and afterwards, Seppinen has taken the approach of a historian into issues with large amounts of source material provided by the Supo archives. However, some issues, such as Riitta Juntunen's, case are mostly or fully ignored in his writings. As Seppinen himself states, nowadays a new, legal approach is certainly needed.
***
Conclusions
-Its probably time to reject the presumption that Finnish intelligence officials were efficient in countering industrial espionage in the expense of countering the political intelligence operations during the Cold War. While certain successes may have taken place, some serious questions about the relationship between those two issues should be investigated, taking into account the fact that Finnish industry has always had strong ties with the government and political environment. An investigation of these issues also has relevance with regards to European Union sanctions policy.
– The actions of certain intelligence organs in Finland must be re-evaluated. Not only the KGB, but Stasi, Polish intelligence (both civil and military) and Bulgarian intelligence are shown to have been successful in reaching their goals in the Cold War era Finland. Despite wide-spread claims, this happened in consensus and cooperation with Soviet intelligence. The reason for downplaying the significance of the satellite organs' archives may lay in their much better availability.
– "The black dots" in the Finnish institutions, especially in the police, have to be opened in an organized manner. This is part of countering the hybrid influence. Also, legislative reforms of a preventive nature may be needed. The case of Hannu Moilanen should be discussed publicly. It is ironic that a Finnish expression "watch as H. Moilanen" refers to a severe inability to act when needed. However, it's hard to believe that only lack of professional skills would've been behind the ignorance shown by him.
– The Chief of Estonian foreign intelligence service Mikk Marran has stated that Russian influence on politicians hasn't received as much attention as the disinformation campaigns and hacking. According to Marran, Estonian intelligence should make their allies aware of such threats. For corruption and Soviet heritage doesn't know borders, it's likely that Finnish assets are also being used to influence Estonian politics and society. Therefore, a Finnish-Estonian independent research commission should be established to investigate the cross-border influence and to find common grounds of revealing Russian influence in the region. Not only officials but also representatives of civil society and think tanks should be included into the work.
– Corruptive pro-Kremlin subversion should be addressed also by the European Union. This could take place e.g. as part of French President Emmanuel Macron's "new security architecture" in the way suggested by MEP, former Prime Minister of Belgium Guy Verhofstadt.